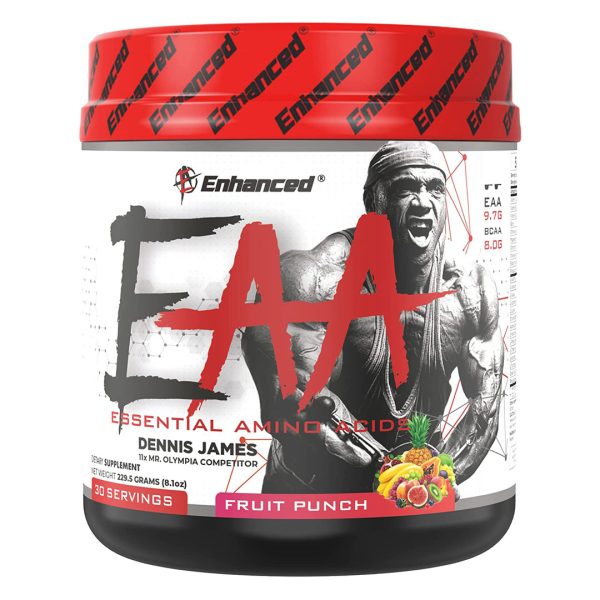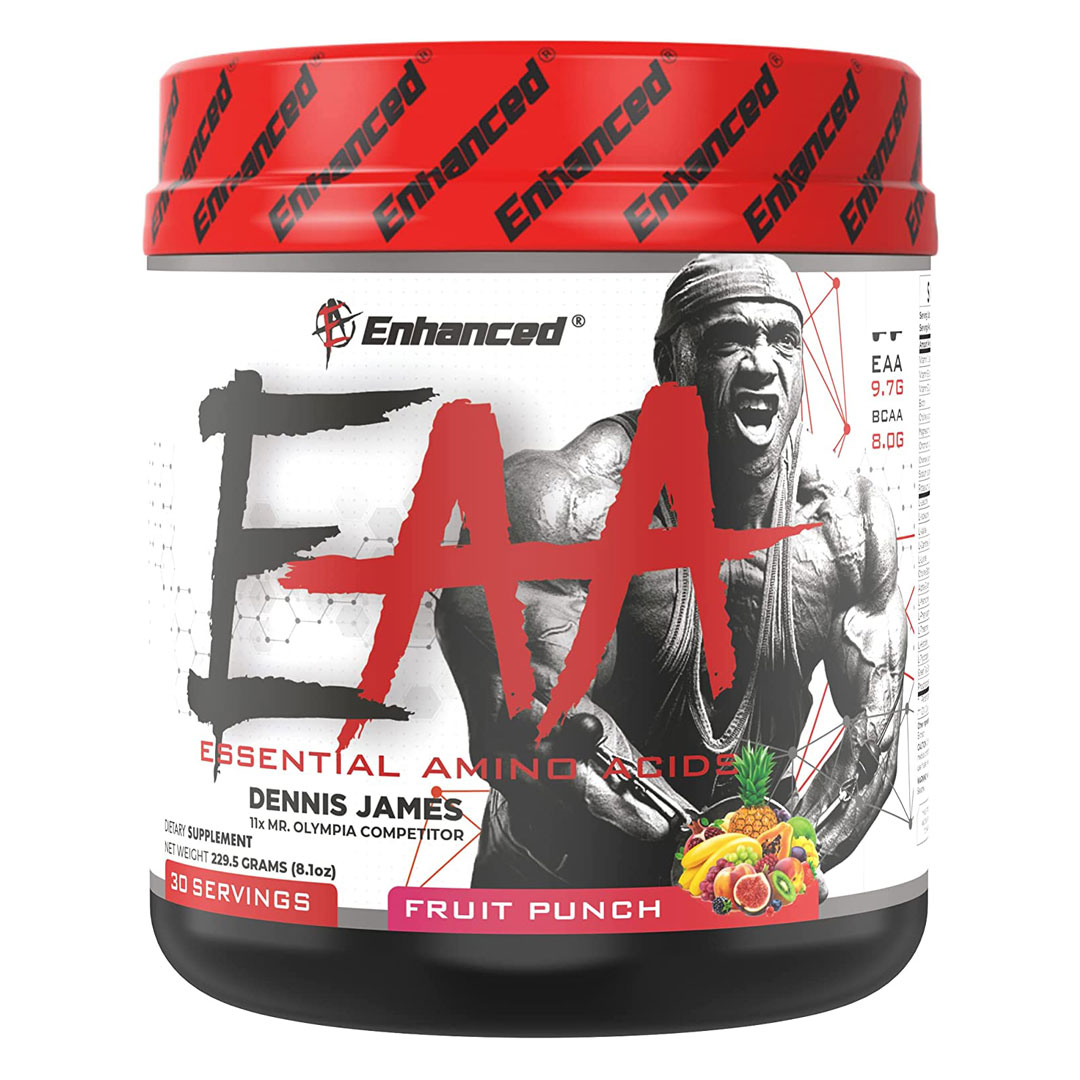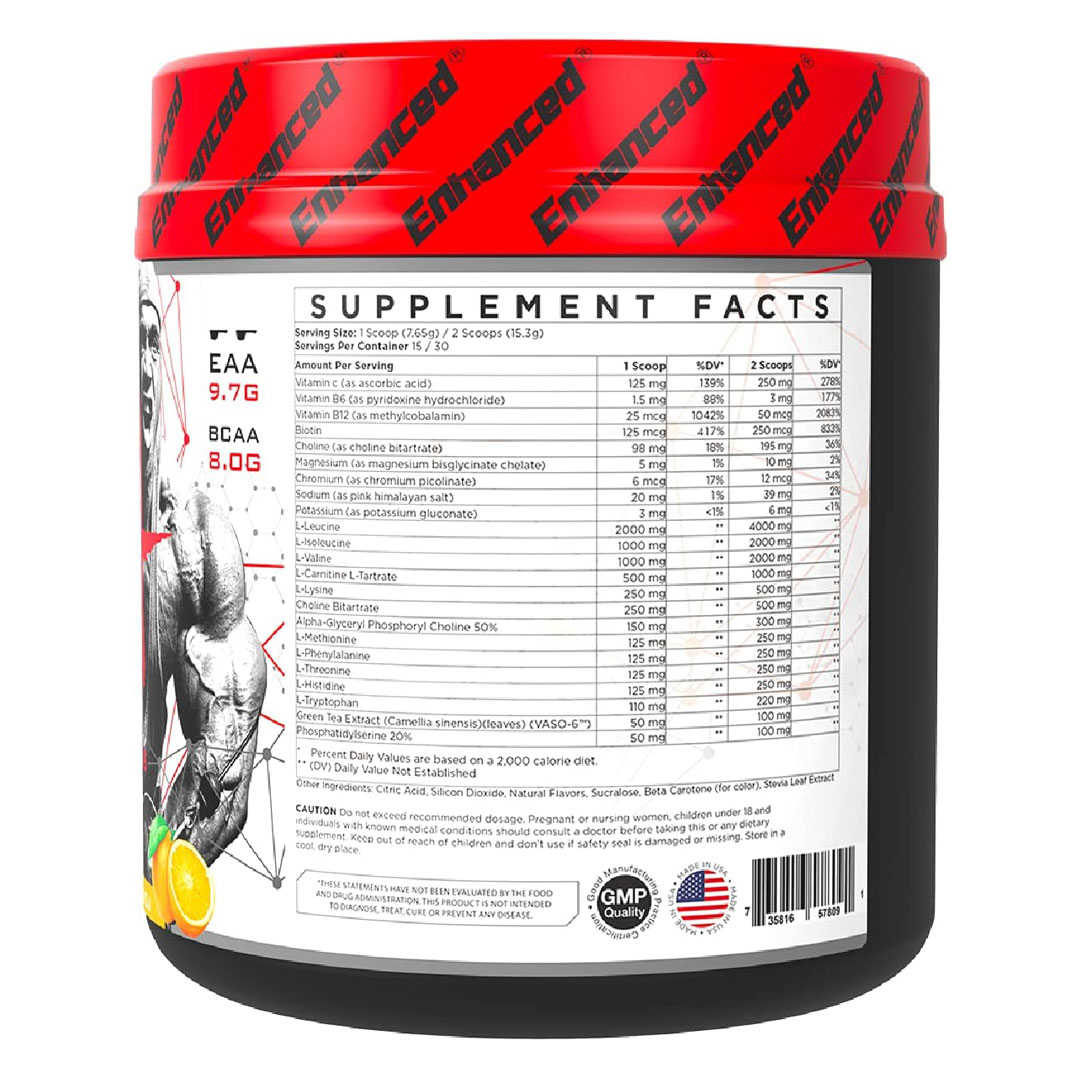 Enhanced Dennis James Eaa- 30 Servings
Clinically Dosed Essential Amino Acids Blend
Nitric Oxide Blend
Non-Stimulant Nootropic Blend
B Vitamin Blend
Fat Oxidation Blend
Muscle Insulin Senstivity Blend
Electrolyte Blend
Expiry- 08/2024

Importer & Manufacturer
Description
Reviews (0)
Importer
Anabolic Nation LLC
Bengaluru, Karnataka- 560043
Manufactured By
Enhanced Labs, Sacramento, CA, 95865
Description
EAA+ combines branch-chain amino acids (BCAAs) with essential amino acids (EAAs), nootropics, trace electrolytes, and minerals to make it a complete mass and strength builder. Upgrade from generic BCAA-only products that don't have enough amino to synthesize new muscles.
There are two types of amino acids; essential amino acids and non-essential amino acids. The problem with using only a BCAA supplement is that the BCAAs are only 3 of the 8 essential amino acids. You are missing the other 5 essential amino acids! In order to capitalize on the increased muscle protein synthesis BCAAs provide, you must take the BCAAs with EAA.
That's what really separates EAA+ from other amino acid supplements. It contains BCAAs to signal muscle protein synthesis, plus all the EAAs so muscle tissue can actually be built.
Direction: For sustained daily muscle fuel take 1 scoop any time of day. For fasting or use as a meal replacement use 2 scoops.
Warning: Do not exceed recommended dosage. Pregnant or nursing women, children under 18, and individuals with known medical conditions should consult a doctor before
BUY THESE ALONG, TO BOOST YOUR RESULTS!
Request a call back from our Sports Nutritionist to guide you!
ALL NEW FASHION BRANDS ITEMS UP TO 70% OFF