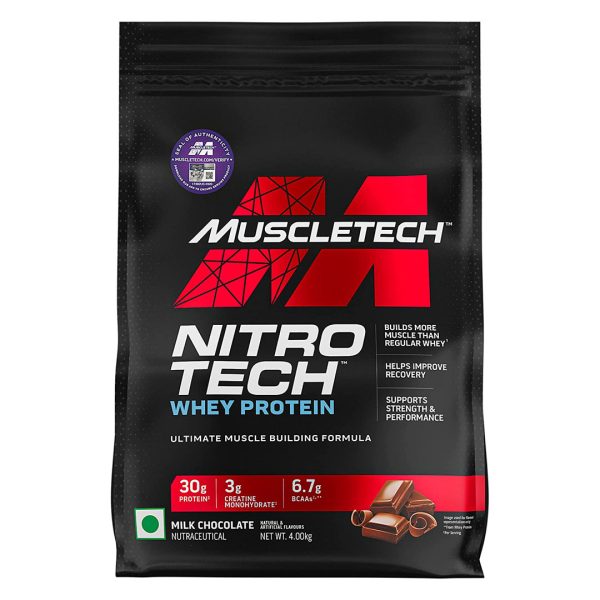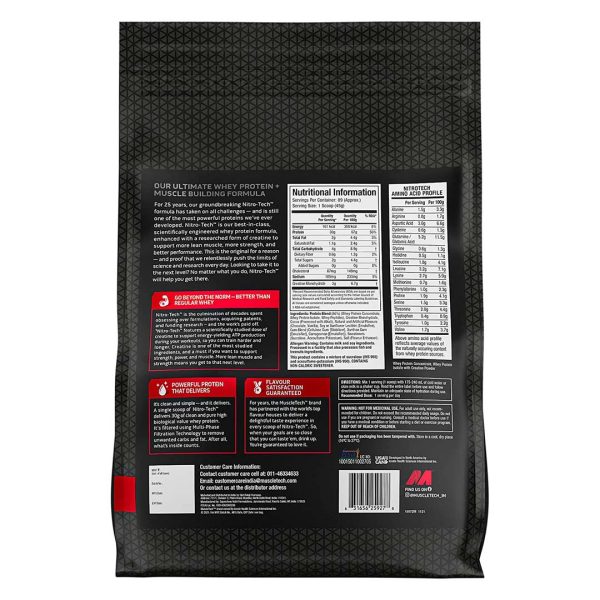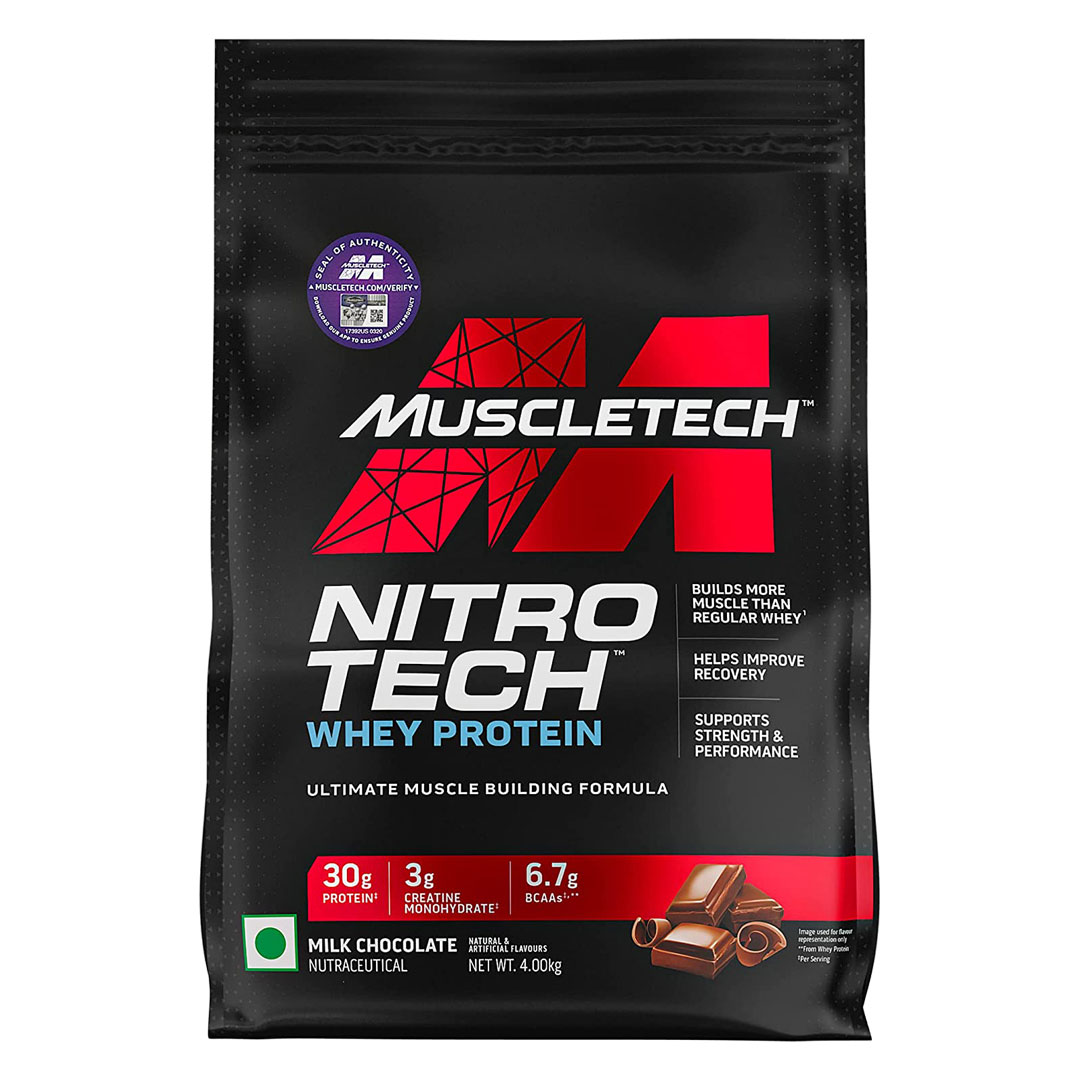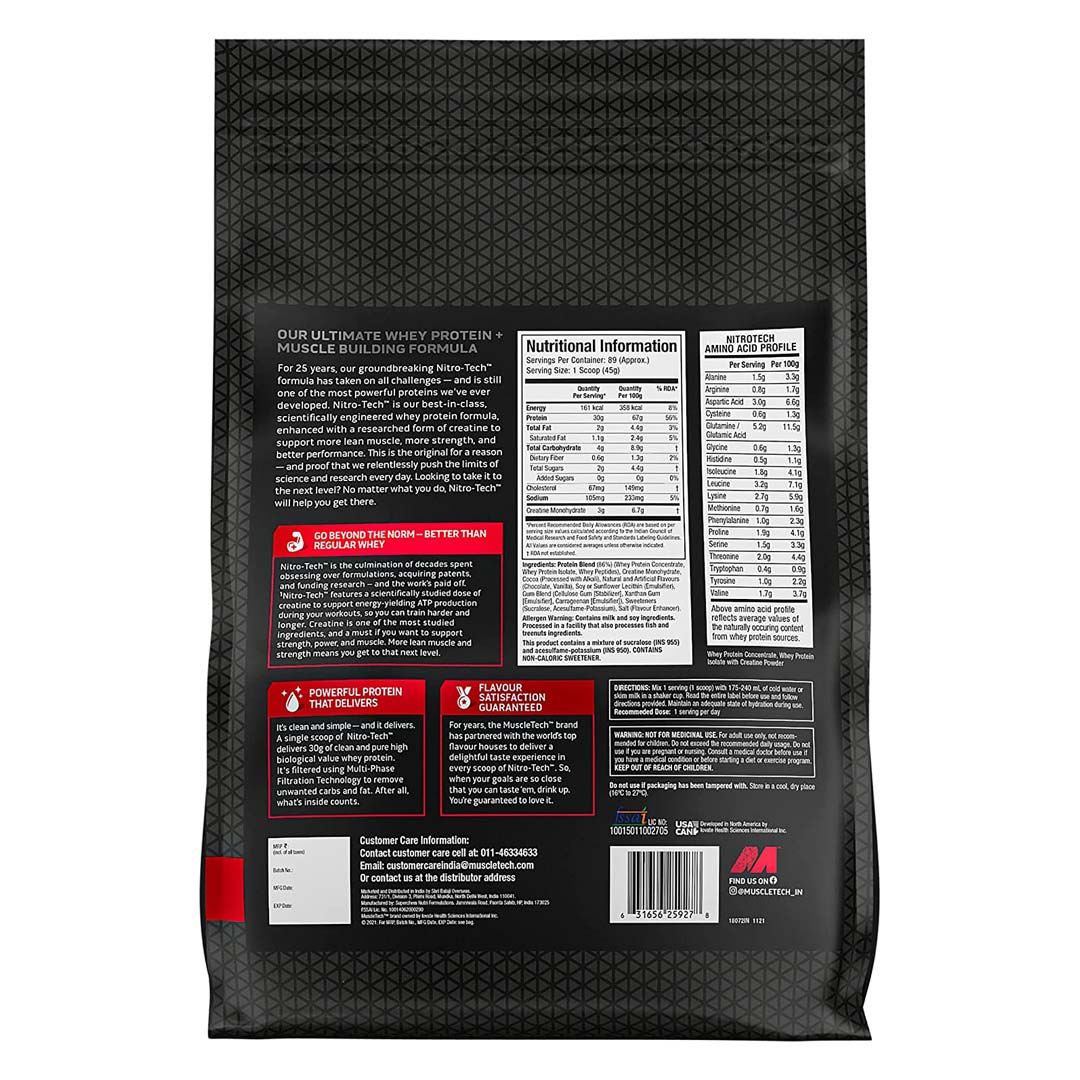 MuscleTech Nitrotech Performance Series Whey Protein 8.8 lbs, 4 Kg
Muscletech Nitrotech Performance Series is a scientifically engineered whey protein powder that contains whey protein isolates and whey concentrate in its pure form.
It delivers 30g of ultra-pure whey protein and 6.9g of BCAA per scoop that increases muscle strength and repairs muscle wear post-workout.
It also consists of strength-enhancing creatine serving 3g per scoop.
Muscletech Nitrotech Performance Series is excellent in increasing overall strength, stamina, and vigor.
It has excellent results on people willing to bulk muscle.
Muscletech Nitrotech is an ideal choice as a post-workout protein and boosts protein synthesis throughout the day.
Expiry July/2024
Marketed & Distributed
Description
Reviews (0)
Marketed & Distributed In India:
Shri Balaji Overseas (Brand Authorized):
Delhi 110041
Country of Origin: India
FSSAI Lic. No. 10015011002705
Description
MuscleTech is a known and respected brand in the world of bodybuilding. And thus, supplements by MuscleTech too are of high quality. The MuscleTech Nitrotech performance series to be a great product for strong muscle building. Nitro-Tech is a scientifically engineered whey protein powder designed for anyone looking to build more muscle, improve their strength and enhance overall performance. Nitrotech from MuscleTech contains pure whey protein isolate and peptides as the primary source. Every scoop provides 30 grams of ultra-pure whey protein and 6.9 grams of Branched Chain Amino Acids (BCAAs) along with a strength-enhancing 3-gram dose of creatine.
Benefits
The MuscleTech Nitrotech Performance Series is a premium quality supplement that is great for strong muscle development. It contains 1g of carbohydrate, 1g of sugar and 1.5g of total fat per serving. This supplement is enriched with amino acids and creatine too. Thus, the three major benefits of consuming the MuscleTech Nitrotech Performance Series are:
Lean and Strong Muscle Development
Enhanced Athletic and Workout Performance
Rapid Muscle Recovery
The stimulation of protein synthesis and energy required post-workout is an essential USP of the MuscleTech Nitrotech Performance Series. For athletes involved in HIIT i.e. High-Intensity Interval Training, this supplement works great due to its high quality formulation consisting of Whey Isolate and Creatine Monohydrate. So, when you need something to charge your stamina up and boost performance during heavy workouts, the MuscleTech Nitrotech Performance Series is the one to go for.
Ingredients
Isolate Protein & Peptide Blend (Whey Peptides, Whey Protein Isolate, Whey Protein Concentrate), Cocoa (Processed with Alkali), Whey Protein Concentrate, Soy or Sunflower Lecithin, Natural and Artificial Flavors, Gum Blend (Cellulose Gum, Xanthan Gum, Carrageenan), Enzyplex (Papain, Amylase), Salt, Sucralose, Acesulfame-Potassium. Contains Milk And Soy Ingredients. Processed in a Facility That Also Processes Wheat, Tree Nut, Egg, Fish, Peanut, and Shellfish ingredients.
Usage
Mix 1 serving (1 scoop) in 6 oz. or 2 servings (2 scoops) in 12 oz. of cold water or skim milk in a glass or shaker cup. Use between major meals and after exercise.
BUY THESE ALONG, TO BOOST YOUR RESULTS!
Request a call back from our Sports Nutritionist to guide you!
ALL NEW FASHION BRANDS ITEMS UP TO 70% OFF