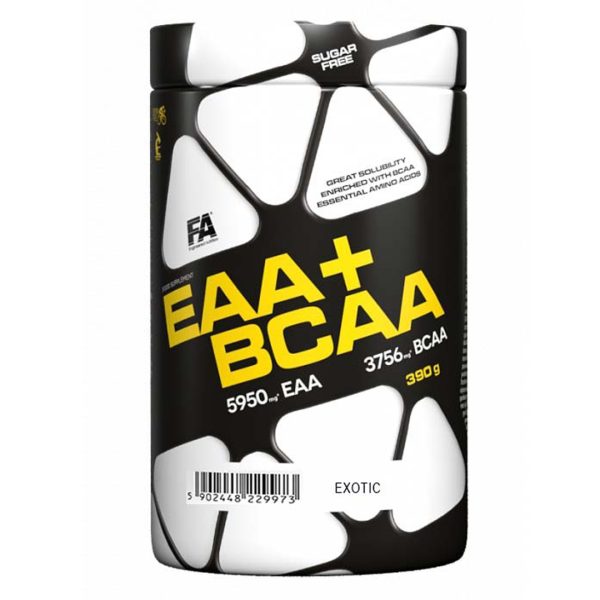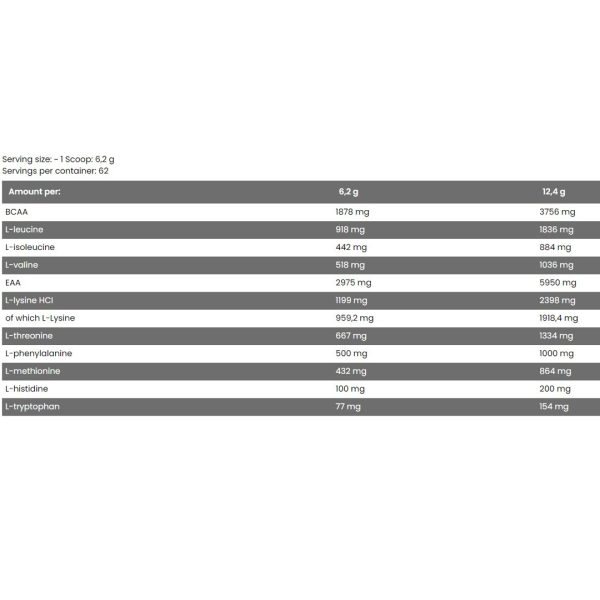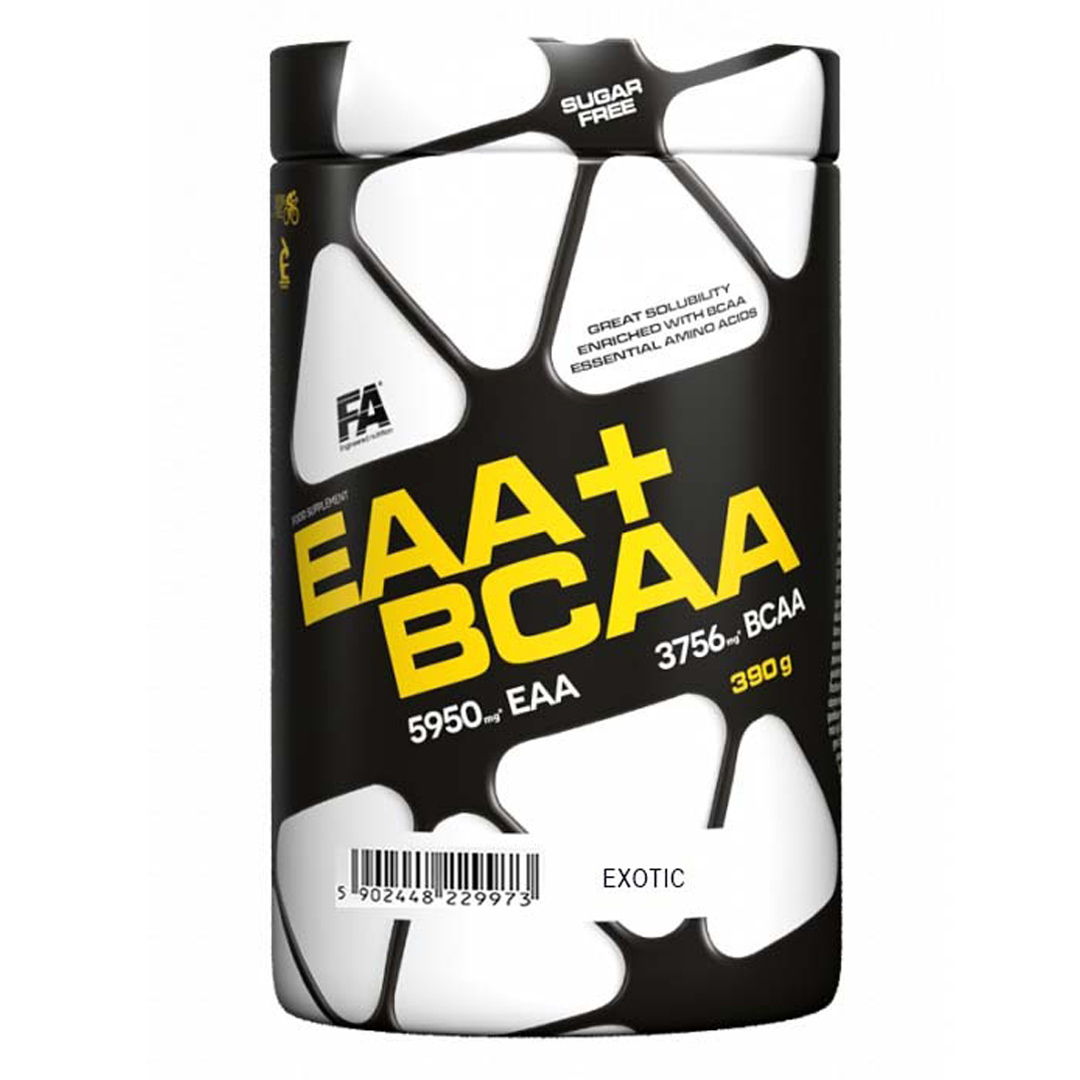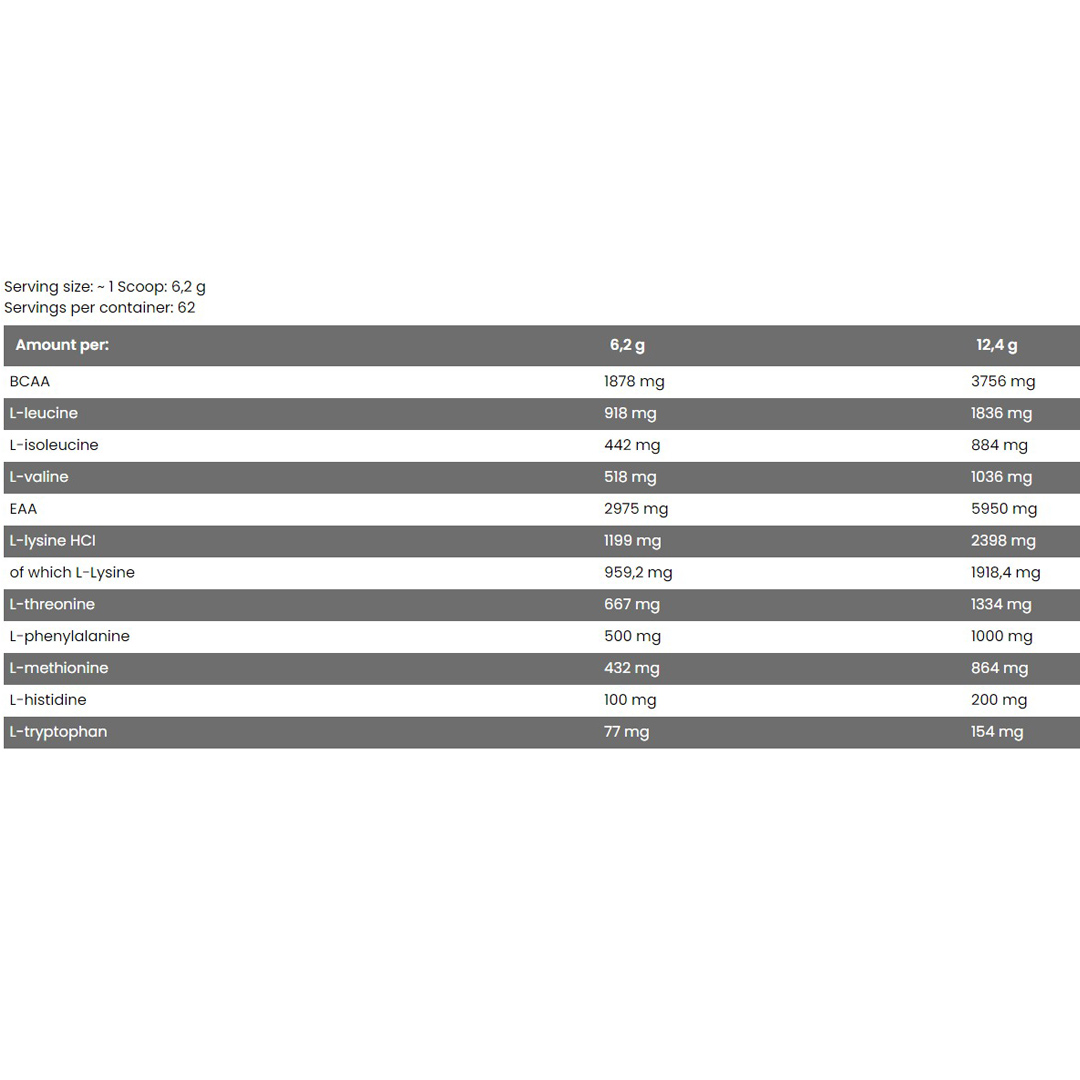 Fa Engineered Nutrtion EAA+BCAA 62 Servings
Stamina
Endurance
Muscle Recovery
Muscle Building
Amino Recovery
Expiry-09/2023
Sports Supplement Nutrition Co. (SSNC) ( Authorized By Brand) | info@ssncindia.in |
Description
The formula of FA NUTRITION EAA+BCAA is a combination of essential amino acids BCAA and EAA. Amino acids are fundamental components of proteins that contribute to muscle formation, and their exogenous nature requires that they be provided to the body in the daily diet. A single serving of the supplement provides as much as 9.7g of the highest-class amino acids, which have been obtained from high-quality, tested materials. The product is available in the form of an easily dissolvable powder which makes it possible to prepare a refreshing drink. The product can be used in all sports disciplines, especially in the case of strength and endurance training at every level. A supplement is an ideal form of support for pre-workout supplements, creatine, or fat burners.
What are the benefits of FA NUTRITION EAA+BCAA dietary supplement?
A solid portion of essential amino acids in the form of a delicious drink
Amino acids are the main building blocks of proteins in muscles – an essential part of a daily diet for physically active people and every person
Supplementation with exogenous amino acids may prove to be a valuable support in the process of protein synthesis[1-5]
Amino acids contained in BCAA and EAA complexes can have a valuable effect on regeneration processes after exercise[1-5]
The product is prepared to the highest standard – easy solubility, exceptional taste, and no unnecessary additives
Versatile use – recommended for amateurs and professionals who love sports and an active lifestyleEAA+BCAA. Food supplement. With sweeteners. A product containing essential amino acids (EAA) intended for physically active people. Recommended use: Mix 1 ~ scoop (6,2 g) of powder with 250-300 ml of water. As food supplements consume 1-2 servings daily, one serving between meals and one serving before bedtime. On training, days take 1 serving before, during, or after your workout.Ingredients: Amino acid mix (L-lysine HCl, L-leucine, L-threonine, L-valine, L-phenylalanine, L-isoleucine, L-methionine, L-histidine, L-tryptophan), acidity regulators (E330, E296)1,3,4,6,7,8, flavourings2,3,4,5,6,7,8, acidity regulators (E330, E296)2,5, salt, flavourings1, red beet juice concentrate3,8, sweeteners (acesulfame K, sucralose, steviol glycosides), red beet juice concentrate2,5,6,7, anti-caking agent (E551), colour/s (E160a1,2,4,5, E1041, E1633). E104: May have an adverse effect on activity and attention in children.Warnings: Do not use if you are allergic to any of the supplement compounds. Do not use if pregnant or nursing. Do not exceed the recommended daily dose. Food supplements should not be used instead of a varied and balanced diet. A varied and balanced diet and a healthy lifestyle are recommended. Keep out of reach of young children. Shake the package well before use. This product is sold by weight not volume. Some settling of powder may occur during shipping and handling, which may affect the density of the powder. This product contains the serving indicated when measured exactly by weight.
BUY THESE ALONG, TO BOOST YOUR RESULTS!
Request a call back from our Sports Nutritionist to guide you!
ALL NEW FASHION BRANDS ITEMS UP TO 70% OFF