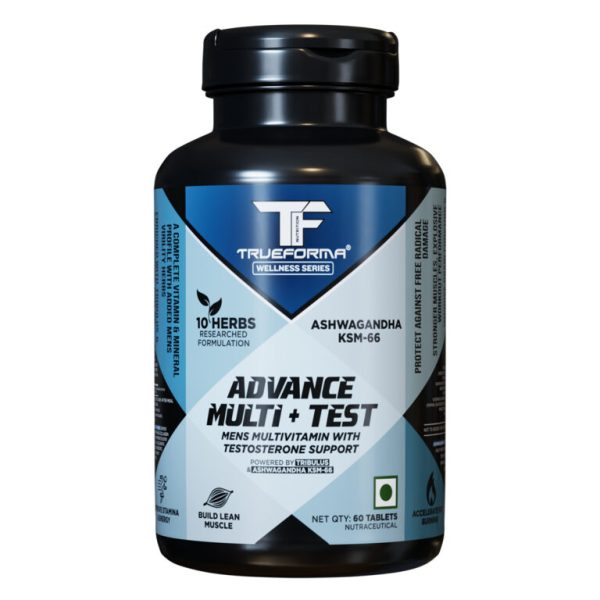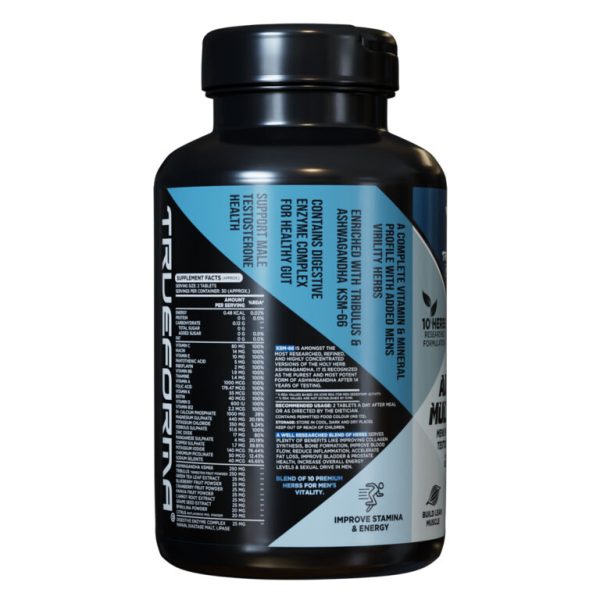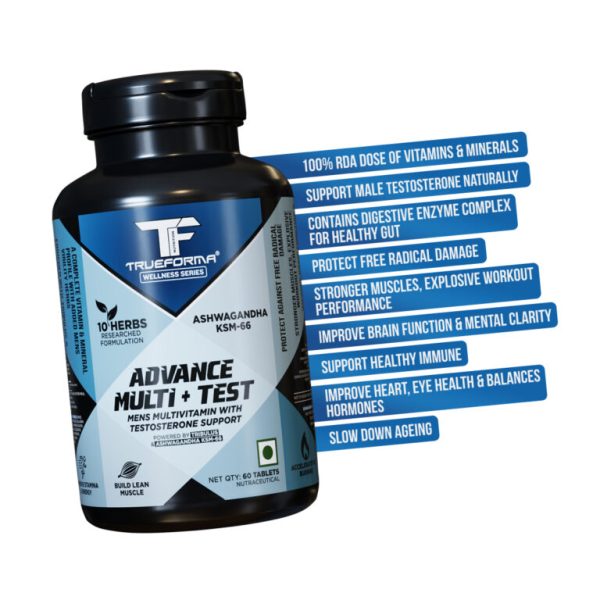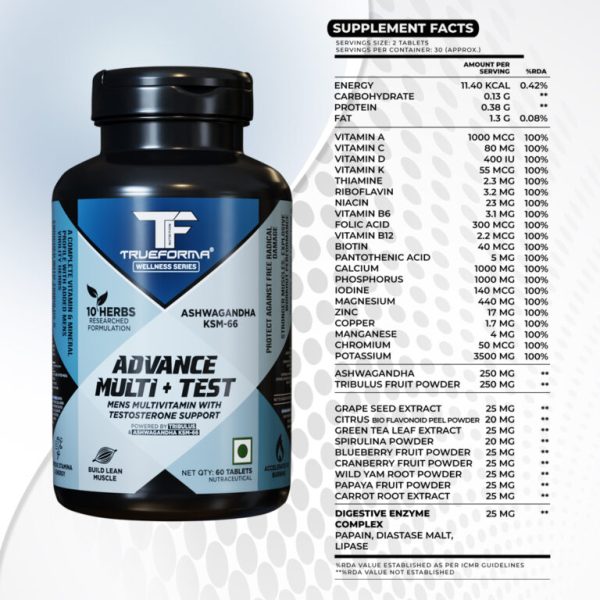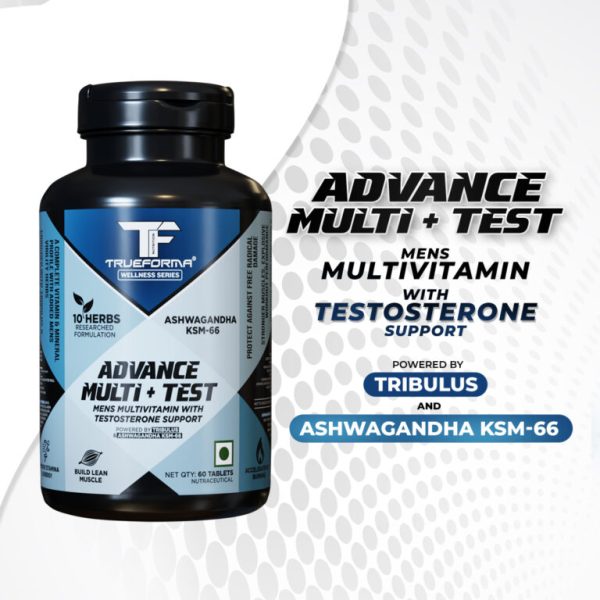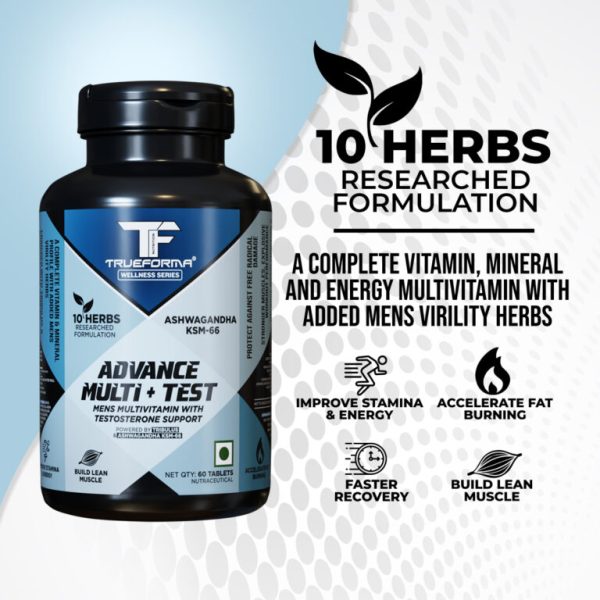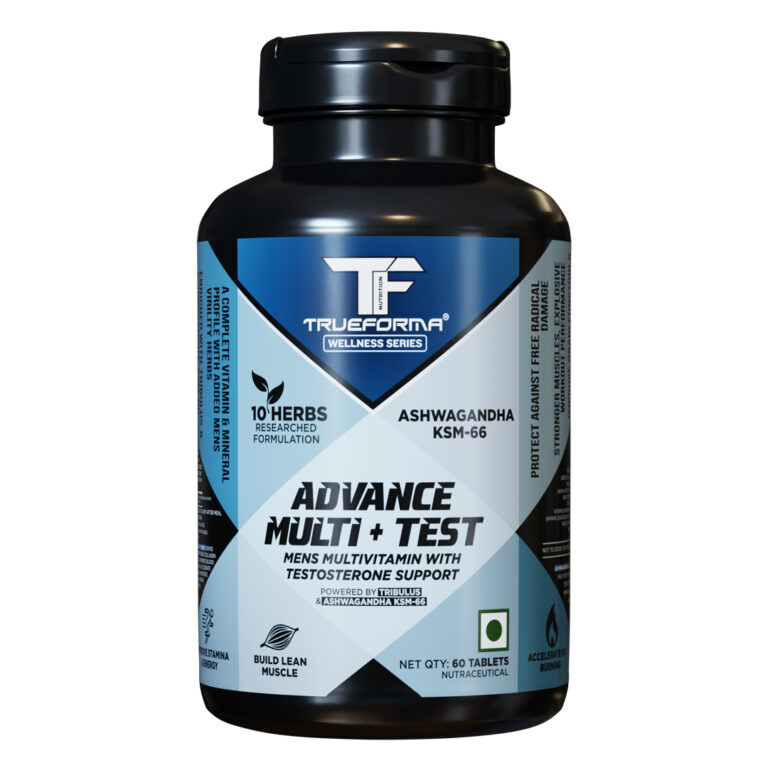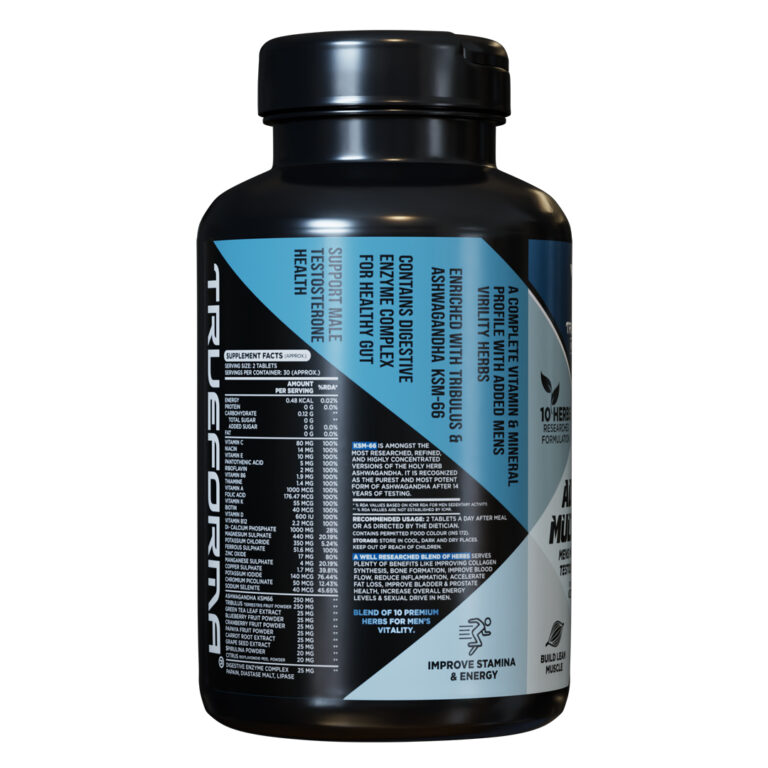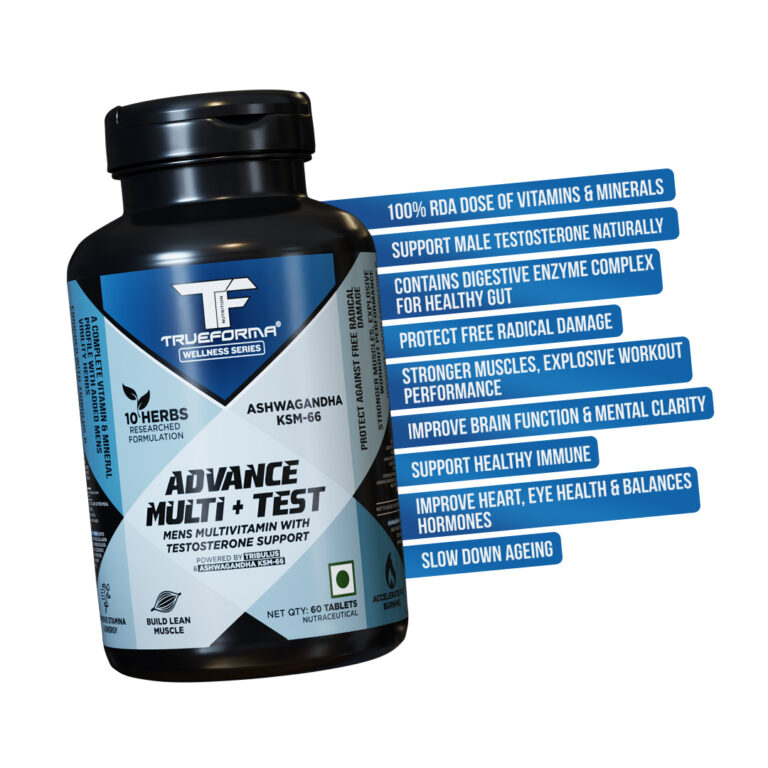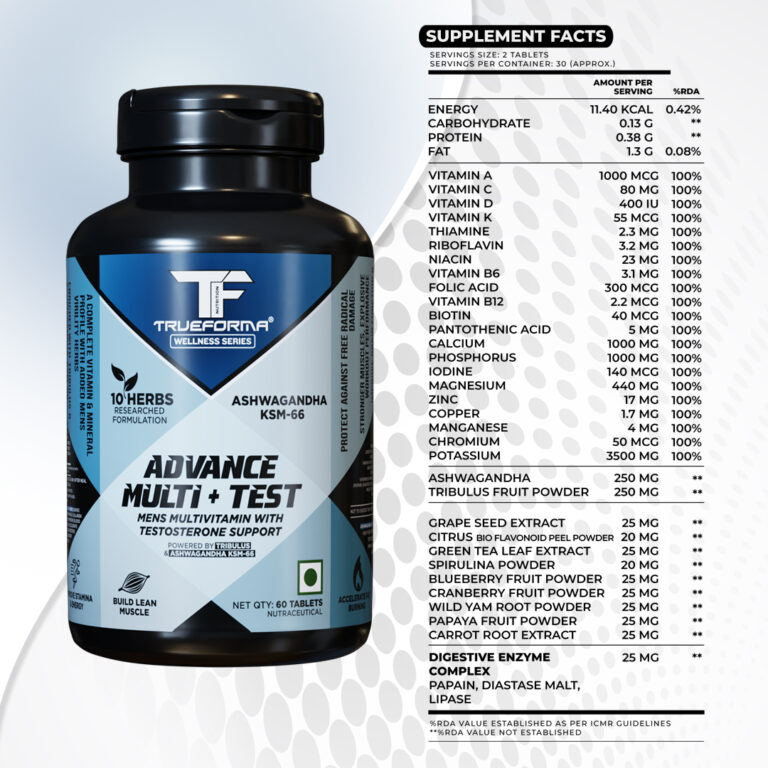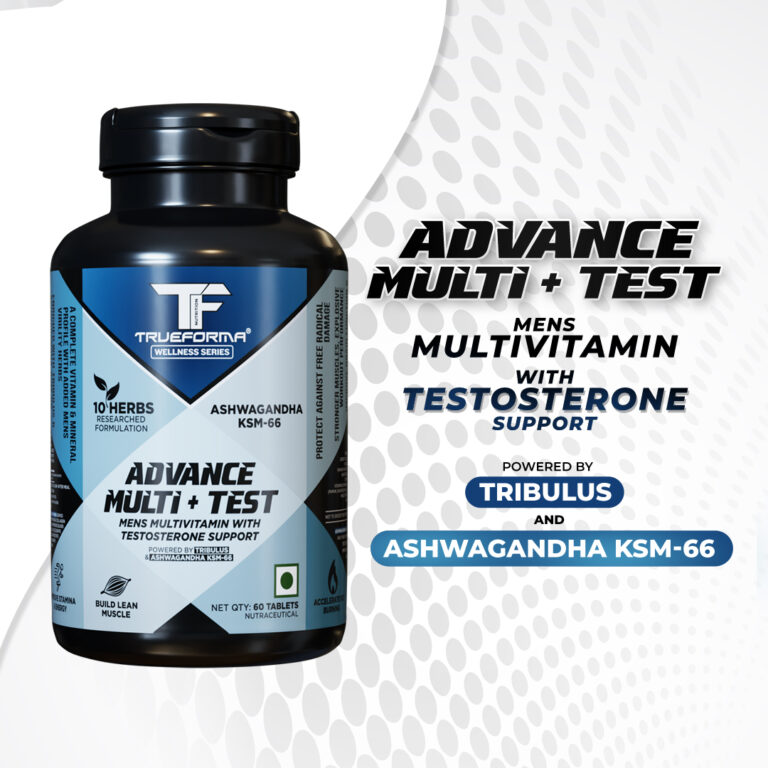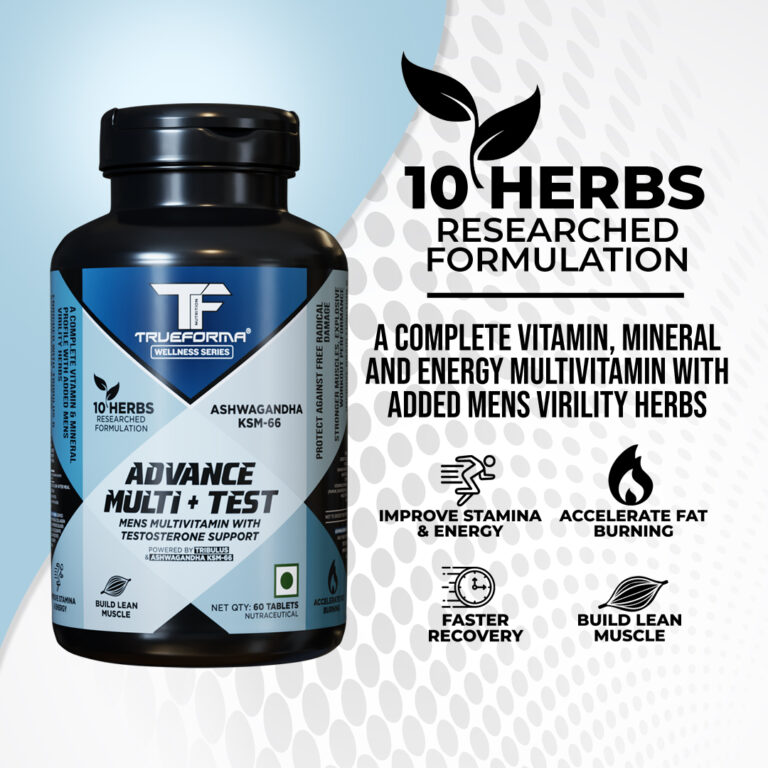 Trueforma® Advance Multi + Test
A Blend of Vitamin, Mineral, and Digestive Enzymes with added Mens Virility Herbs.
10 Herbs (Researched Formulation) – Grape Seed Extract, Citrus Bio Flavonoid Peel Powder, Green Tea Leaf Extract, Spirulina Powder, Blueberry Fruit Powder, Cranberry Fruit Powder, Wild Yam Root Powder, Papaya Fruit Powder, Carrot Root Extract
Powered By Tribulus & Ashwagandha KSM-66
Contains Digestive Enzymes Blend
100% RDA of Most Important Vitamins & Minerals in 1 Serving
60 Tablets Serving

Expiry 03/2024
Manufacturer
Description
Reviews (2)
Marketed & Distributed In India:
Forever Nutrition (Brand Authorized):
Punjab 141001
Country of Origin: India
FSSAI Lic. No. 12121441000475
Manufacturer:
Nutricore Biosciences Pvt. Ltd.
No. 18, Kohinoor, Varachha Road,
Surat, Gujarat, India
Fssai Lic. No. 10715031000061
Description
A well-researched blend of herbs serves plenty of benefits like improving collagen synthesis, and bone formation, improving blood flow, reducing inflammation, speeding fat loss, improving bladder & prostate health, increase overall energy levels & sexual drive in men.
10 Herbs Researched Formulation
Tribulus Fruit Powder
Grape Seed Extract
Citrus Bio Flavonoid Peel Powder
Green Tea Leaf Extract
Spirulina Powder
Blueberry Fruit Powder
Cranberry Fruit Powder
Wild Yam Root Powder
Papaya Fruit Powder
Carrot Root Extract
Contains Ashwagandha KSM-66
Human studies offer extensive clinical evidence showing KSM-66 to be effective in supporting a variety of health conditions, including reducing stress and anxiety, improving memory and cognitive function, and promoting strength, cardio-respiratory endurance, and immunity in athletes.
BUY THESE ALONG, TO BOOST YOUR RESULTS!
Request a call back from our Sports Nutritionist to guide you!
ALL NEW FASHION BRANDS ITEMS UP TO 70% OFF