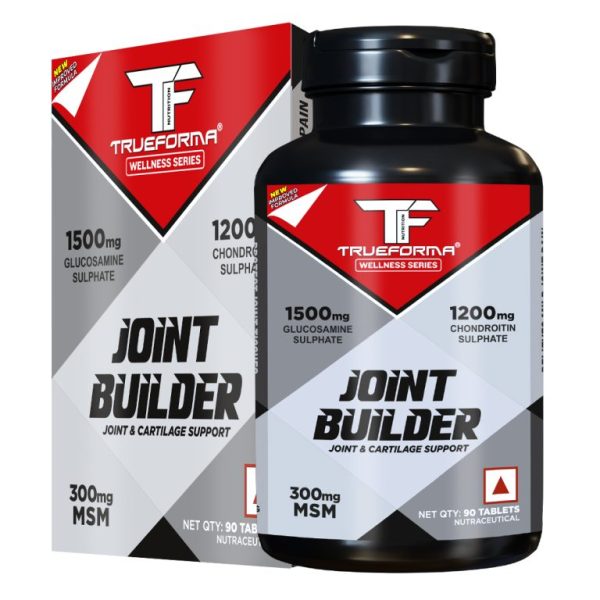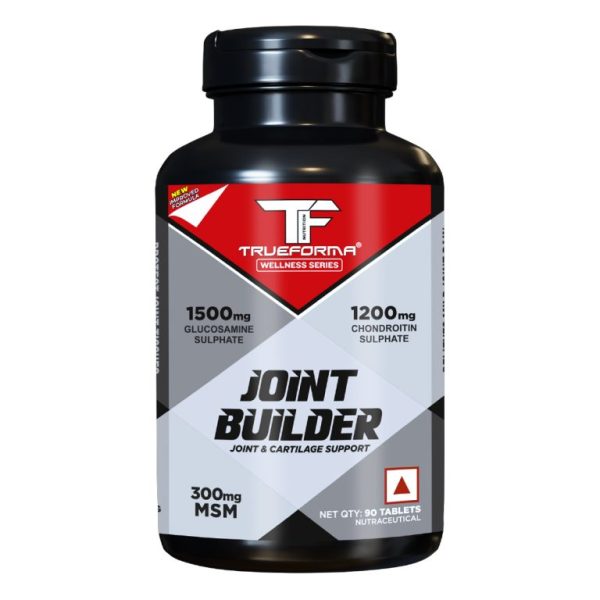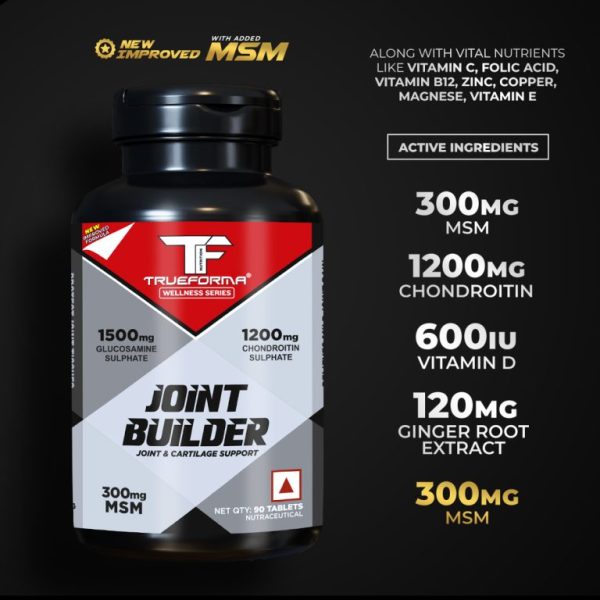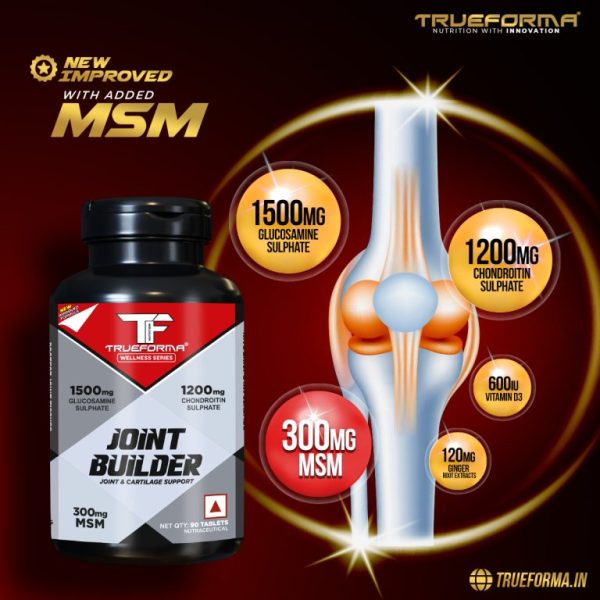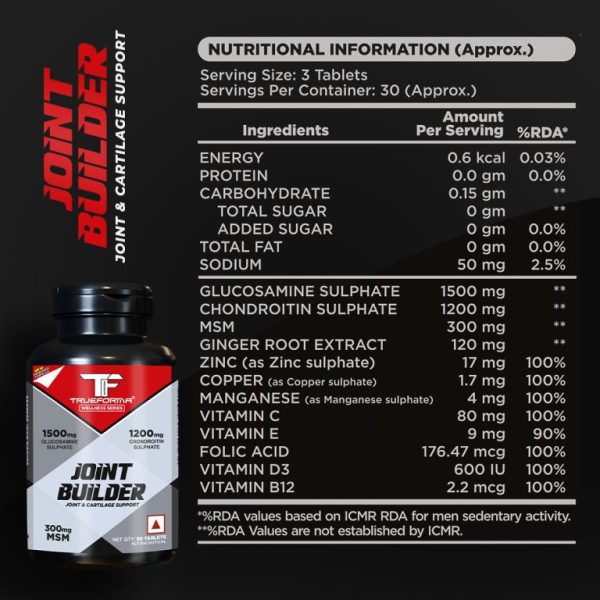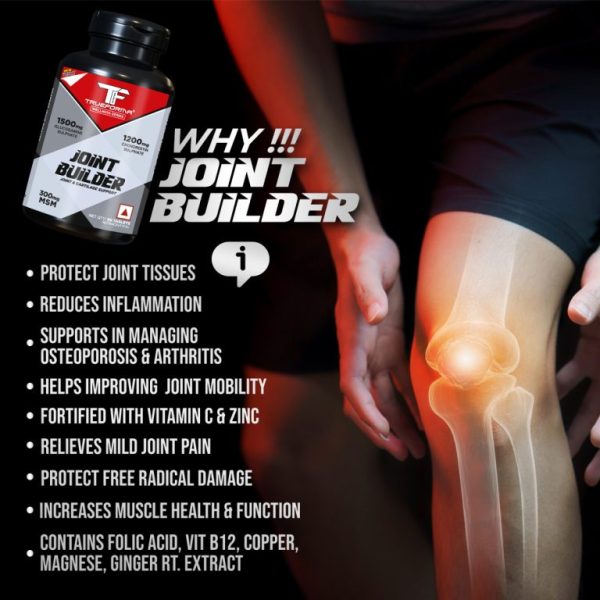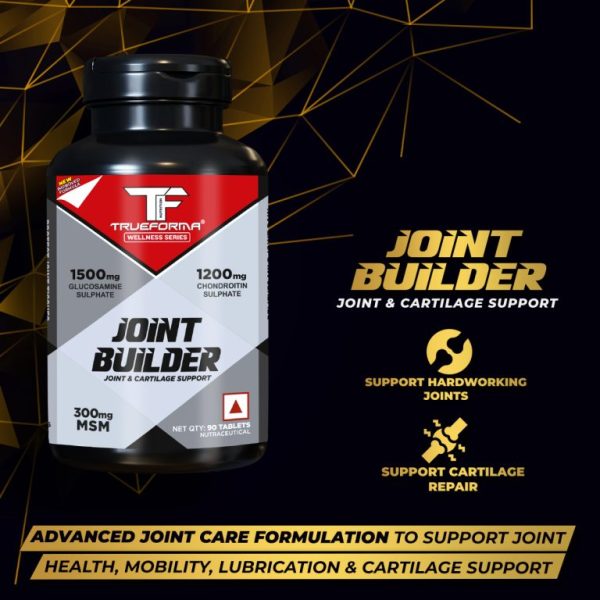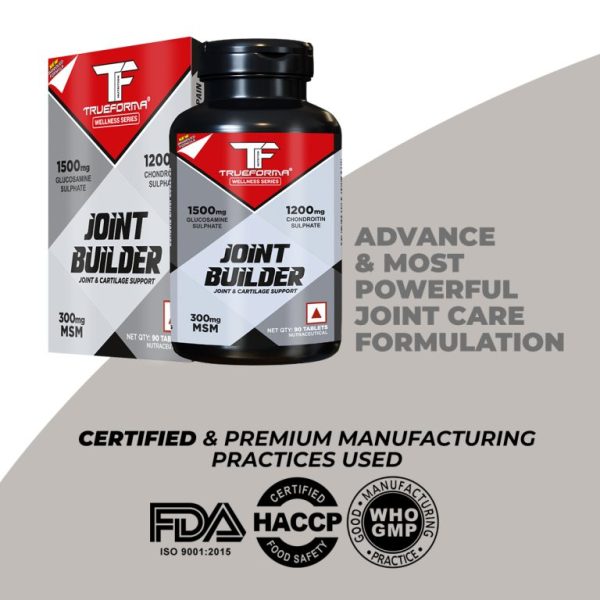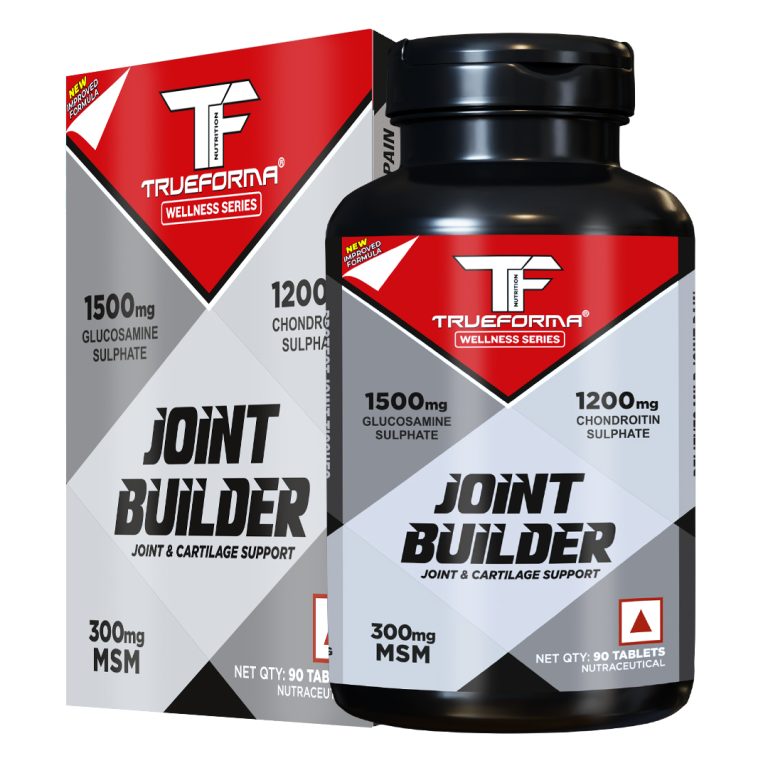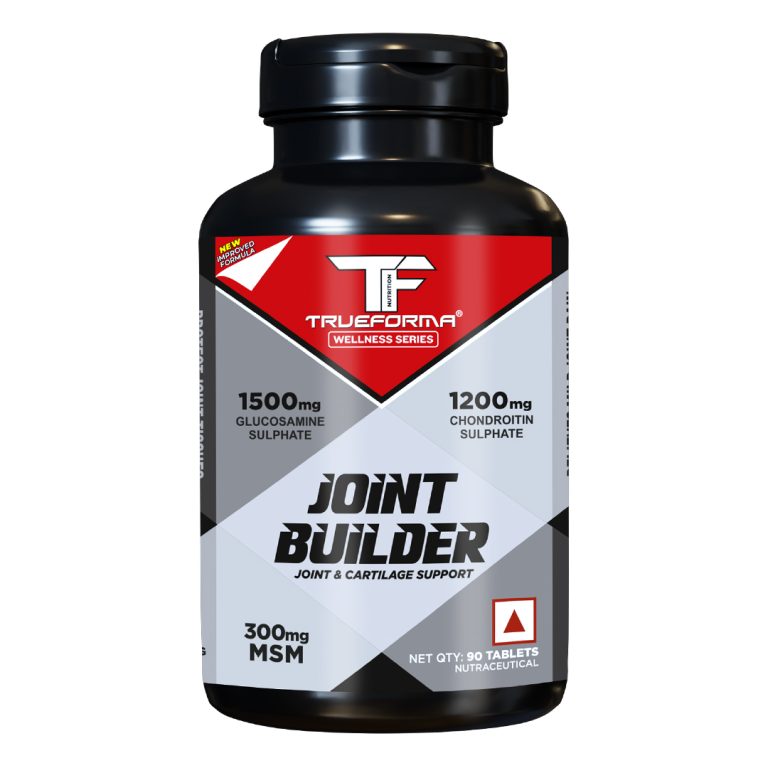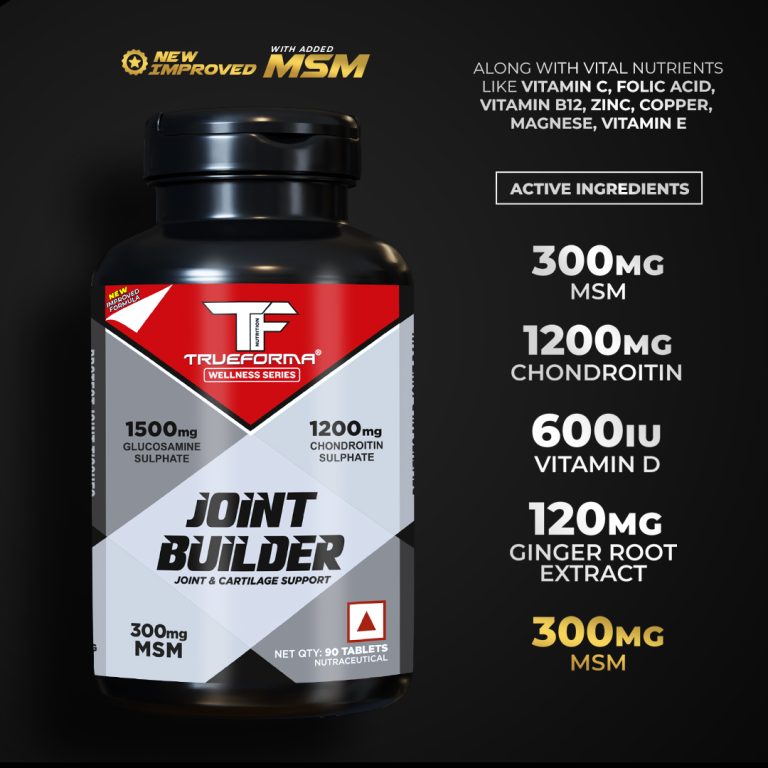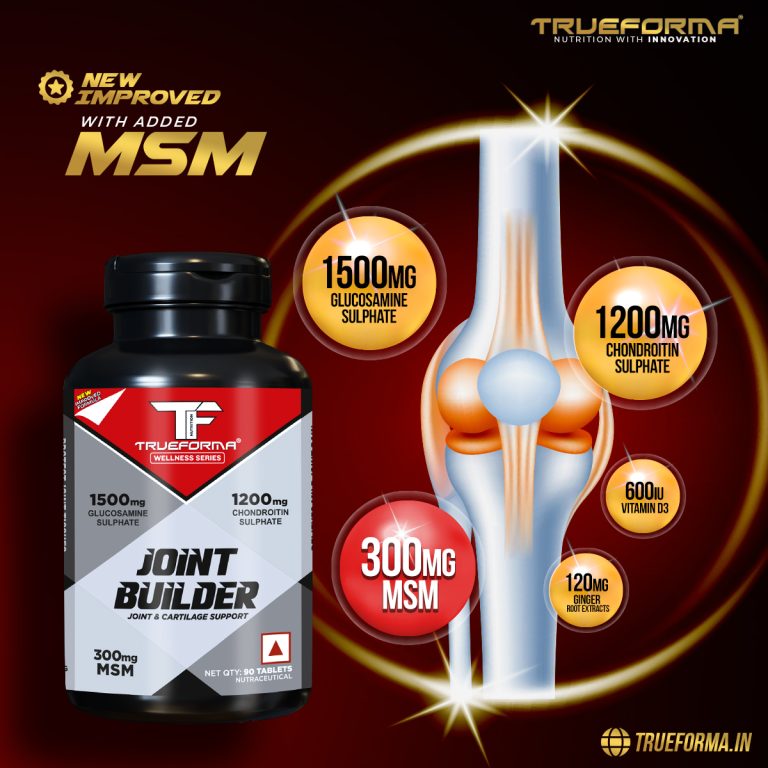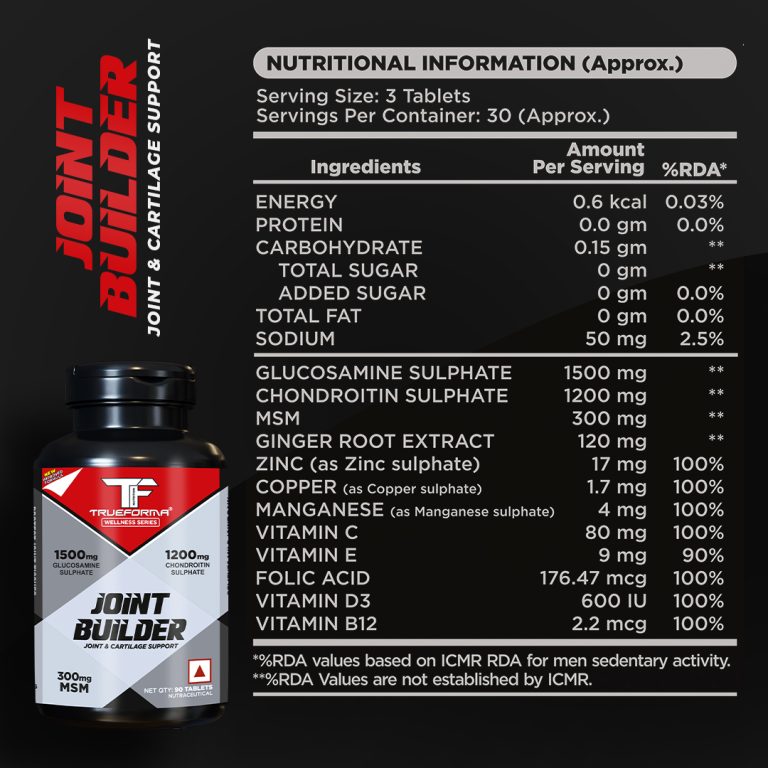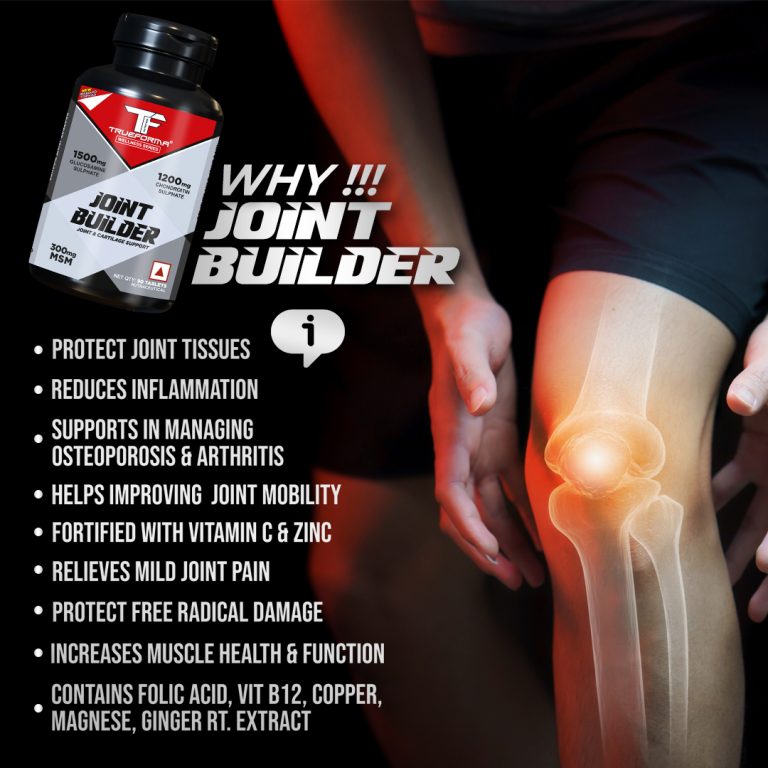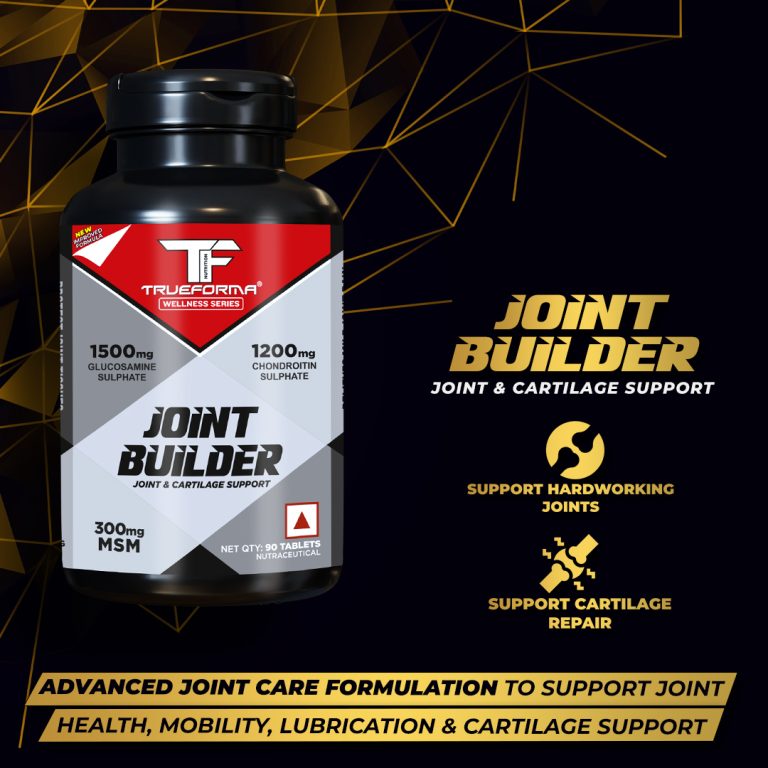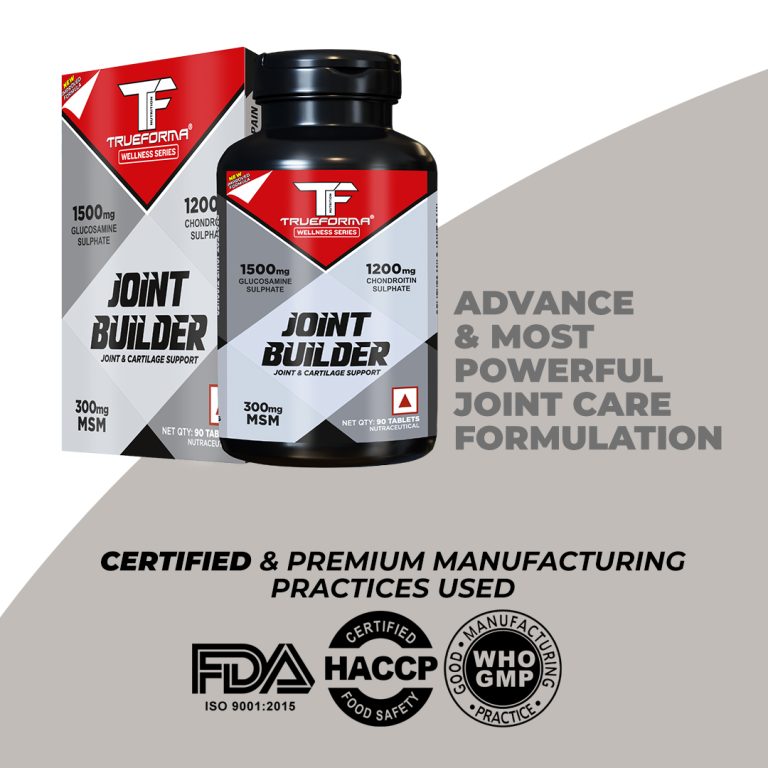 Most Powerful Joint Support Formulation Ever Made.
Advanced Joint Care Formulation To Support Joint Health, Mobility, Lubrication & Cartilage Support. Active Ingredients Per Serving Includes:
1500mg Glucosamine
1200mg Chondroitin
300mg MSM
600IU Vitamin d3
120mg Ginger Root Extract
Contains Folic Acid, Vitamin B12, Copper, Manganese & Vitamin E.
90 Tablets
Manufacturer
Description
Reviews (0)
Marketed & Distributed In India:
Forever Nutrition (Brand Authorized):
Punjab 141001
Country of Origin: India
FSSAI Lic. No. 12121441000475
Manufacturer:
Nutricore Biosciences Pvt. Ltd.
No. 18, Kohinoor, Varachha Road,
Surat, Gujarat, India
Fssai Lic. No. 10715031000061
Description
TrueForma® Joint Builder Is an Innovative Blend of Glucosamine, Chondroitin, MSM, Vitamin D3, Vitamin E, Vitamin C, Vitamin B12 & Folic Acid along with Copper, Magnese & Ginger Root Extract. This Superior Blend Protects & Supports Your Hardworking Joint, Supports the Repair of Cartilages and Produces an Anti-inflammatory Effect Within Thus Also Helping in Relieving You from Various Joint Pains.
SUPPORTS IN MANAGING OSTEOPOROSIS & ARTHRITIS
Chondroitin is known to slow the progression of osteoporosis.
IMPROVE JOINT MOBILITY
The combination of nutrients & extracts helps in better joint mobility.
PROTECTS CELLS AGAINST FREE RADICAL DAMAGE
Manganese, copper & ginger root extract blend present in Trueforma Joint Builder is an essential mineral involved in the formation of connective tissue, and maintenance of normal bones and plays a role in protecting cells against free radical damage.
NOW IMPROVED WITH ADDED MSM
It has been studied for its potential benefits in promoting joint health, among other things.
MSM is thought to help protect joint health in several ways. One of the main ways is by reducing inflammation in the joints. Inflammation can cause pain, swelling, and stiffness in the joints, which can be especially problematic for people with conditions such as osteoarthritis. MSM has been shown to have anti-inflammatory effects that can help reduce these symptoms.
ENCOURAGES REPAIR OF TENDONS, LIGAMENTS, AND SYNOVIAL FLUID LEVELS
UNIQUE 5 TO 4 RATIO OF GLUCOSAMINE & CHONDROITIN
This has been thoroughly tested by research institutions in both North America & Europe. It's tissue support is IDEAL for swollen inflammation and serves as a natural remedy for joint pain in the hands, fingers, both the left and right knee, as well as the ankle, shoulder, and hip bones.
SERVING SIZE: 3 TABLETS
Servings Per Container: 30
RECOMMENDED USAGE:
3 Tablets a day after meal, or as directed by the dietician.
BUY THESE ALONG, TO BOOST YOUR RESULTS!
Request a call back from our Sports Nutritionist to guide you!
ALL NEW FASHION BRANDS ITEMS UP TO 70% OFF