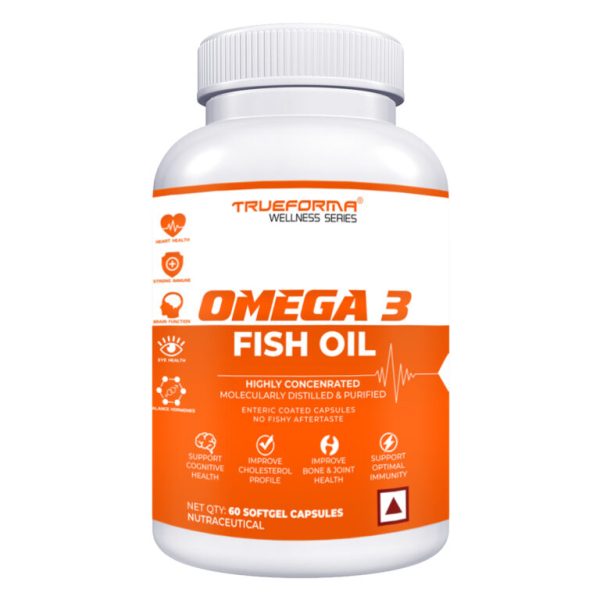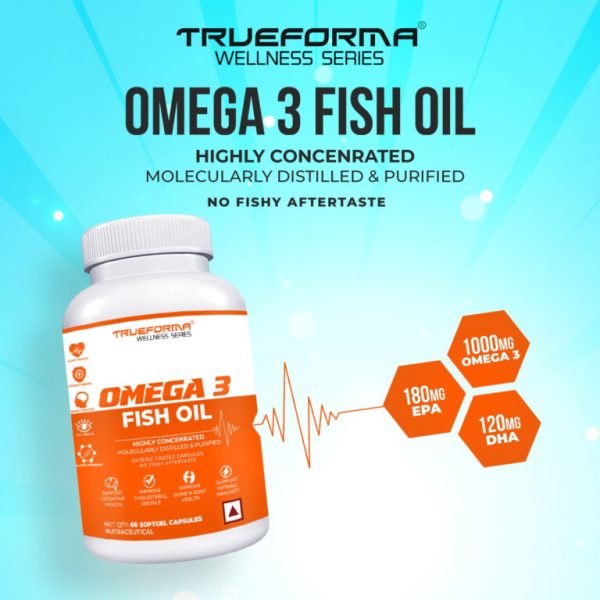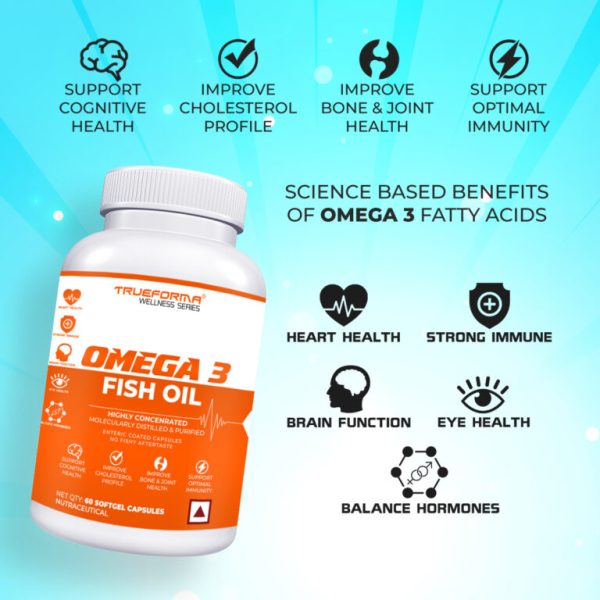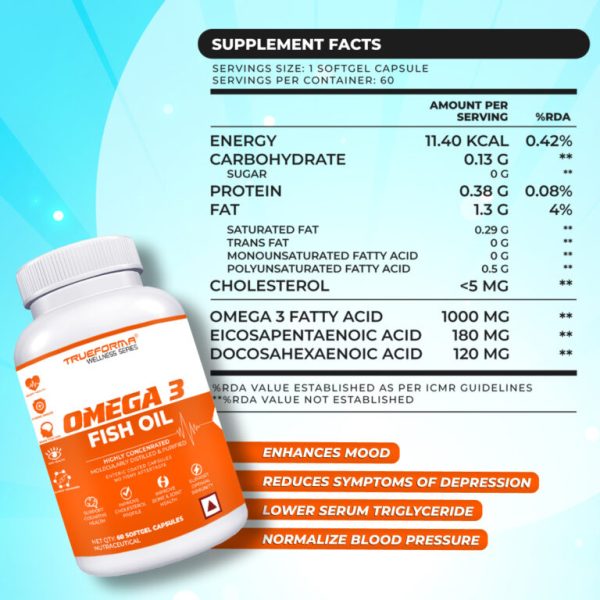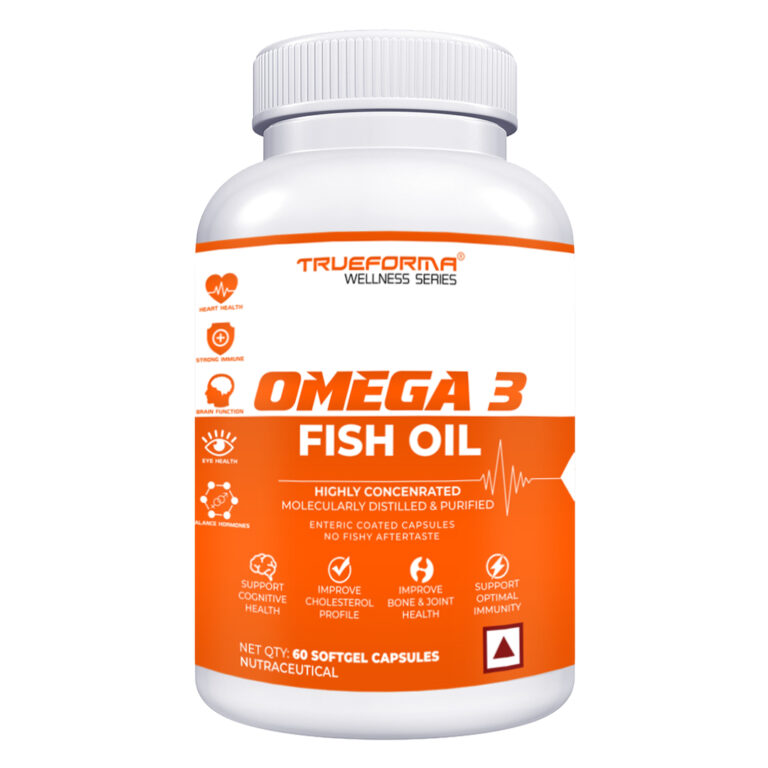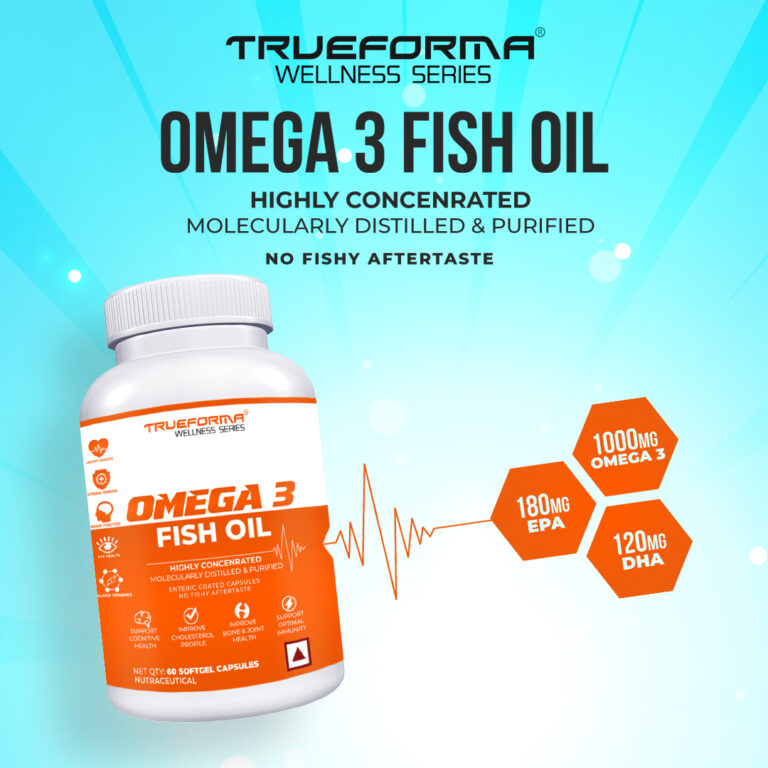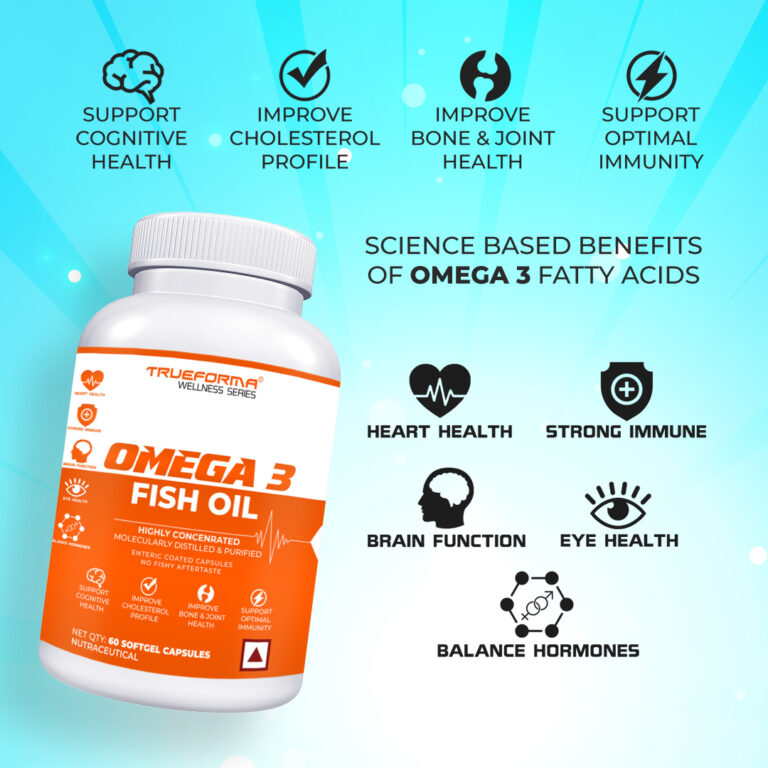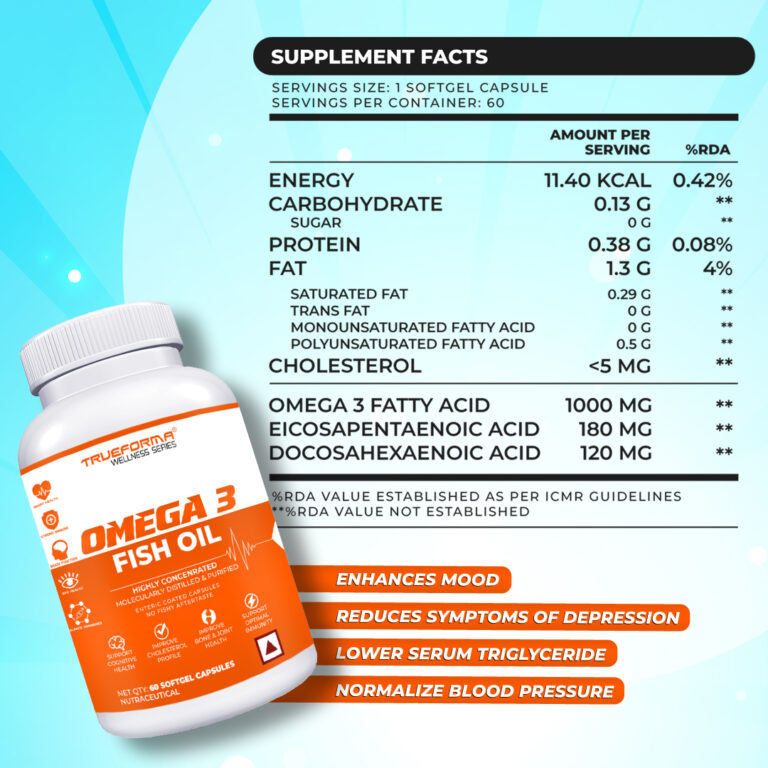 Trueforma® Omega 3 Fish Oil
Trueforma® Omega 3 Fish Oil
Highly Concentrated
Molecularly Distilled & Purified
No Fishy After Taste
1000MG Omega-3
180MG EPA & 120MG DHA
60 Softgel Capsules
Expiry- 07/2024
Manufacturer
Description
Reviews (0)
Marketed & Distributed In India:
Forever Nutrition (Brand Authorized):
Punjab 141001
Country of Origin: India
FSSAI Lic. No. 12121441000475
Manufacturer:
Nutricore Biosciences Pvt. Ltd.
No. 18, Kohinoor, Varachha Road,
Surat, Gujarat, India
Fssai Lic. No. 10715031000061
Description
The benefits of omega-3s for the heart, brain, and eyes are well established. Over recent years, however, there is a growing bank of scientific evidence related to a range of health conditions – including immunity, sleep, sports performance, and mood.
Less than 20% of the world's population achieves the minimum intake of eicosapentaenoic acid (EPA) and docosahexaenoic acid (DHA) recommended by most expert bodies. Supplementation with EPA and DHA omega-3s derived from fish oils solves the deficiency.
Omega-3 Benefits on the Body: Intake of Omega-3 reduces all types of inflammation in the human body. Allergies are a type of inflammation and can include itching, hives, rashes, asthma, food sensitivities, eczema, and sinus infections. Severe inflammation of tissues is the main cause of heart diseases, arthritis, prostatitis, immune system dysfunction, depression, Alzheimer's, and many other health conditions. The EPA & DHA fish oil fatty acids regulate the inflammatory response by reducing the number of compounds causing pain and inflammation.
Omega-3 Benefits for Hair: Intake of Omega-3 Supplementation helps to promote hair growth and keeps hair strong and healthy. Adding these fatty acids to your diet can prevent itchy, dry, and flaky scalp and also stop hair loss.
Omega-3 benefits for Skin: Omega-3 reduces inflammation and thus reduces the risk of acne, eczema, psoriasis, or any other skin inflammations and allergies. Omega- 3 moisturizes the skin from within and keeps you looking young, supple, and wrinkle-free.
Omega-3 benefits for the Brain: Research suggests that Omega-3 intake protects people of every age group and gender against depression and anxiety. Omega-3 is also believed to work against Alzheimer's and dementia. This essential fatty acid found in fish oil can slow cognitive decline, prevents brain cells from shrinking, and also aid in the prevention of brain atrophy in older adults. As for children, it helps them to improve overall alertness and IQ. Omega-3 can improve brain function by helping to improve blood flow.
Omega-3 benefits for Eyes: Various studies have suggested that intake of Omega-3 over a period of time can be quite beneficial for the eyes. It improves and heals eye ailments like dry eye syndrome, glaucoma, and diabetic retinopathy. Omega- 3 fatty acids may also help guard adult eyes against age-related macular degeneration and cataract.
Omega-3 benefits in Weight Loss: Many people will wonder how fatty acids can help in weight loss. But the fact is that Omega-3 fatty acids help you to burn harmful fats more easily by improving your body's metabolism and fat-burning potential. It also helps to suppress the sudden hunger pangs that lead to calorie consumption.
*These claims are made by Science-Based Research on Omega 3 Supplementation & Omega 3 based food consumption.
BUY THESE ALONG, TO BOOST YOUR RESULTS!
Request a call back from our Sports Nutritionist to guide you!
ALL NEW FASHION BRANDS ITEMS UP TO 70% OFF