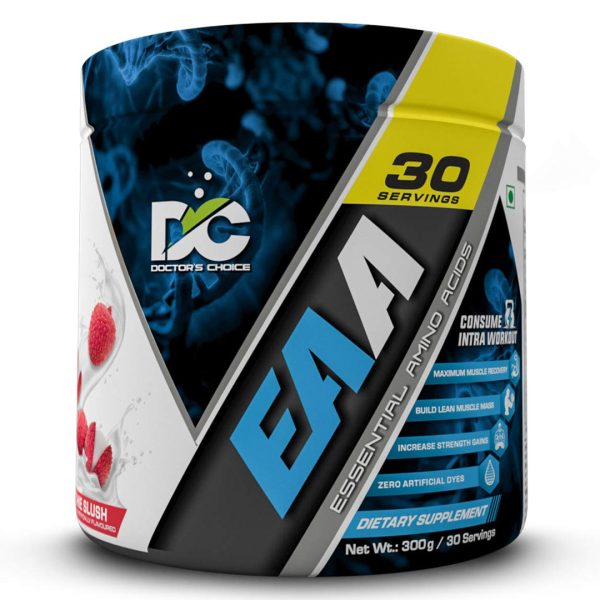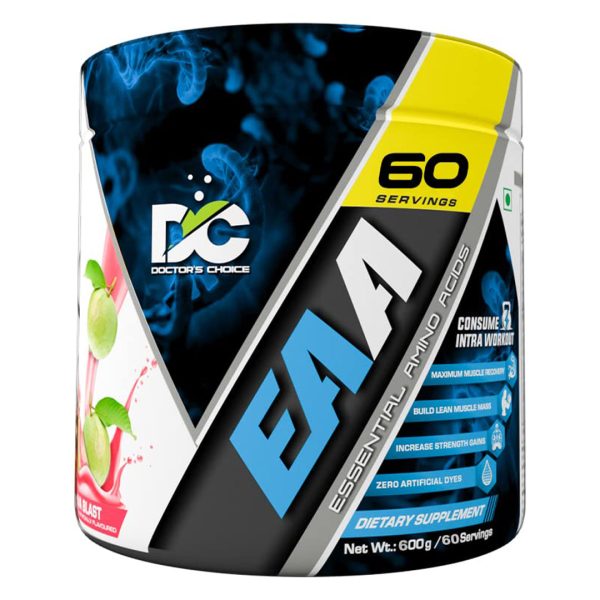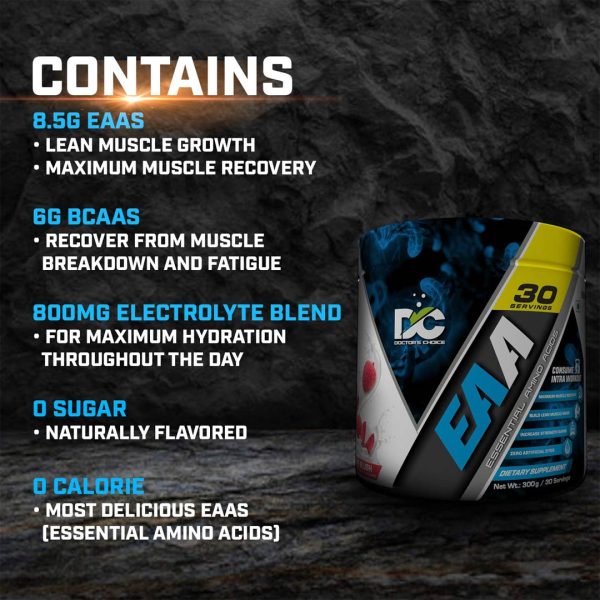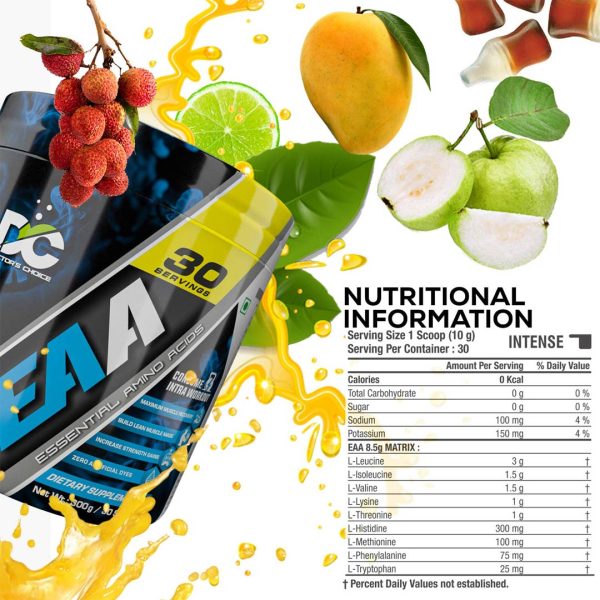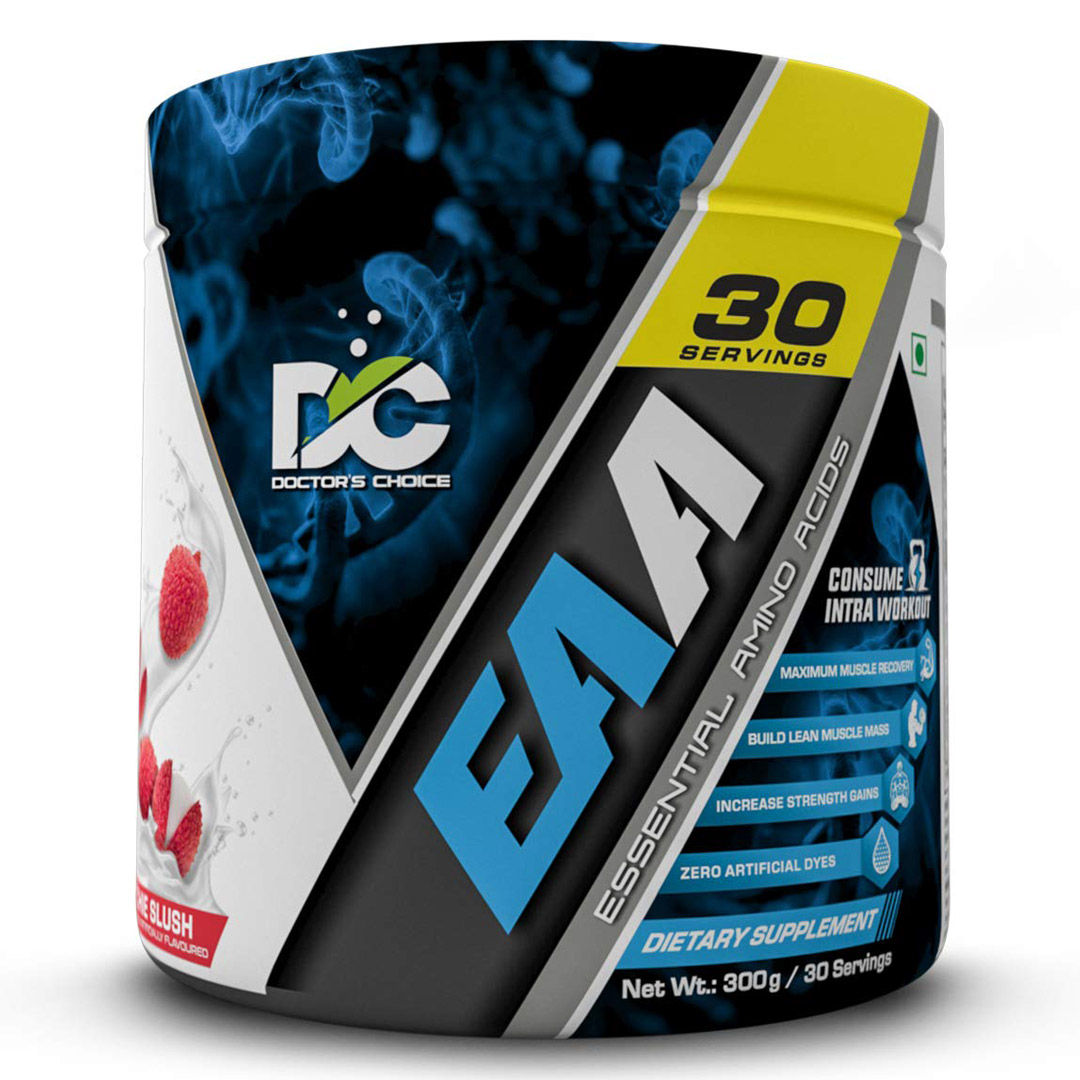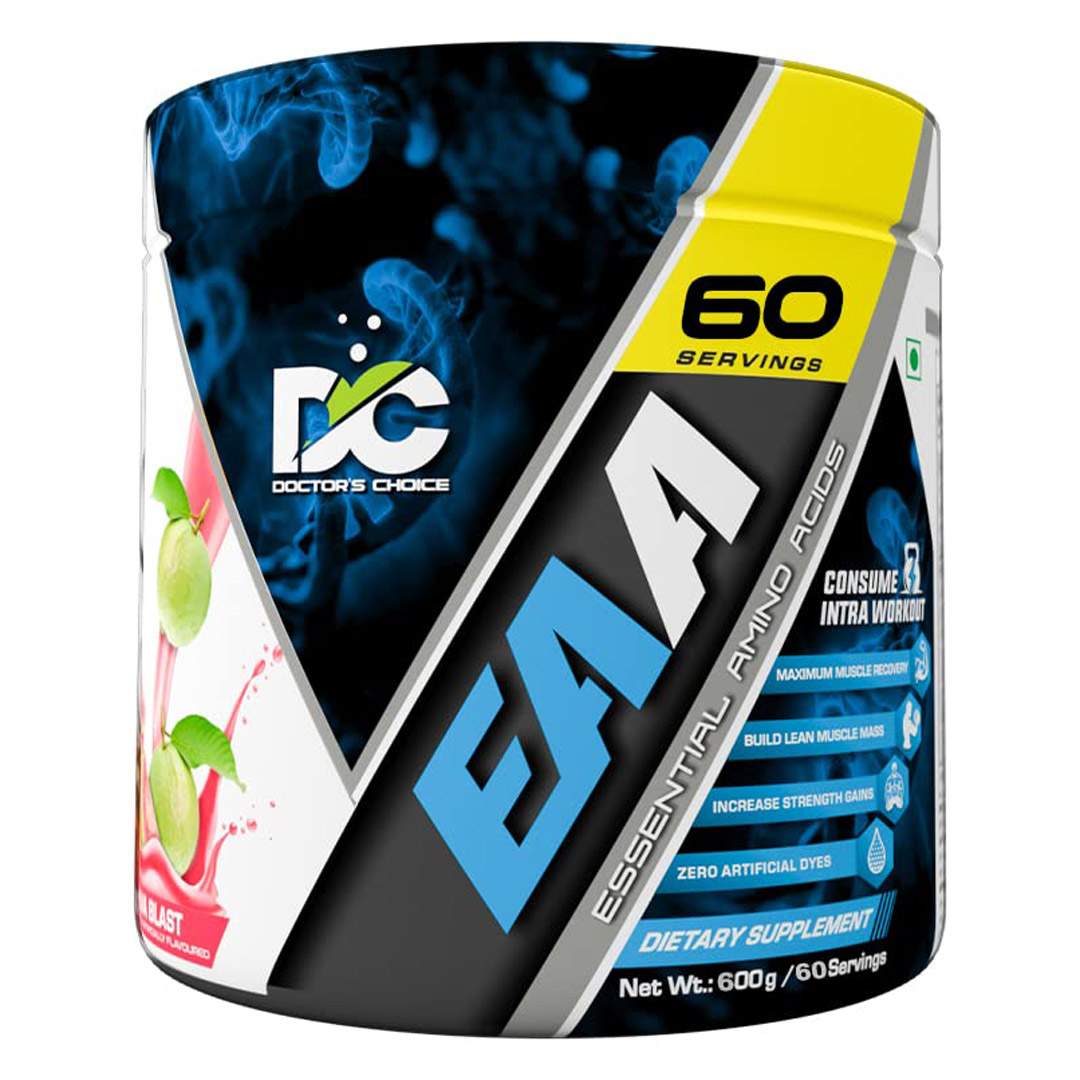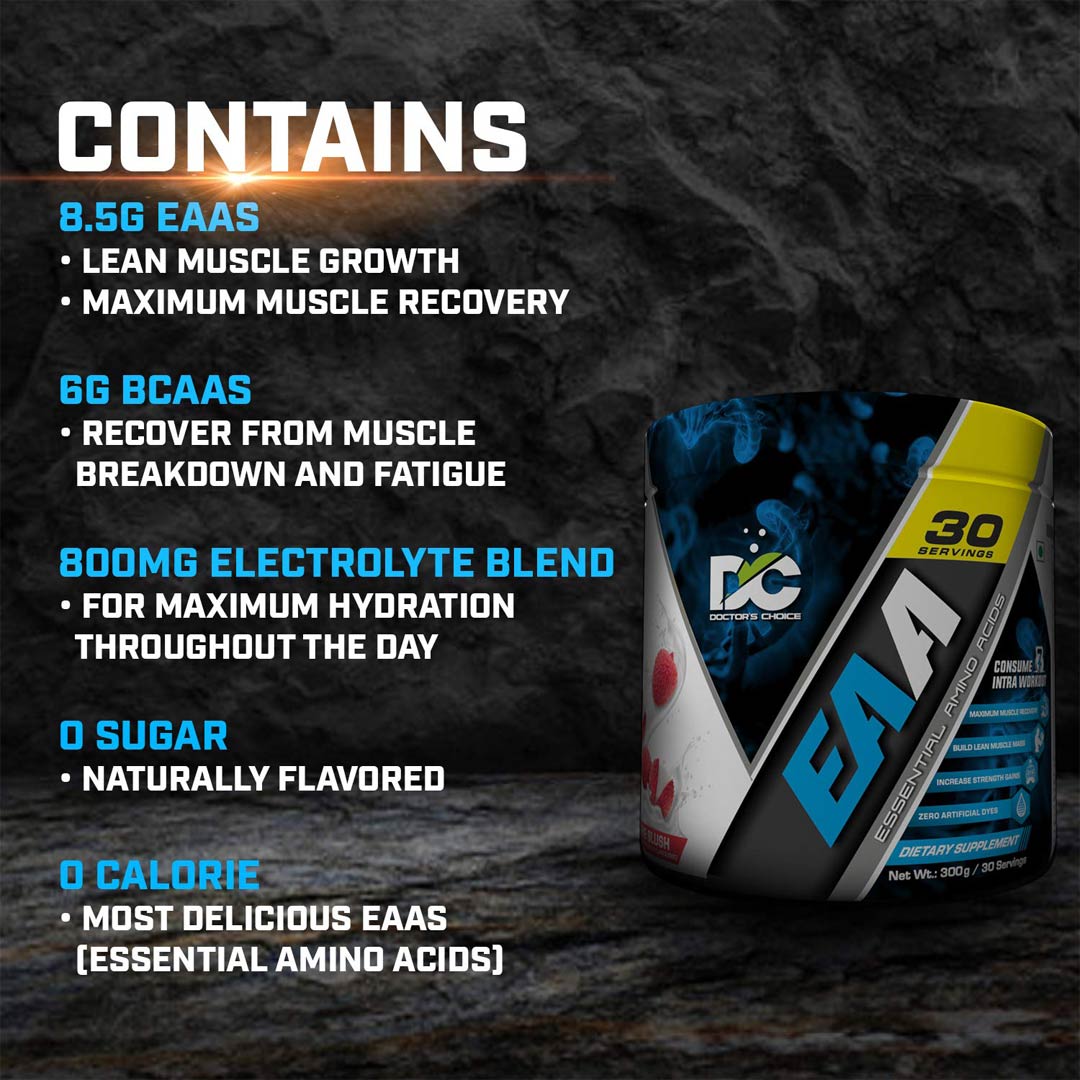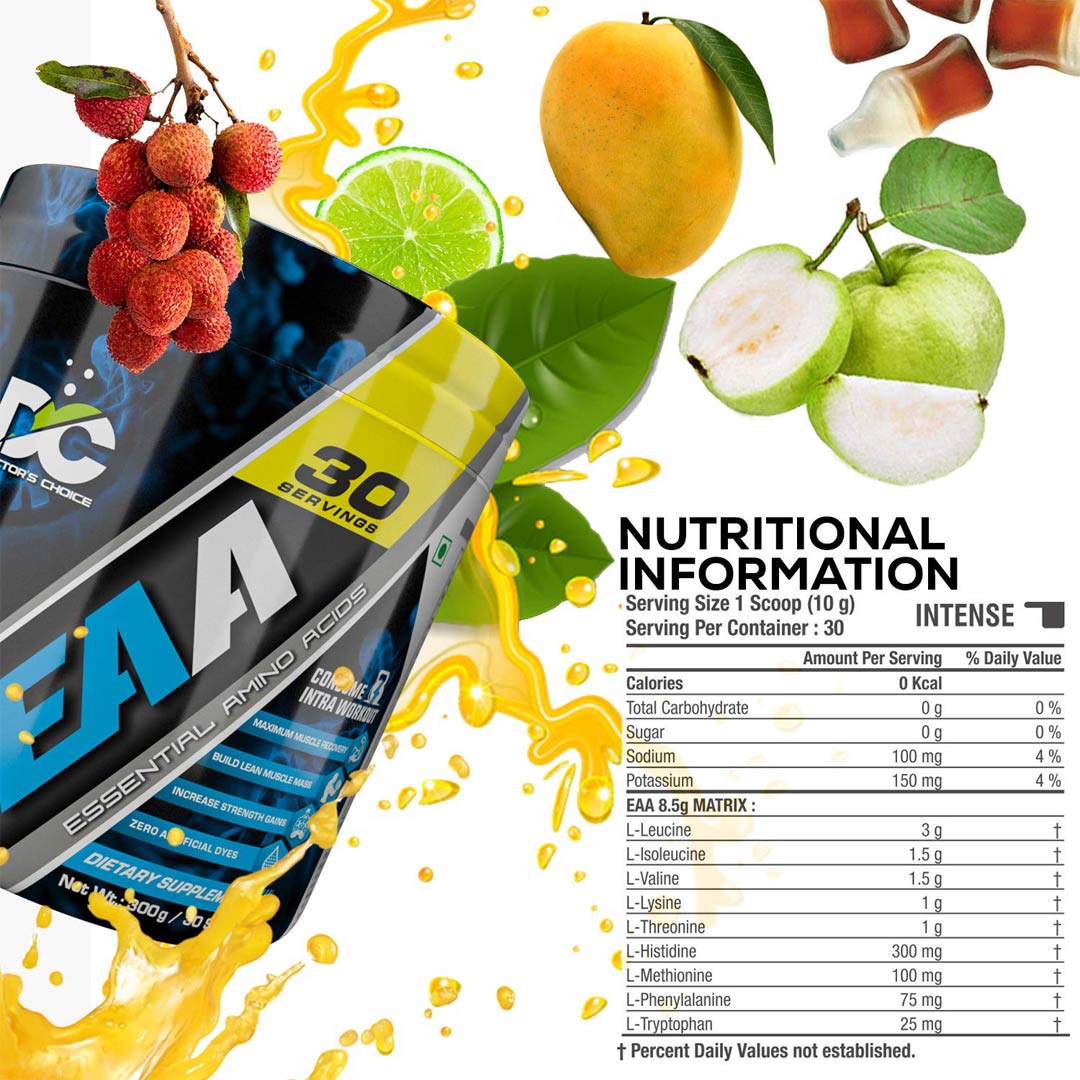 Doctor's Choice EAA (Essential Amino Acids) Best For Intra-Workout/Post-Workout Advanced Formula
Doctor's Choice EAA contains all 9 essential amino acids, including
Fermented BCAAs (L-Leucine, L-Isoleucine, and L-Valine) in the scientific ratio of 2:1:1 with 0 calories and 0 sugar.
MAXIMUM MUSCLE RECOVERY
MUSCLE PROTEIN SYNTHESIS
PRO HYDRATING ELECTROLYTES
BUILD LEAN MUSCLE MASS
Expiry 30 Servings –  12/2023
Marketed & Distributed By:
SAN Nutrition, Building No 4A Masoodpur, Vasant Kunj, New Delhi-110070, India
FSSAI Lic. No. 13322009000172
info@thedrchoice.com , +91-9667047771
Manufacturer
SAN Nutrition, Building No 4A Masoodpur, Vasant Kunj, New Delhi-110070
Country of Origin: India
Description
Description:
Flavor: lightning lime, size: 30 Doctor's Choice eaa is a mix of all nine essential amino acids, including three branched-chain amino acids (l-leucine, l-isoleucine, and l-valine) with zero of calories and sugar. What is an eaa? EAA stands for essential amino acids. Eaa are amino acids that cannot be synthesized by the body and need to be consumed in the diet. Eaa supplements have a number of performance and health benefits Doctor's Choice eaa will be a much more convenient way to provide your body with essential amino acids. 3G of l-leucine increases protein synthesis boosts stamina and endurance and improves muscle recovery. 1. 5G of l-isoleucine stimulates glucose uptake, regulates energy levels, speeds up wound healing and boosts the immune system. 1. 5G of l-valine promotes faster recovery, regulates blood sugar levels, detoxifies your liver and provides your body with extra energy. 1G of l-lysine helps absorb more calcium and maintain your bones healthy. 1G of l-threonine helps maintain your muscles strong and elastic at the same time, accelerates healing of wounds and injuries and supports immune function. 75Mg of l-phenylalanine supports emotional well-being, improves focus and reduces pain. 25Mg of l-tryptophan lifts mood, improve physical performance and reduces fatigue. 100 Mg of l-methionine improves muscle to weight ratio and builds bone strength. 300Mg of l-histidine reduces stress, helps improve muscle performance and protects tissues from damage. The nine essential amino acids are the main components of dc eaa, with added potassium and pink Himalayan salt for hydration.
BUY THESE ALONG, TO BOOST YOUR RESULTS!
Request a call back from our Sports Nutritionist to guide you!
ALL NEW FASHION BRANDS ITEMS UP TO 70% OFF