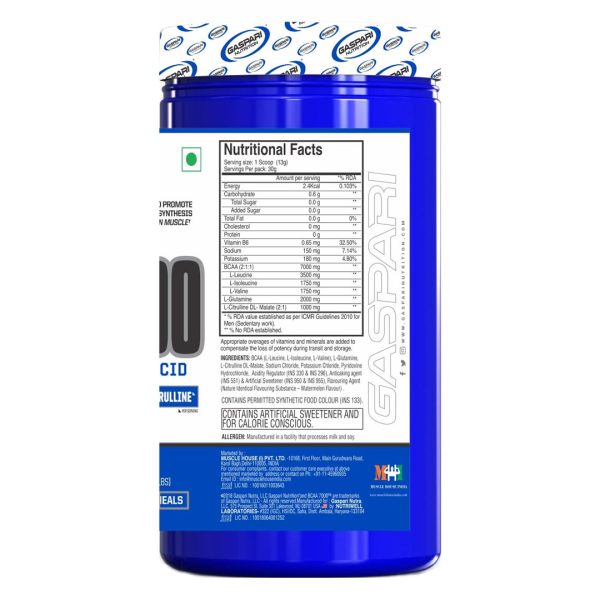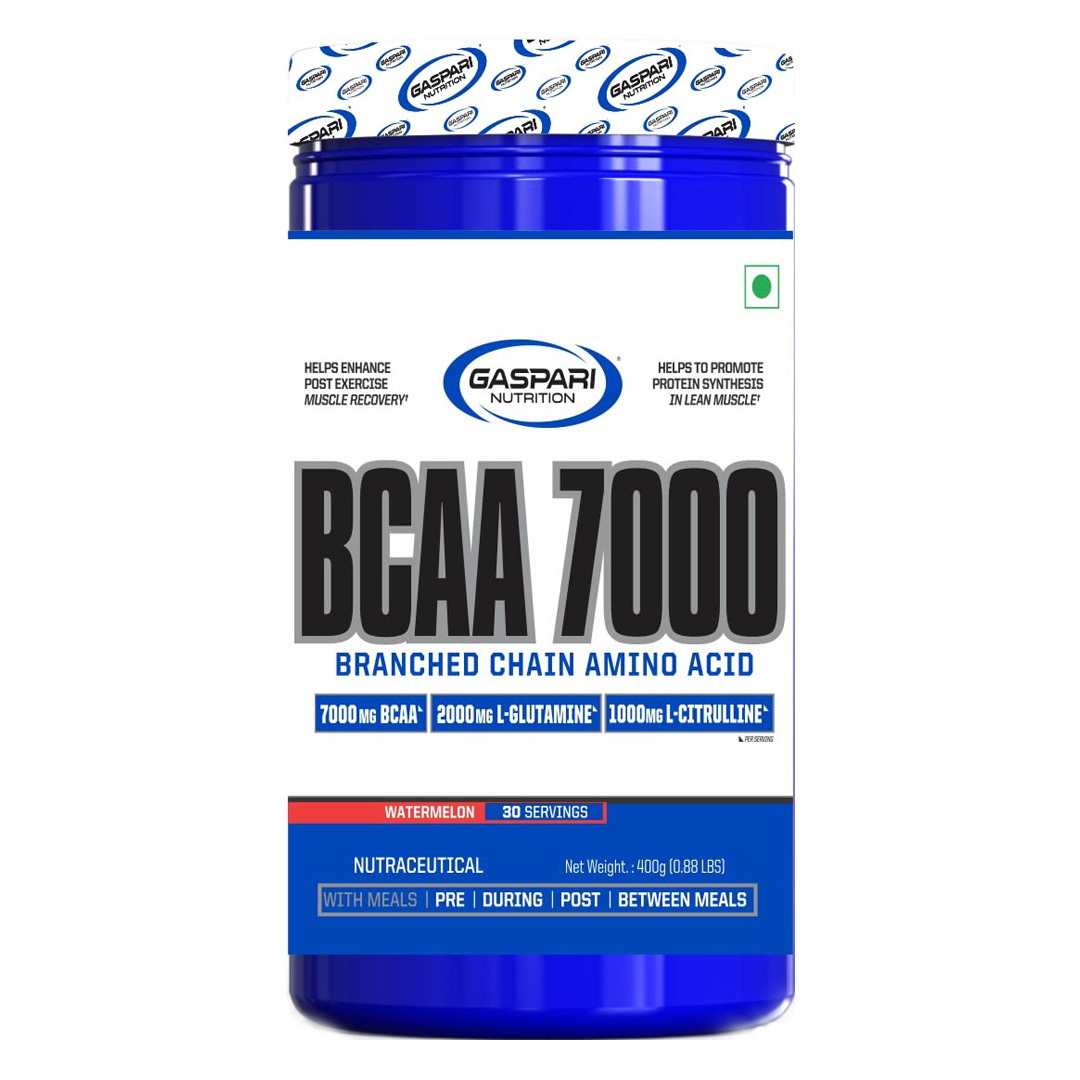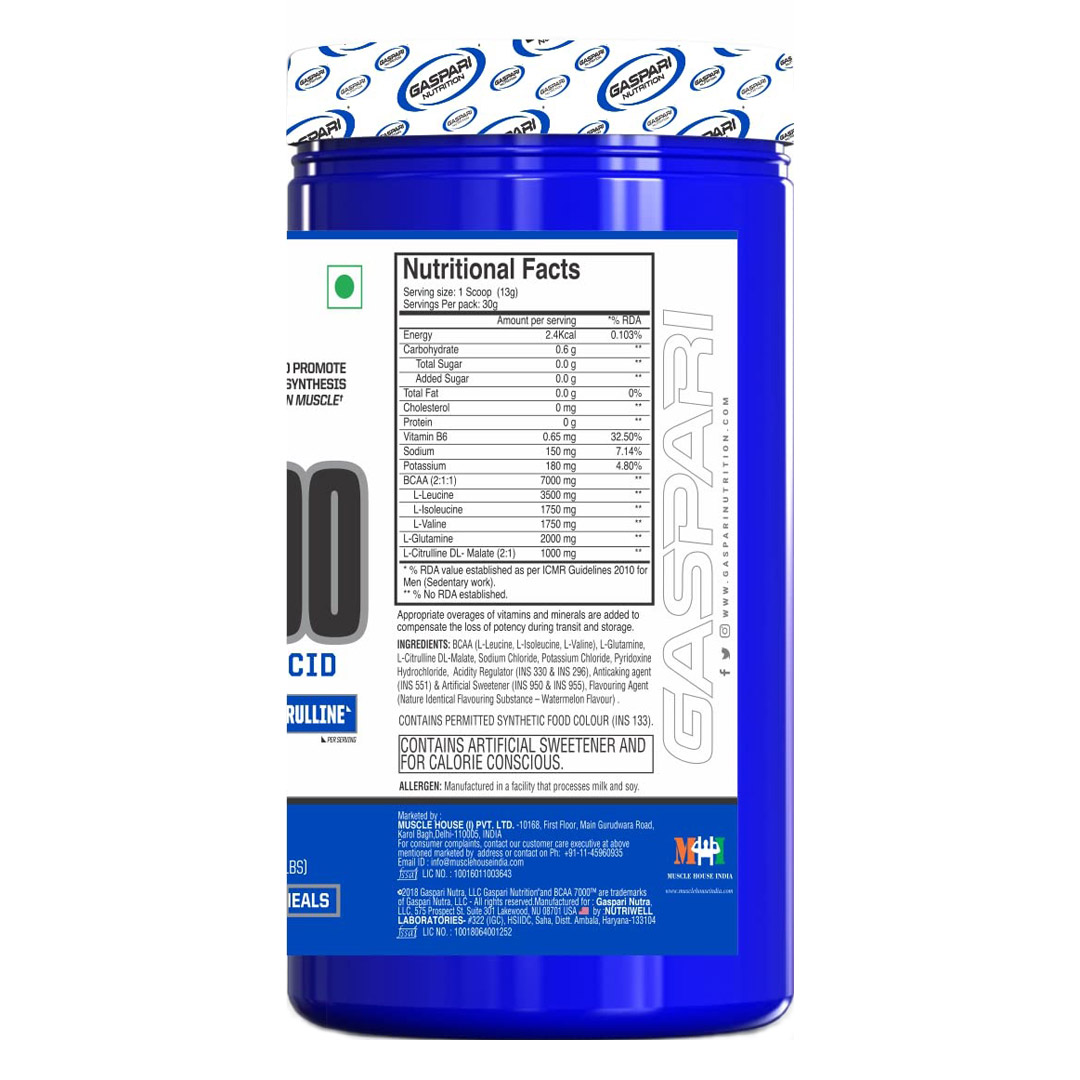 Gaspari Nutrition BCAA 7000, 0.88 lbs, 400 g-30 servings
Gaspari BCAA 7000 contains 7g of BCAA in 2:1:1 ratio of 100% pure branched-chain amino acids with added 2g L-Glutamine & 1g L-Citrulline DL- Malate (2:1).
Gaspari BCAA 7000 helps enhance post-exercise muscle strength, recovery and endurance. It helps to decrease muscle soreness after exercise.
Gaspari BCAA 7000 helps to promote Protein synthesis in Lean Muscle.
Gaspari BCAA 7000 helps to optimize aerobic & anaerobic sports performance.
Expiry- Best Before Jan/2024
Marketed & Manufacturer
Description
Marketed In India By MHI (Muscle House India)
Manufacturer:
Nutriwell Laboratories:
#322 (IGC), HSIIDC, SAHA,
DISTT.AMBALA,
HARYANA-133104
Description
Benefits
BCAA Supplements: An Ultimate Workout Fuel
BCAA Supplement is an ultimate intra-workout fuel with Leucine, Isoleucine, and Valine in the ratio 8:1:1 respectively. The most common ratio of BCAA supplements having these 3 essential amino acids is 2:1:1 with 2 parts of Leucine over 1 part each for the other two BCAAs. Leucine is a game-changer amino acid that activates the complex muscle-building pathways when the body undergoes a heavy-duty workout or any strenuous workout session. BCAA supplements help in good lean muscle building and instant recovery of muscles.
Benefits Of Consuming BCAA Supplements:
Most of the BCAA supplements in the market contain a common ratio of 2:1:1 for Leucine, Isoleucine, and Valine. But it is always advised to opt for BCAA Supplements containing these three amino acids in a ratio of 8:1:1 respectively. These essential amino acids are extremely vital for increased muscle growth and a good muscular frame. It enhances the synthesis of protein in the body, and therefore, facilitates faster recovery and good muscle buildup.
BCAA Supplements have Glutamine which is commonly found as over 61% of amino acid in the skeletal muscles which helps in better muscle recovery and strength. It also contains 19% nitrogen for the vasodilation of nerves. L- Glutamine present in the BCAA supplements helps in faster muscle growth and recovery of skeletal muscles which undergo rigorous wear and tear during a workout.
Taking up BCAA supplements helps you keep fuller and curb your appetite. Study shows BCAA supplements promote fat loss in women. It also preserves your lean muscles while you are dieting and keeps you satiated for a long.
Reduces Fatigue & Normalises Soreness
BCAA supplements have both sodium and potassium as potent electrolytes. If consumed during workouts, these electrolytes prevent the onset of fatigue. It keeps the body hydrated for a long even after a long and strenuous workout session.
BCAA supplements are effective because of their higher leucine content – approx 5.6g of leucine per serving with a ratio of 8:1:1 of Leucine, Isoleucine and Valine respectively. Leucine speeds up the muscle recovery process and helps in good muscle growth.
Every serving of BCAA supplement comes loaded with L-Citrulline which facilitates vasodilation and pump. It also helps in the effective and efficient transportation of nutrients to the muscles by increasing blood flow to the muscles.
All BCAA supplements come with no added sugar so you just don't have to worry about the overall sugar content in the body. All you can do is gulp down only what is good.
When to Consume
Highly trained athletes, fitness enthusiasts, gym goers, or any individual who is training hard is recommended to consume BCAA supplements during the workout. It is ideal for both pre and post-workout regimes. It will keep you all fueled up and charged ensuring a power-packed performance in the gym. BCAA Supplements are essentially more important for vegetarians and vegans. Most people get enough of it when consuming an animal diet but all those on a plant-based diet might be deficient.
Directions to Use
It is advised to mix around 5-6 grams of BCAA supplement in your protein shake and consume it during your workout session in order to get the best results. It can be mixed in both water and skimmed milk.
BUY THESE ALONG, TO BOOST YOUR RESULTS!
Request a call back from our Sports Nutritionist to guide you!
ALL NEW FASHION BRANDS ITEMS UP TO 70% OFF