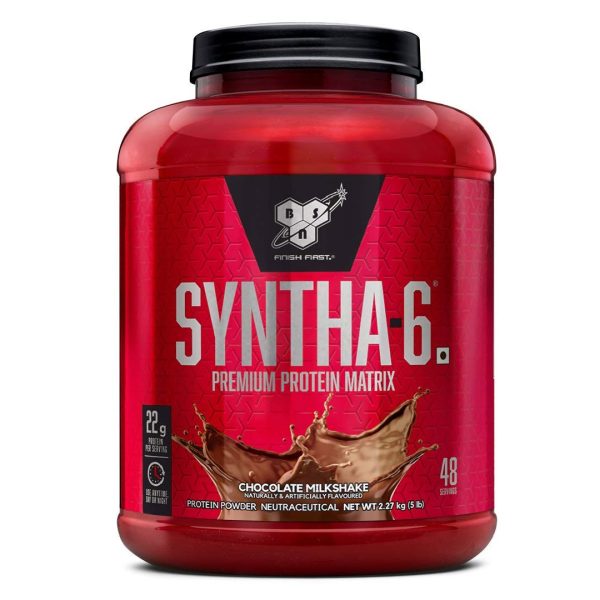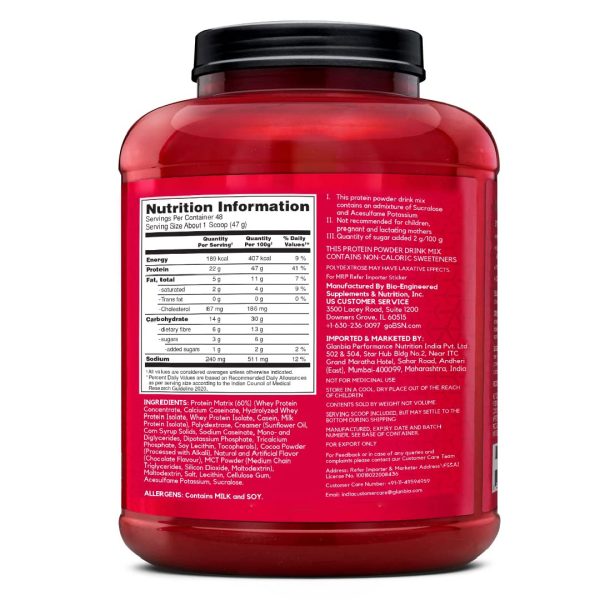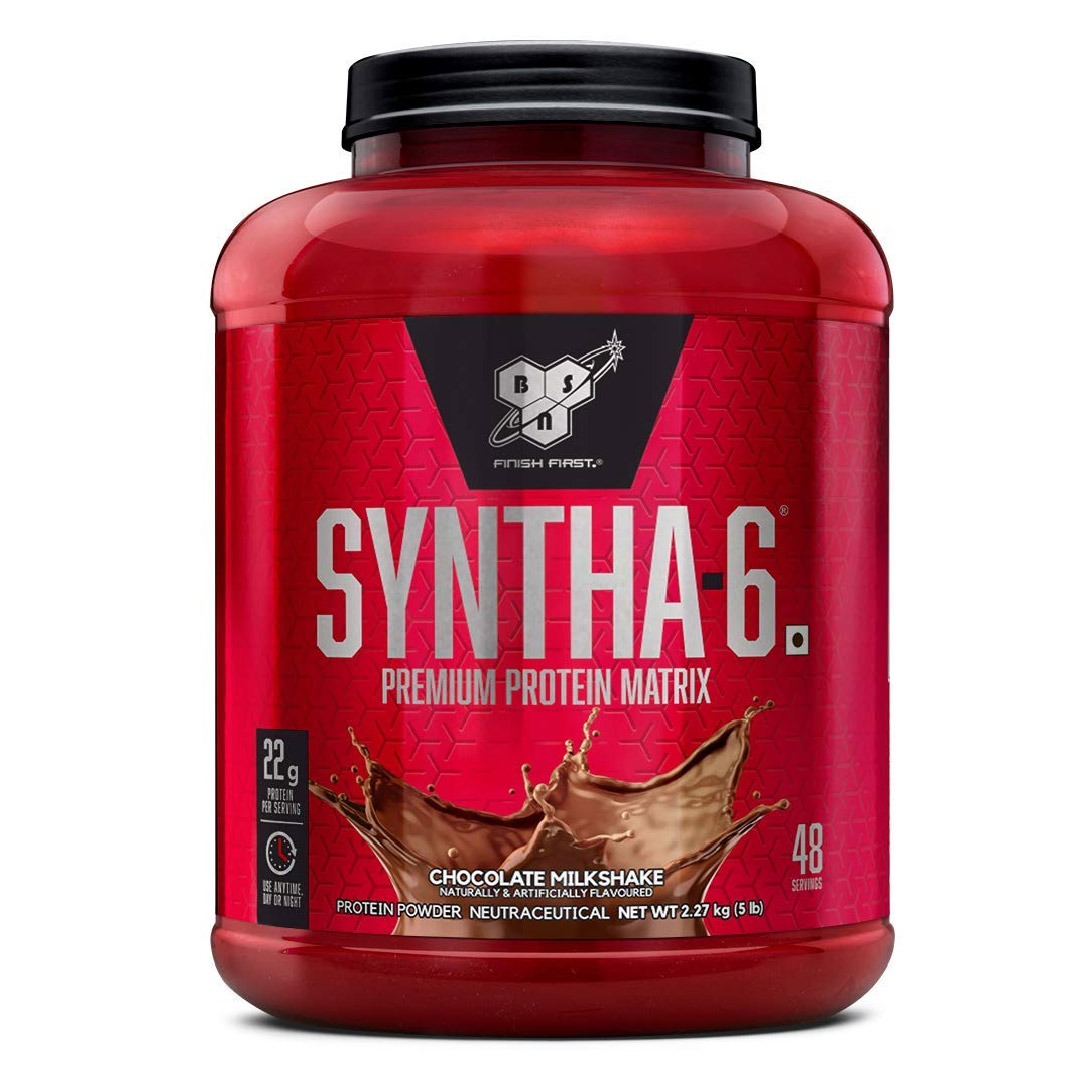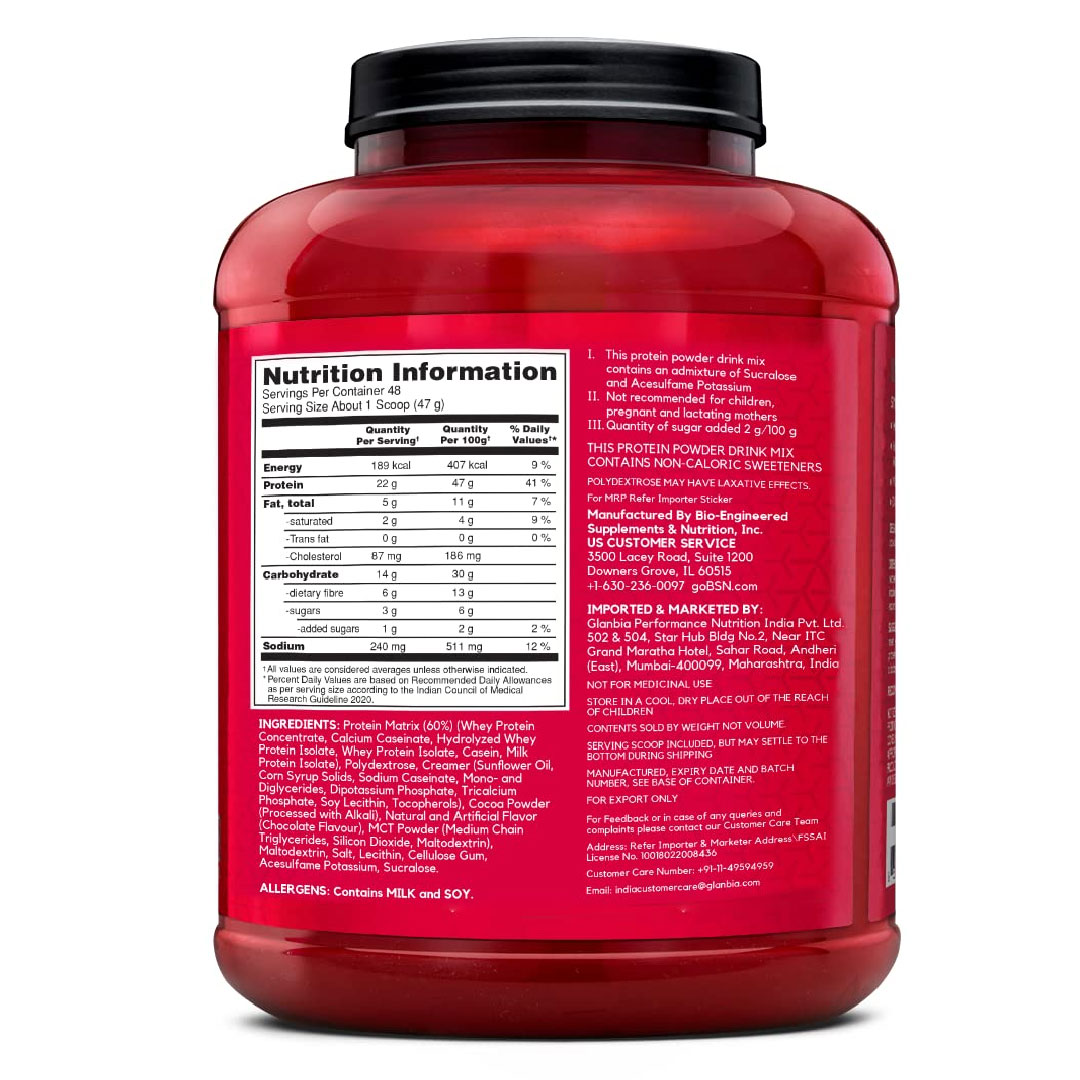 BSN Syntha 6 Protein Powder – 5 lbs, 2.27 kg
Lean Muscle Tissue Repair
Muscle Recovery
Muscle Growth
Immunity Booster
22 Gm Protein Per Serving
Blend OF Whey Protein Concentrate, Isolate, Casien, Egg Albumen, Milk Protein Isolate.

Expiry
Chocolate Milkshake – 05/2024
Importer
Description
Reviews (0)
Glanbia Performance Nutrition
502 504 stat hub bldg no 2, Sahar road, Andheri East Mumbai 400059 India
FSSAI Lic. No. 10017011004358
indiacustomercare@glanbia.com, (11) 49594959
Description
Ingredients: Protein & Amino Acid Matrix Comprised of (Whey Protein Concentrate-Milk & Soy, Whey Protein Isolate-Milk & Soy, Calcium Caseinate-Milk & Soy, Micellar Casein-Milk & Soy, Milk Protein Isolate-Milk & Soy, Egg Albumen-Egg, and Glutamine Peptides-Wheat), Sunflower Powder Consisting of (Sunflower Oil, Corn Syrup Solids, Sodium Caseinate-Milk, Mono- & Di-Glycerides, Dipotassium Phosphate, Tricalcium Phosphate, Lecithin-Soy, and Tocopherols), Cocoa Powder Processed with Alkali-Soy, Polydextrose, Natural & Artificial Flavors-Milk & Soy, MCT Powder Consisting of (Medium chain Triglycerides, Non-Fat Dry Milk, Disodium Phosphate, and Silicon Dioxide), Cellulose Gum, Sucralose, Acesulfame Potassium, Papain, and Bromelain.
Life would have been so much easier and wonder if we turn out multi-tasking at some point in life. Sadly, not everyone fairs well fon the criteria and so are the supplements around. Your workout demands are not equal as well and to fulfill varied demands you stock up multiple health blends in your kitchen. It is frustrating to search for a supplement that caters to all demands and finally come back home empty-handed. BSN Syntha-6,  5 lb  Chocolate Milk Shake is no less than a multi-tasking champ supplement for all your bodybuilding needs. The supplement is apt for pre-workout, post-workout, mid-meal cravings and for a daily boost for nutrition as well. Some of the added benefits linked are:
Aids in protein synthesis so that your body delivers excellent workout performance.
Muscle recovery is also a forte.
Delivers 22 grams of proteins and 10 grams of essential amino acids per serving.
Benefits
If nutrition and taste are what you look for in a supplement then SYNTHA-6 is the real deal for you. The ultra premium lean mass building formula delivers super-clean proteins and essential amino acids so that you attain a defined muscular structure and the recovery process is smooth. The supplement also has a correct 5 grams of BCAAs stimulates the process of protein synthesis in your body and catalyses the synthesis of cellular machinery that ultimately supports the protein synthesis. The entire synthesis and absorption of the nutrient is what BCAA checks on.
BSN Syntha-6 is an ideal solution for people who keep a tab on their weight and do cardio exercises few times a week. The supplement lacks the nasty sugars and fats that ultimately make it perfect for people who are looking forward to losing that flab. Another aspect to it the good dose of fiber that keeps bowel movements correct and aids in faster fat-loss. The multi-faceted supplement by BSN is good for athletes and a pre-requisite for beginners.
BUY THESE ALONG, TO BOOST YOUR RESULTS!
Request a call back from our Sports Nutritionist to guide you!
ALL NEW FASHION BRANDS ITEMS UP TO 70% OFF