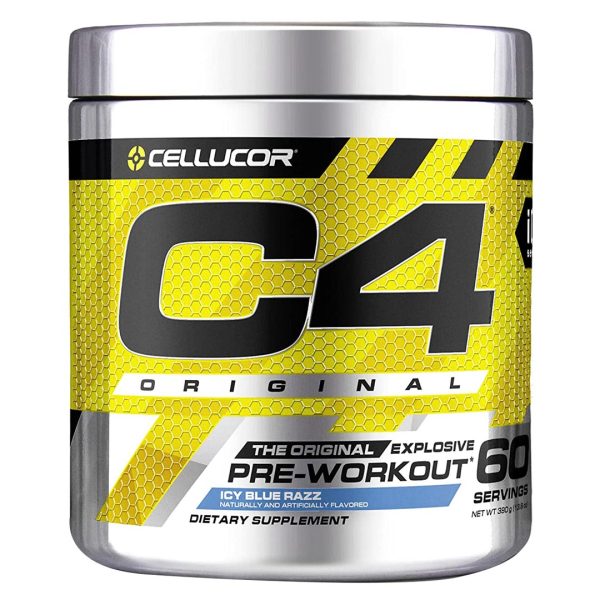 Cellucor C4 The Original Explosive Pre Workout- 60 Servings
Sharp Focus
Explosive Energy
Horse Power
Strength, Stamina
Expiry 07/2025
Importer & Manufacturer
Description
Reviews (0)
Importer
Iron Asylum (Brand Authorized)
Bangalore, Karnataka – 560068, India
FSSAI Lic. No: 11222999000706
customercare@ironasylum.co.in, +91 9606990550
Manufacturer
Woodbolt Distribution LLC, NutraBolt, 3891 S Traditions Dr, Bryan TX 77807
Country of Origin: USA
Description
DESCRIPTION:
Cellucor C4 Explosive Pre-workout contains essential vitamins and minerals which include vitamin B12, vitamin C, folic acid, calcium, and many more to strengthen and keep you energetic. Since the ingredients are hygroscopic, they are good for growing muscles larger and stronger.
Without proper nutrients, most people compromise their performance and intensity due to muscle fatigue. C4 Pre-workout drinks are the perfect way to help you of boosting the energy that you need to nudge yourself and train harder.
Whether you are a beginner or an advanced athlete making efforts to push yourself to the next level, Cellucor C4 Explosive Pre-workout is a perfect supplement for meeting all of your bodybuilding pledges.
How to Use?
Mix one serving of Cellucor C4 Explosive Pre-workout with 150-200ml of water.
Shake it well, and a refreshing drink is ready. It is a good idea to use cold water to give you that instant boost. There are chances that you have a mild tingling sensation when you drink it. This sensation is normal and is the result of beta-alanine in the drink. Consume the prepared blend 30-40 minutes before your workout session.
BUY THESE ALONG, TO BOOST YOUR RESULTS!
Request a call back from our Sports Nutritionist to guide you!
ALL NEW FASHION BRANDS ITEMS UP TO 70% OFF