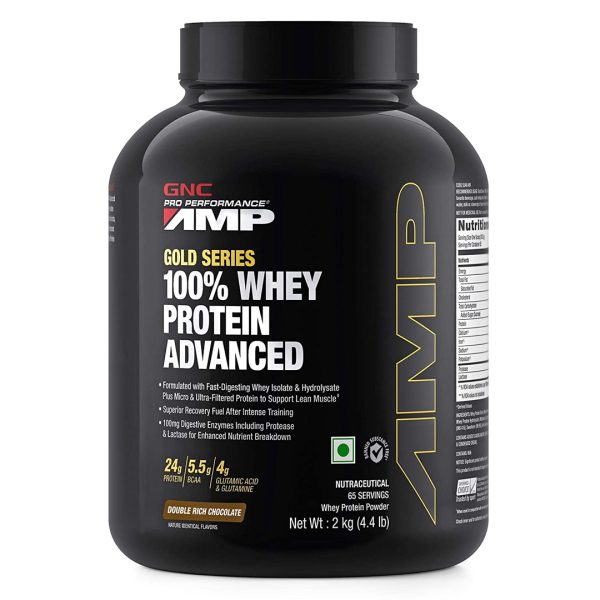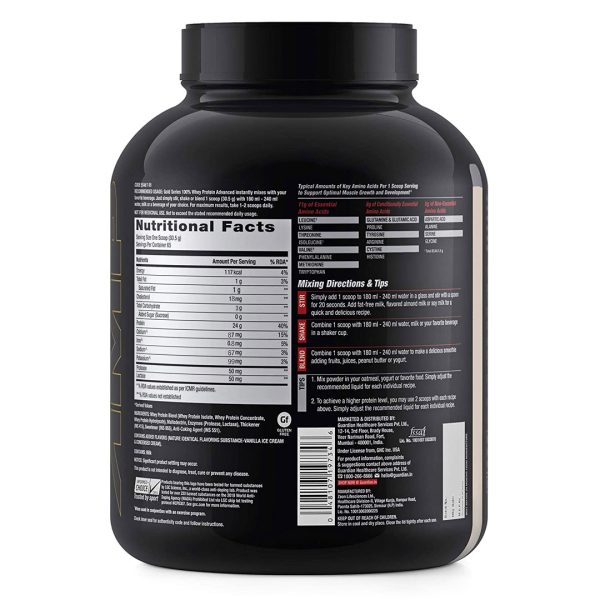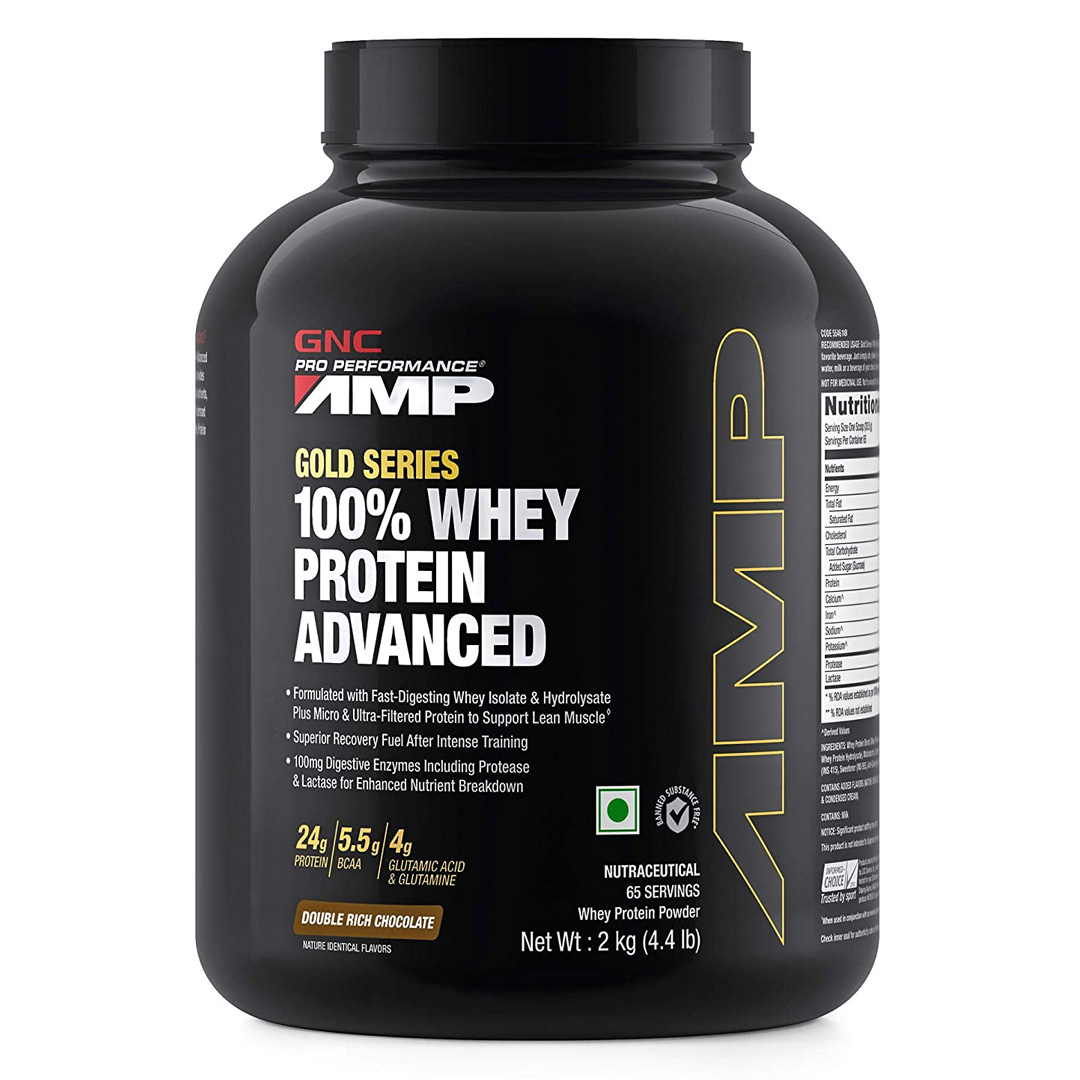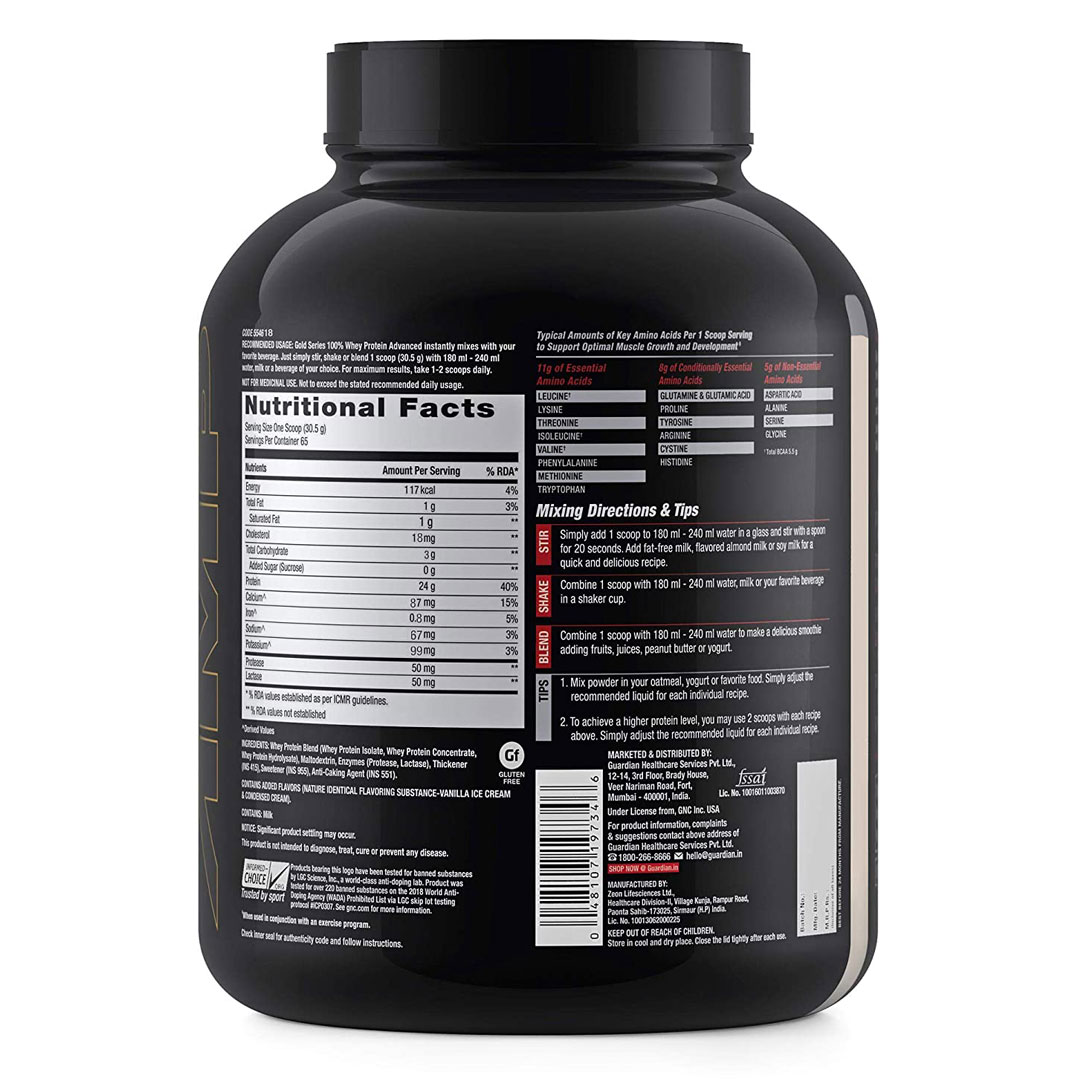 GNC Amp Gold Series 100% Whey Protein Advanced, 4.4 lb With Free Gnc Triple Strength Fish Oil (30 Capsules)
Enhances Performance

Maximum Muscle Gain.

Improves Muscle Recovery.

Quick and Sustained Muscle Repair & Building.
Marketed & Manufacturer
Description
Reviews (0)
Marketed By:
Guardian Healthcare Services Pvt. Ltd. (✓ Brand Authorized):
12-14, 3rd Floor, Brady House, Veer Nariman Road, Fort, Mumbai-400001, India
FSSAI Lic. No. 10016011003870
hello@guardian.in, 18001036861
Manufacturer
1) Nutra Manufacturing, 1050 Woodruff Road, Greenville, SC 29607
Country of Origin: USA
2) Zeon Lifesciences Ltd., Poanta Sahib, Sirmaur HP 173025
Country of Origin: India
3) Tirupati Wellness, SurajPur, Nahan Road, Paonta Sahib, Sirmaur HP – 173001
Country of Origin: India
4) Maxcure Nutravedics Limited, 12 Sector – 6A I.I.E. Sidkul, Haridwar Uttarakhand 249403
Country of Origin: India
Description
Give your workouts that extra push and keep yourself energized throughout the day with the special formula of GNC AMP Gold Series BCAA Advanced. It has the combination of 3 essential amino acids and 3 essential nutrients. The 3 essential amino acids – leucine, isoleucine, and valine function alone or as a group to trigger protein production for muscle growth and repair along with the combination of 3 essential nutrients – L-glutamine, L-Citrulline, and Vitamin B6.
Key Features: 7 g of Instantized BCAA in optimal 2:1:1 ratio- 3.5 g Leucine, 1.75 g Iso-Leucine & 1.75 g Valine
Versatile sports drink for both pre-and post-workout use
Caffeine, creatine, and banned substances free
Benefits
It totally depends on your individual fitness goals whether you need just a whey protein supplement or a BCAA supplement also needs to be added to your routine. Your trainer and dietician will help you decide.
The main benefits of GNC AMP Gold BCAA are –
Increases muscle growth
GNC Amp Gold Series BCAA advanced contains a BCAA ratio of 2:1:1 for leucine, valine, and isoleucine. These three amino acids are integral for a good muscular frame and increased muscle growth.
Reduces fatigue
If you want to reduce fatigue and muscle soreness, especially after intense workouts, then a BCAA supplement can be the best bet. GNC AMP Gold Series BCAA Advanced has sodium and potassium as potent electrolytes and when you consume BCAA supplements post-workout, these electrolytes prevent the onset of fatigue.
Helps with weight loss
BCAA supplements are highly satiating, i.e. they keep you fuller for longer which helps in controlling mid-meal snacking and in turn helps in weight loss. It is also helpful in preserving your lean muscles while you are on a strict diet.
Improves recovery time and immunity
Taking BCAA supplements regularly improves recovery time. They are enriched with essential nutrients and amino acids that are helpful in boosting immunity and keeping you healthy.
When and how to consume
GNC Amp Gold Series BCAA Advanced can be had as a pre-workout and post-workout drink. As a pre-workout drink, it is helpful in sustaining muscle strength and as post workout supplement it prevents fatigue and muscle soreness.
Add 1 scoop GNC BCAA supplement to 300 ml chilled water or milk and shake well.
BUY THESE ALONG, TO BOOST YOUR RESULTS!
Request a call back from our Sports Nutritionist to guide you!
ALL NEW FASHION BRANDS ITEMS UP TO 70% OFF