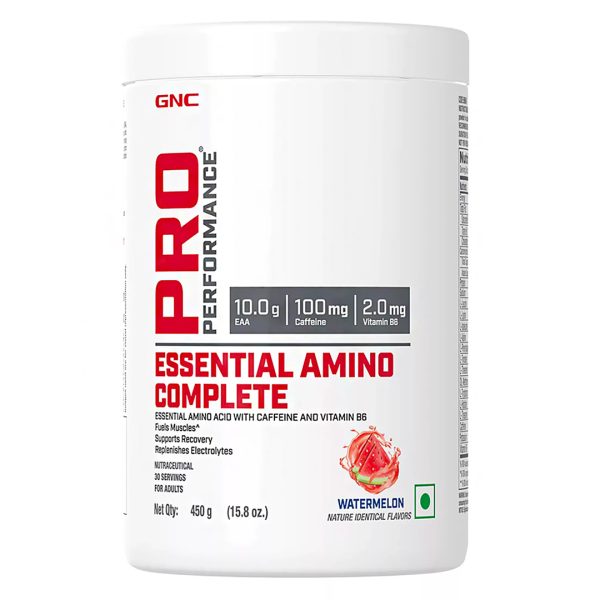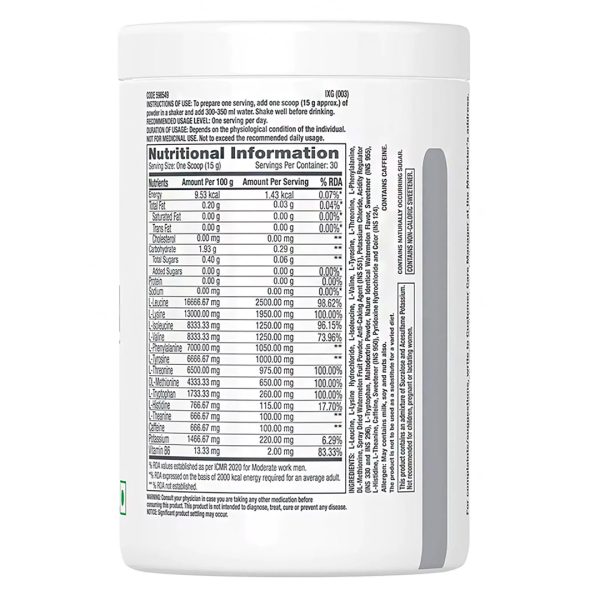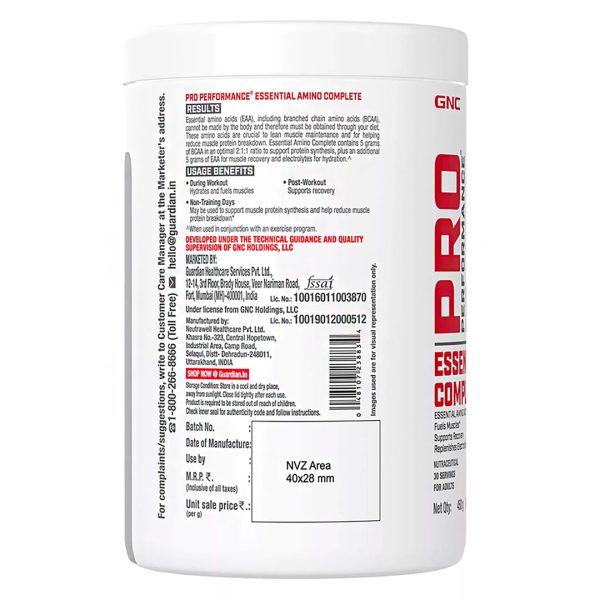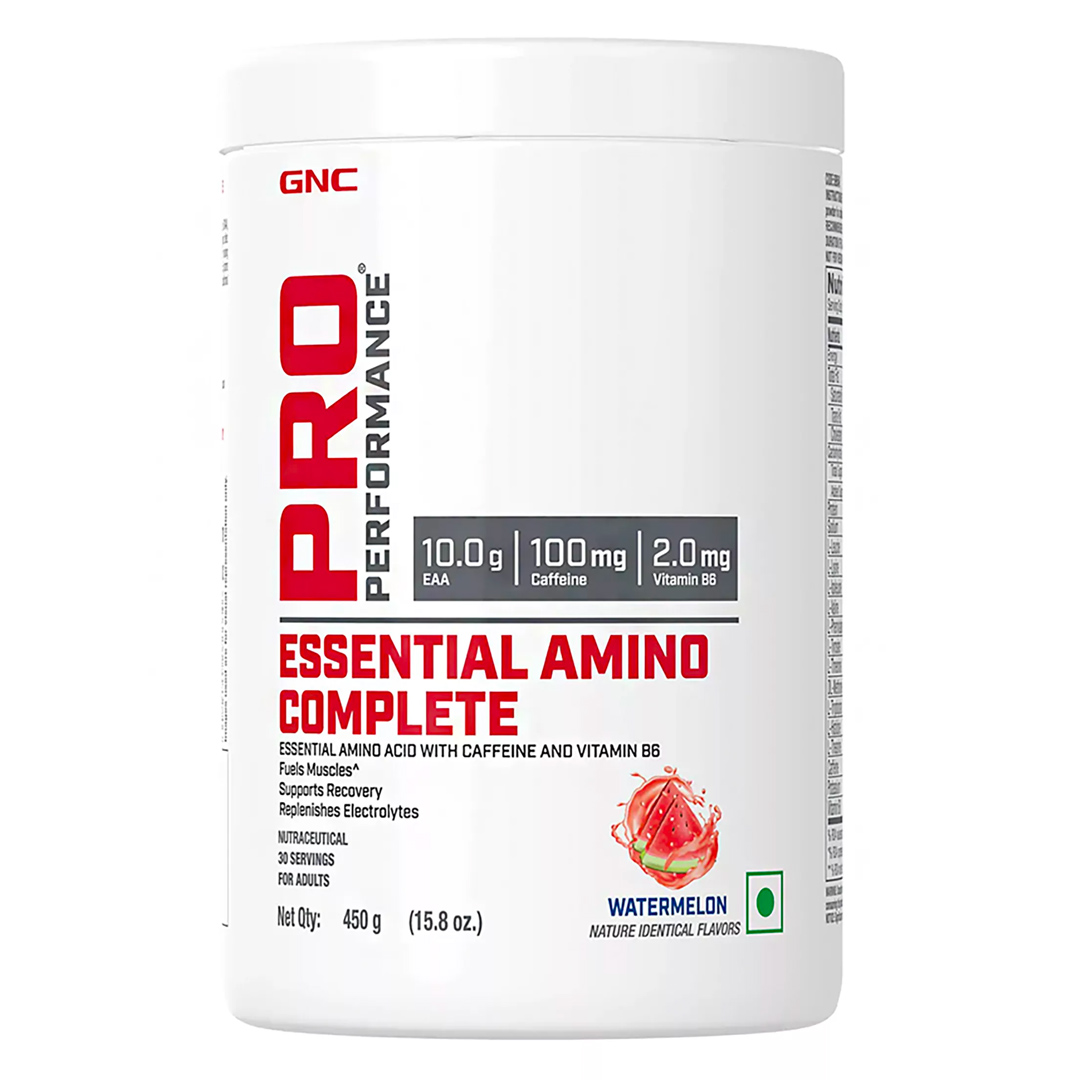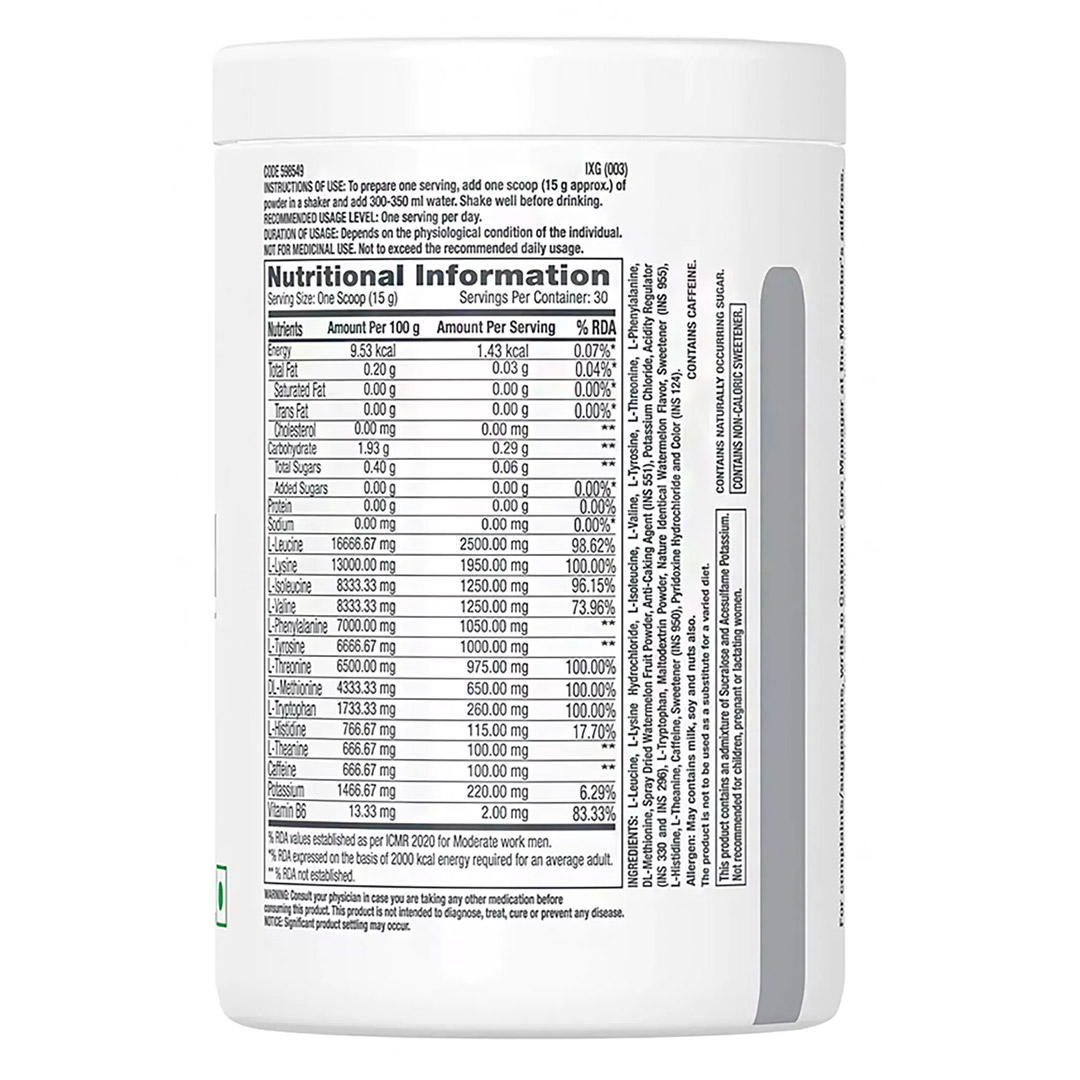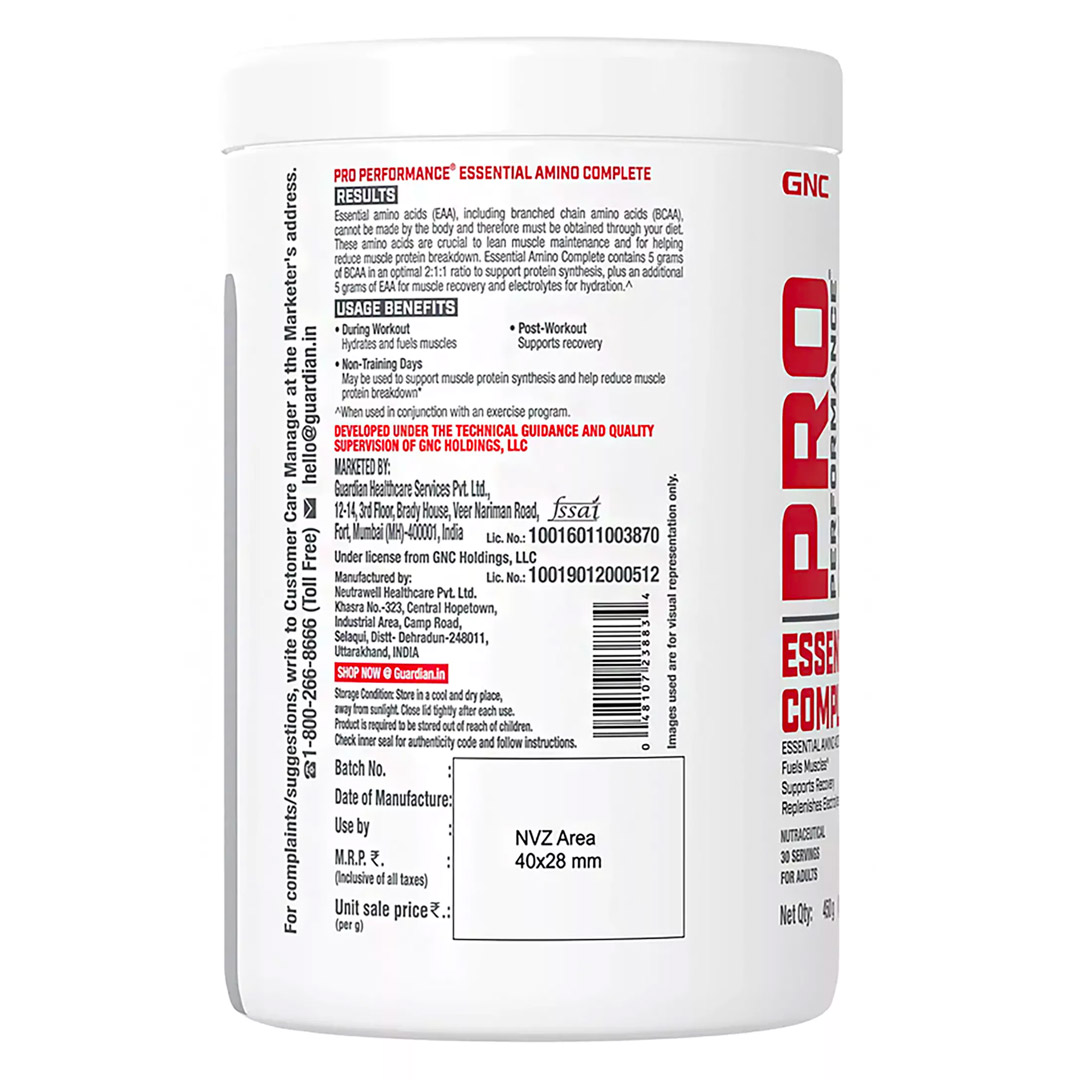 GNC Pro Performance Essential Amino Complete 460 Gm
Builds & Repairs Muscles

Prevents Dehydration & Cramps

Boosts Endurance & Energy Level

Delays Exercise Fatigue

Speeds Up Workout Recovery
Marketed & Manufacturer
Description
Reviews (0)
Marketed By:
Guardian Healthcare Services Pvt. Ltd. (✓ Brand Authorized):
12-14, 3rd Floor, Brady House, Veer Nariman Road, Fort, Mumbai-400001, India
FSSAI Lic. No. 10016011003870
hello@guardian.in, 18001036861
Manufacturer
1) Nutra Manufacturing, 1050 Woodruff Road, Greenville, SC 29607
Country of Origin: USA
2) Zeon Lifesciences Ltd., Poanta Sahib, Sirmaur HP 173025
Country of Origin: India
3) Tirupati Wellness, SurajPur, Nahan Road, Paonta Sahib, Sirmaur HP – 173001
Country of Origin: India
4) Maxcure Nutravedics Limited, 12 Sector – 6A I.I.E. Sidkul, Haridwar Uttarakhand 249403
Country of Origin: India
Description
WHY DO YOU NEED A GOOD EAA SUPPLEMENT?
Muscles Tire Easily While Exercising
Heavy Physical Training needs an INSTANT heavy supply of muscle-supporting amino acids, which your diet or protein powder cannot provide at once. An EAA supplement directly keeps adding fuel to your muscle tank to deliver the short energy bursts required for a workout. 
DOMS – Every Gym-Goer's Worst Nightmare
DOMS (Delayed Onset Muscle Soreness) sets in as the first major painful symptom in the days following your heavy workout. EAA supplement wards off this soreness by keeping your muscles well-nourished to encourage faster regeneration and repair.
Body Mischooses Carbs Over Fats for Energy
Out of the two major fuel sources that are carbs and fats, our body first uses carbs (glycogen) for generating energy. Taking an EAA supplement drives your body to FIRST BURN FATS instead of the precious glycogen for energy, which in turn prevents muscle breakdown.
All 9 EAAs + 2 EXTRA Non-EAAs
Massive Muscle Gains With Zero Cramps
5g BCAAs in 2:1:1 Ratio
Perfect Ratio for Efficient Muscle Growth
100mg of Caffeine
Boosts Energy Production & Endurance
2mg of Vitamin B6
Compensates for Loss During Intense Workout
220mg Potassium
Restores Electrolytes to Prevent Soreness
85+ Years of Scientific Expertise
Reliability and Unmatched Product Performance
Delicious Flavour
Treat for Your Taste Buds
BUY THESE ALONG, TO BOOST YOUR RESULTS!
Request a call back from our Sports Nutritionist to guide you!
ALL NEW FASHION BRANDS ITEMS UP TO 70% OFF