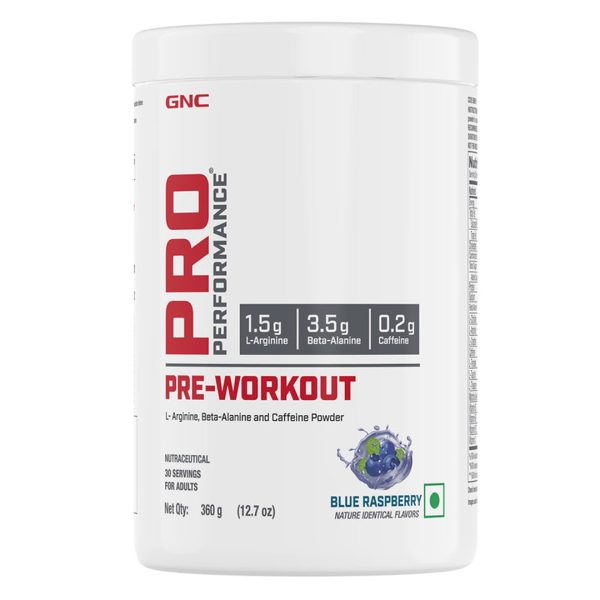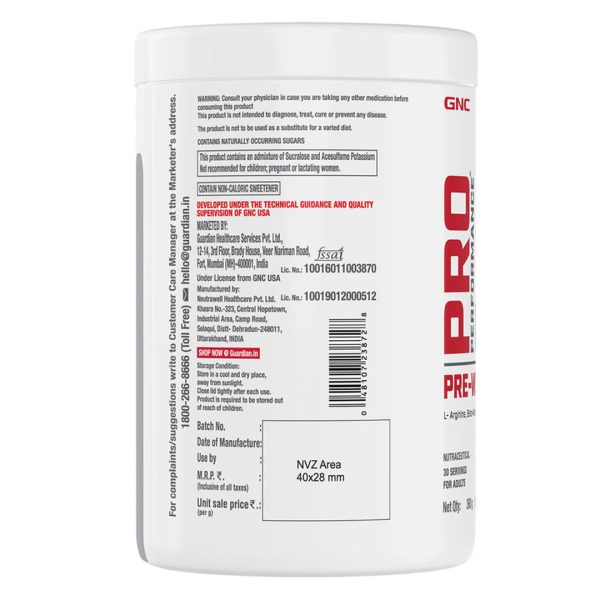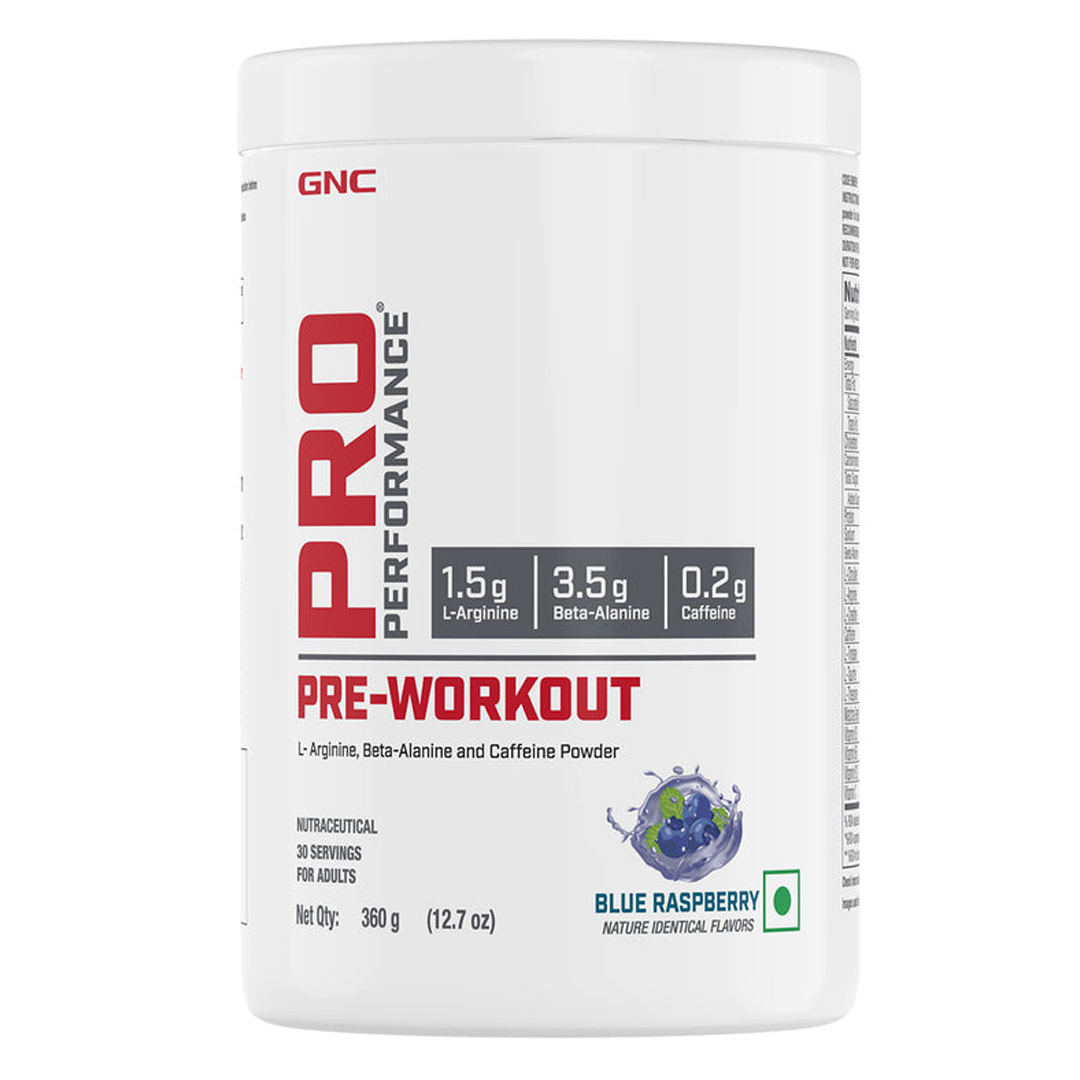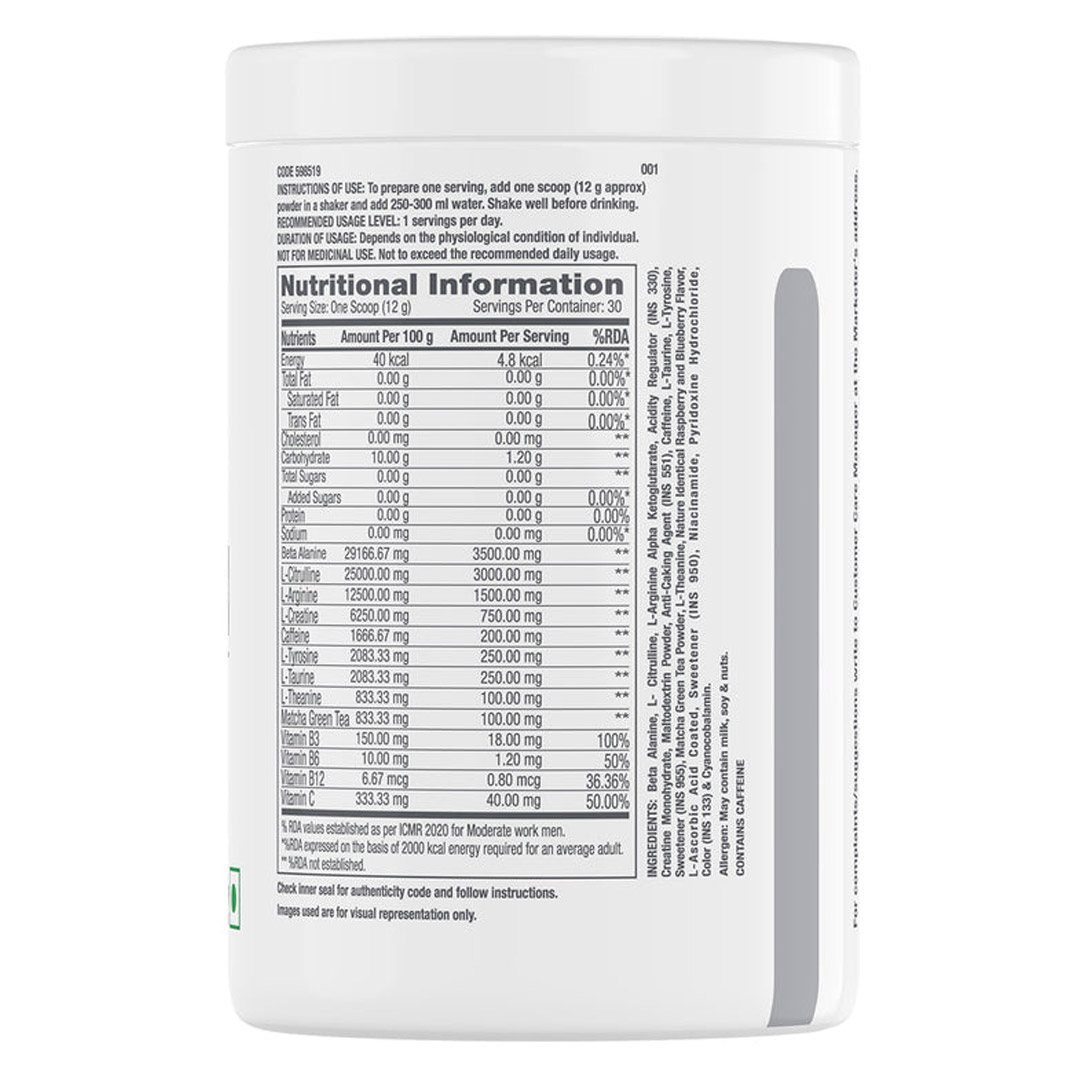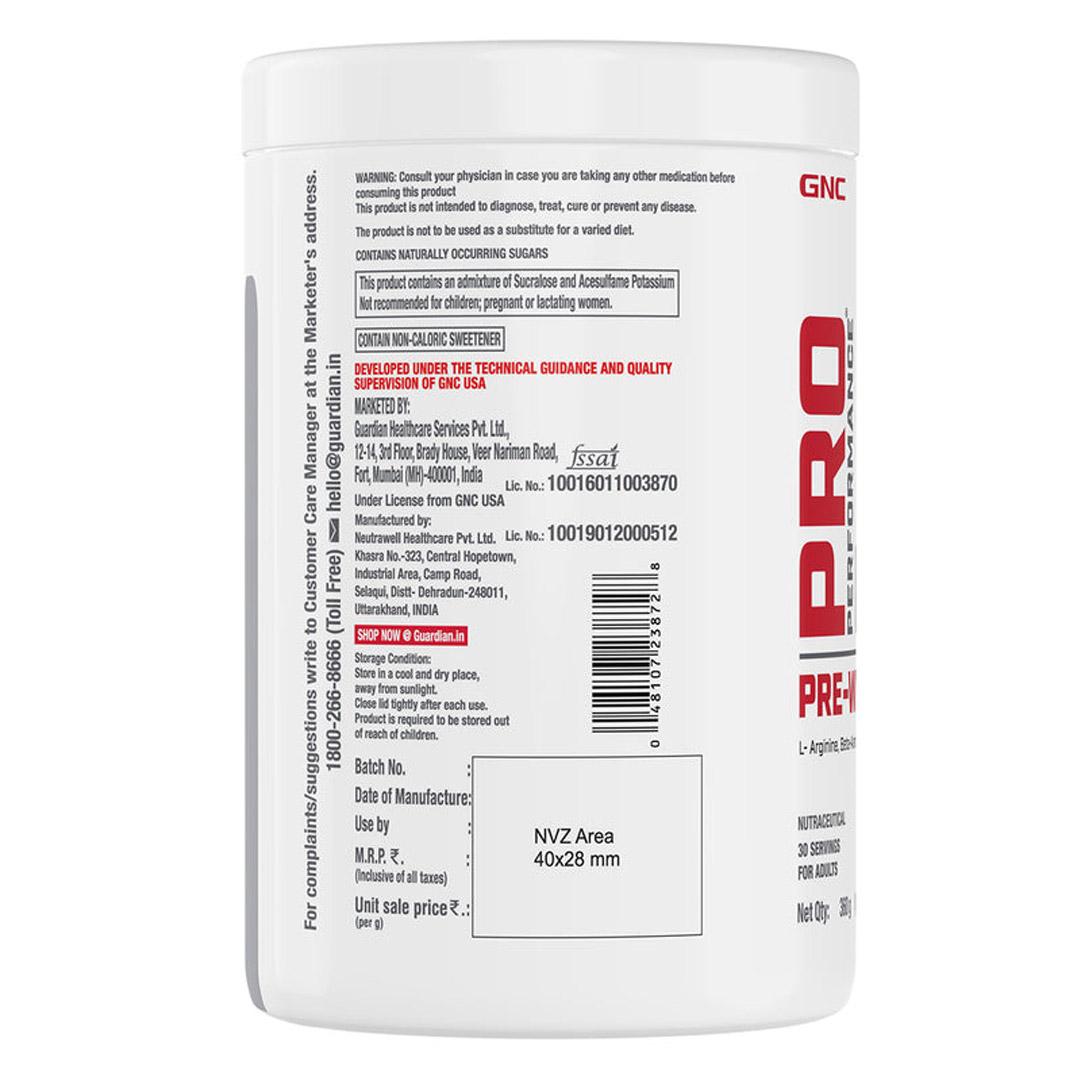 GNC Pro Performance Pre Workout 360 Gm
Strength
Power
Focus
Pump
Muscle Growth
Marketed & Manufacturer
Description
Reviews (0)
Marketed By:
Guardian Healthcare Services Pvt. Ltd. (✓ Brand Authorized):
12-14, 3rd Floor, Brady House, Veer Nariman Road, Fort, Mumbai-400001, India
FSSAI Lic. No. 10016011003870
hello@guardian.in, 18001036861
Manufacturer
1) Nutra Manufacturing, 1050 Woodruff Road, Greenville, SC 29607
Country of Origin: USA
2) Zeon Lifesciences Ltd., Poanta Sahib, Sirmaur HP 173025
Country of Origin: India
3) Tirupati Wellness, SurajPur, Nahan Road, Paonta Sahib, Sirmaur HP – 173001
Country of Origin: India
4) Maxcure Nutravedics Limited, 12 Sector – 6A I.I.E. Sidkul, Haridwar Uttarakhand 249403
Country of Origin: India
Description
WHY DO YOU NEED A GOOD PRE-WORKOUT?
Extra Boost
Regular days in the gym would seem like a drag if you're not making much progress in building muscles. A good pre-workout gives you that extra push by empowering your muscles to put on the best performance.
Poor Concentration
Regulating strength and muscle movements need intense focus, and a distracted mind can impede your progress. Pre-workout shifts your focus back to where it belongs and keeps you in the zone.
Low Energy
Real-life turmoil and everyday stress leave you with very little energy. A good pre-workout energizes your body for a charged-up exercise experience.
Early Exhaustion
Without an endurance booster, your muscles take time to recover. Pre-workout gets your muscles powered up and ready so they don't tire and give up.
L-Arginine & L-Citrulline

Boosts Endurance & Delivers Constant Energy
Beta-Alanine & L-Creatine
Quickens Recovery & Builds Strength
Premium Caffeine
Improves Concentration & Refreshes Mood

Matcha Green Tea
Prevents Soreness and Oxidative Damage
3 EXTRA Amino Acids
Bolsters Mental Alertness & Muscle Potential
Essential Vitamins
Maintains Good Energy Levels
85+ Years of Scientific Expertise
Reliability and Unmatched Product Performance
Delicious Flavour
Treat for Your Taste Buds
MORE ENERGY. HIGHER ENDURANCE. BETTER FOCUS.
BUY THESE ALONG, TO BOOST YOUR RESULTS!
Request a call back from our Sports Nutritionist to guide you!
ALL NEW FASHION BRANDS ITEMS UP TO 70% OFF