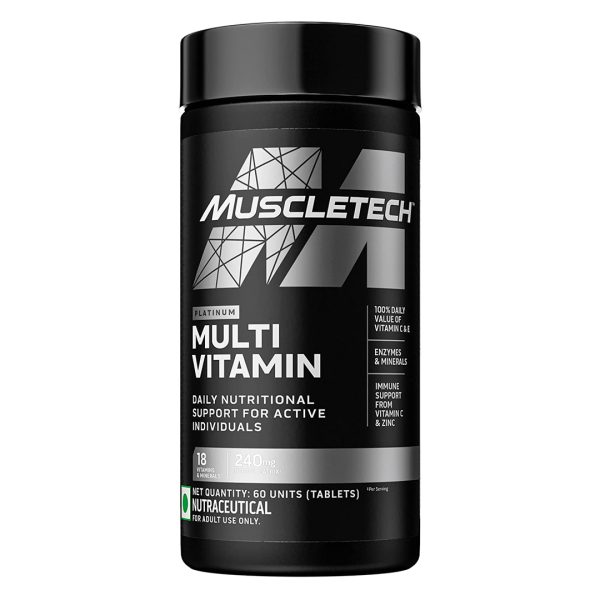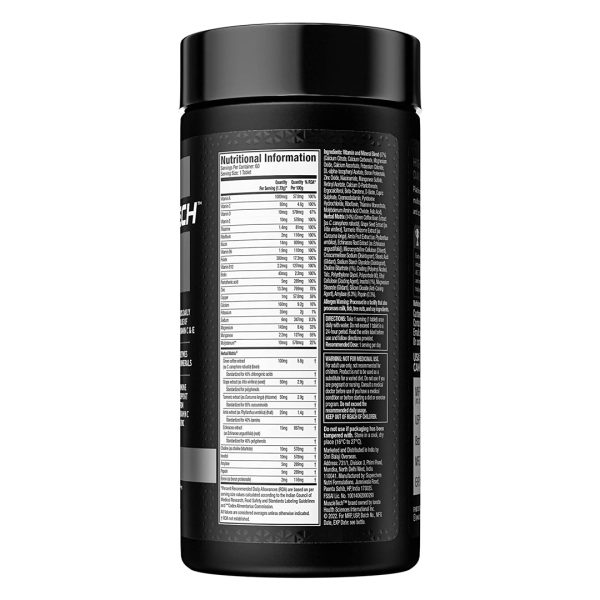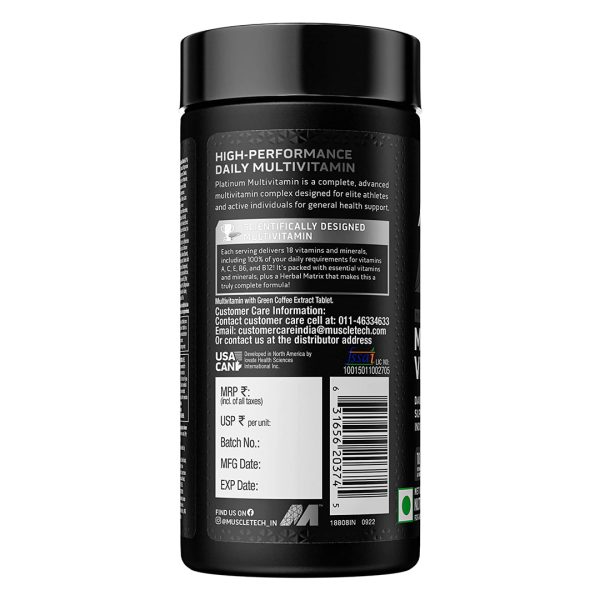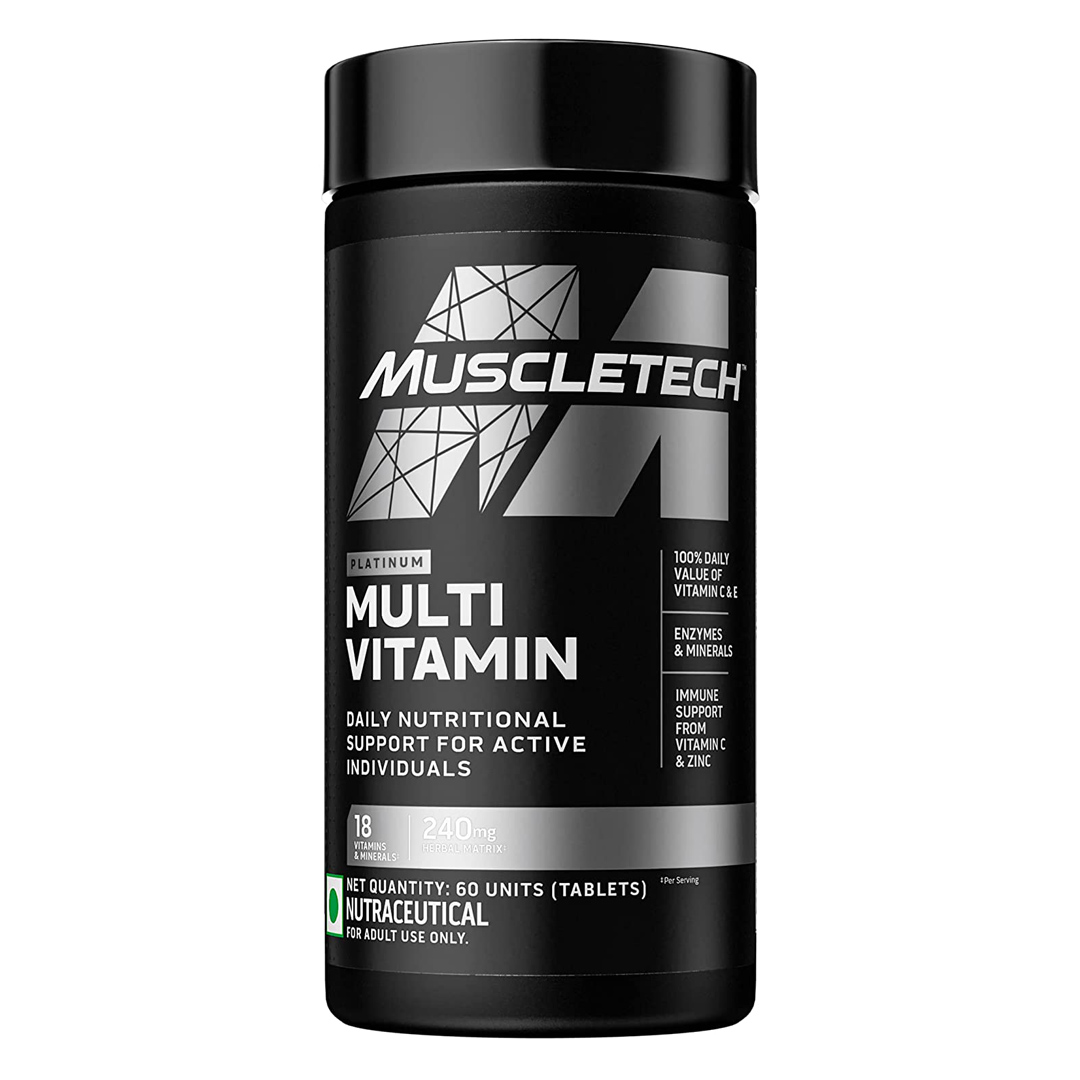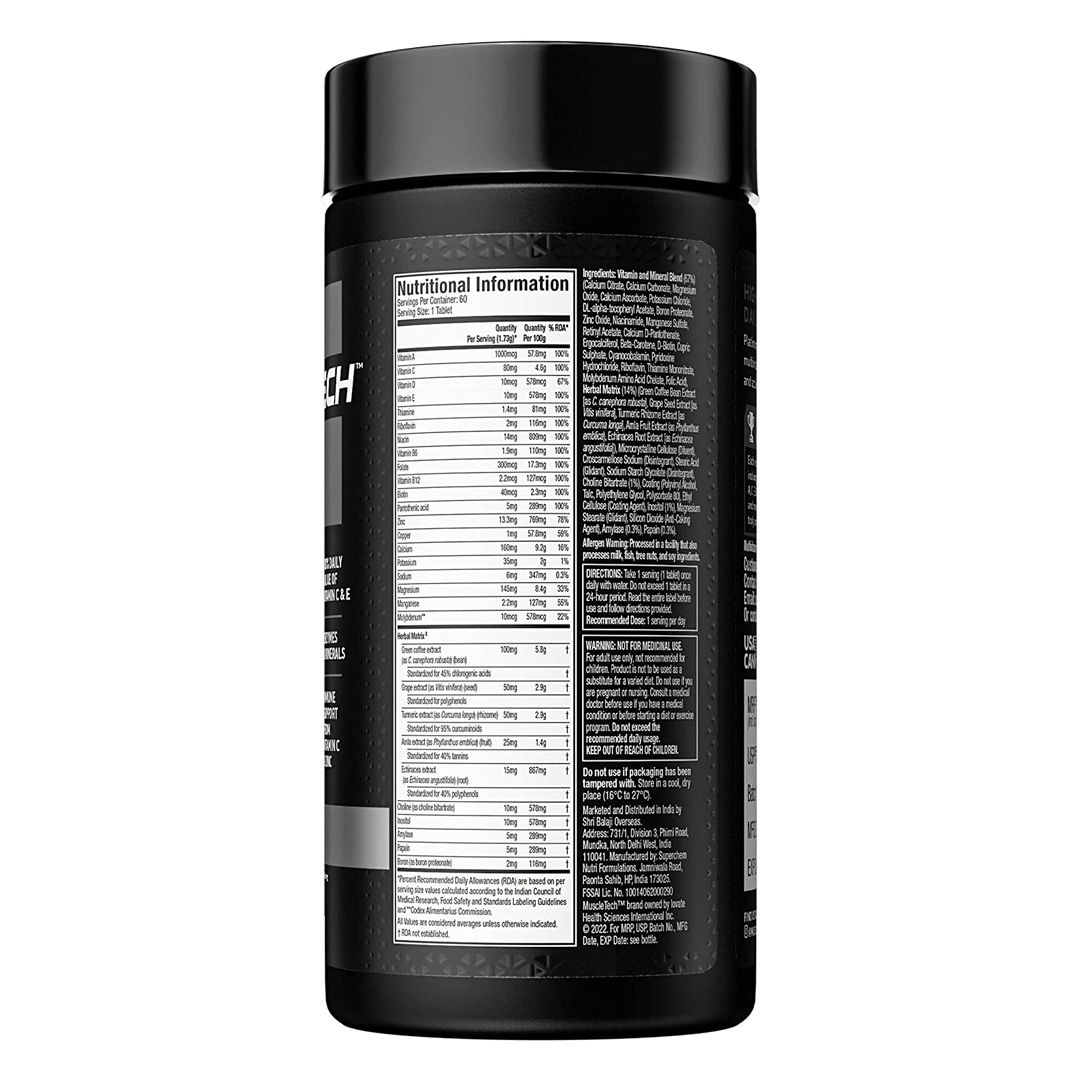 Muscletech Essential Series Platinum MultiVitamin 60 Tablets
High Potency Vitamins & Minerals: Platinum Multivitamin is packed with essential vitamins & minerals as per the daily requirement. With each serving, you get a blend of 18 vitamins & minerals, including vitamins A, C, E B6, and B12.

Amino Support: Platinum Multivitamin is formulated with 865mg Amino support matrix and 536mg herbal matrix. This may help to ensure a solid nutritional foundation and may support recovery and protein synthesis after workouts.

A Healthy Formula: Platinum Multivitamin is formulated with advanced enzymes and mineral complexes and may be suited for active individuals, fitness enthusiasts, athletes, and anyone looking to support general good health for peak performance.

Your Daily Partner: This multivitamin formulation comes with 60 tablets, to support the daily nutritional needs of a healthy and active lifestyle.
Marketed & Manufacturer
Description
Reviews (0)
Marketed & DIstributed In India By
Shri Balaji Overseas (Brand Authorized):
Delhi 110041
Country of Origin: India
FSSAI Lic. No. 10015011002705
Manufacturer:
Muscletech, Lovate Health Science, 3880 Jeffery Blvd. Blasdell NY 14219
Country of Origin: USA
Description
From America's #1 Selling Supplement Company‡
Daily Nutritional Support For Active Individuals
Dietary Supplement
Over 100% Daily Value of Vitamin C & E
Enzymes & Minerals Complex
18 Vitamins & Minerals
865 mg Amino Support
536 mg Herbal Matrix
Scientifically Designed Daily Multivitamin
Platinum Multivitamin is a complete, advanced multivitamin complex designed for elite athletes and active individuals for general health support.
High Potency Vitamins & Minerals 
Each serving delivers 18 vitamins and minerals, including 100% or more of your daily requirements for vitamins A, C, E, B6 and B12! It's packed with ingredients including essential vitamins and minerals, and even an Amino Support Matrix plus an Herbal Matrix that make this a truly complete formula!
Suggested use
Take 1 serving (3 tablets) with a glass of water daily. Read the entire label before use and follow the directions provided.
Other ingredients
Microcrystalline cellulose, croscarmellose sodium, stearic acid, coating (polyvinyl alcohol, talc, polyethylene glycol, polysorbate 80), magnesium stearate, silicon dioxide. Contains sulfite and soy ingredients.
Warnings
Not intended for use by persons under 18. Do not use if pregnant or nursing. May cause flushing and itching. Women of childbearing age should limit their daily vitamin A intake to 3,000 mcg (excludes beta-carotene). Do not take while fasting. Do not use if you have had a myocardial infarction (heart attack). Consult a medical doctor before starting a diet or exercise program or if you have a medical condition. If you experience a skin rash or any other allergic reaction, discontinue use and consult a medical doctor. Keep out of reach of children.
Do not use it if the packaging has been tampered with. Store in a cool, dry place (60ºF to 80ºF).
BUY THESE ALONG, TO BOOST YOUR RESULTS!
Request a call back from our Sports Nutritionist to guide you!
ALL NEW FASHION BRANDS ITEMS UP TO 70% OFF