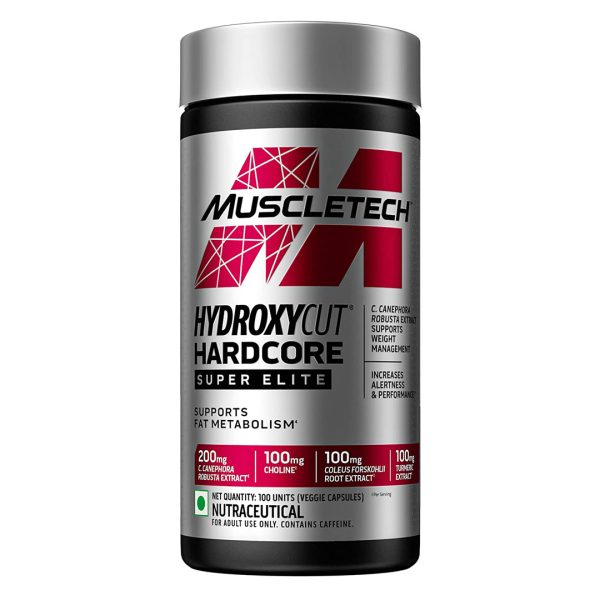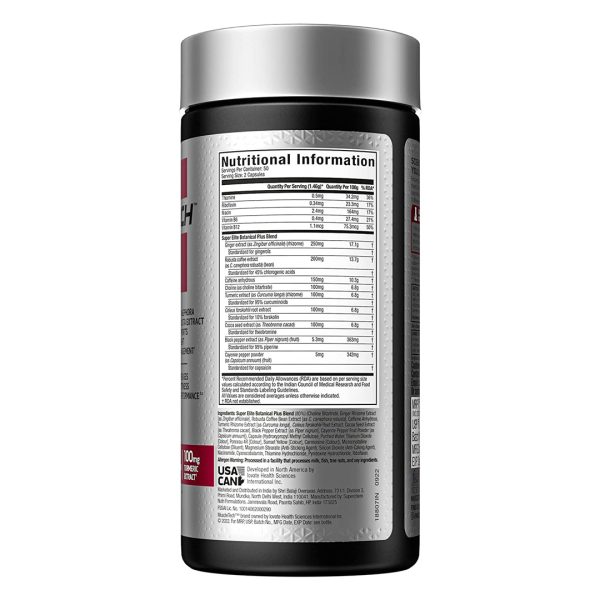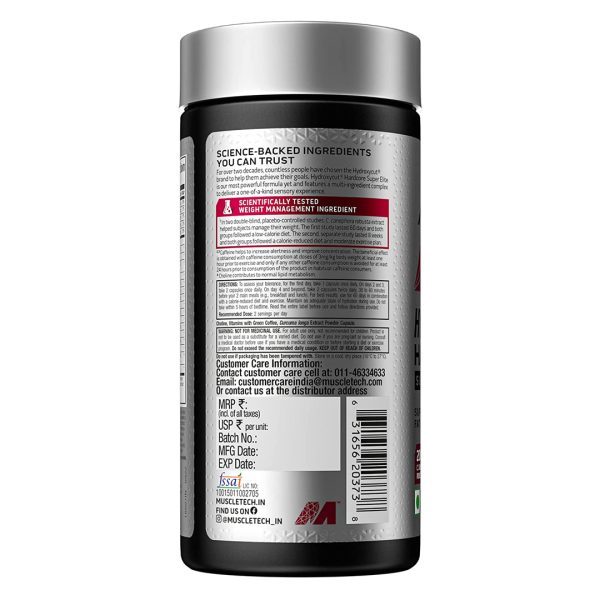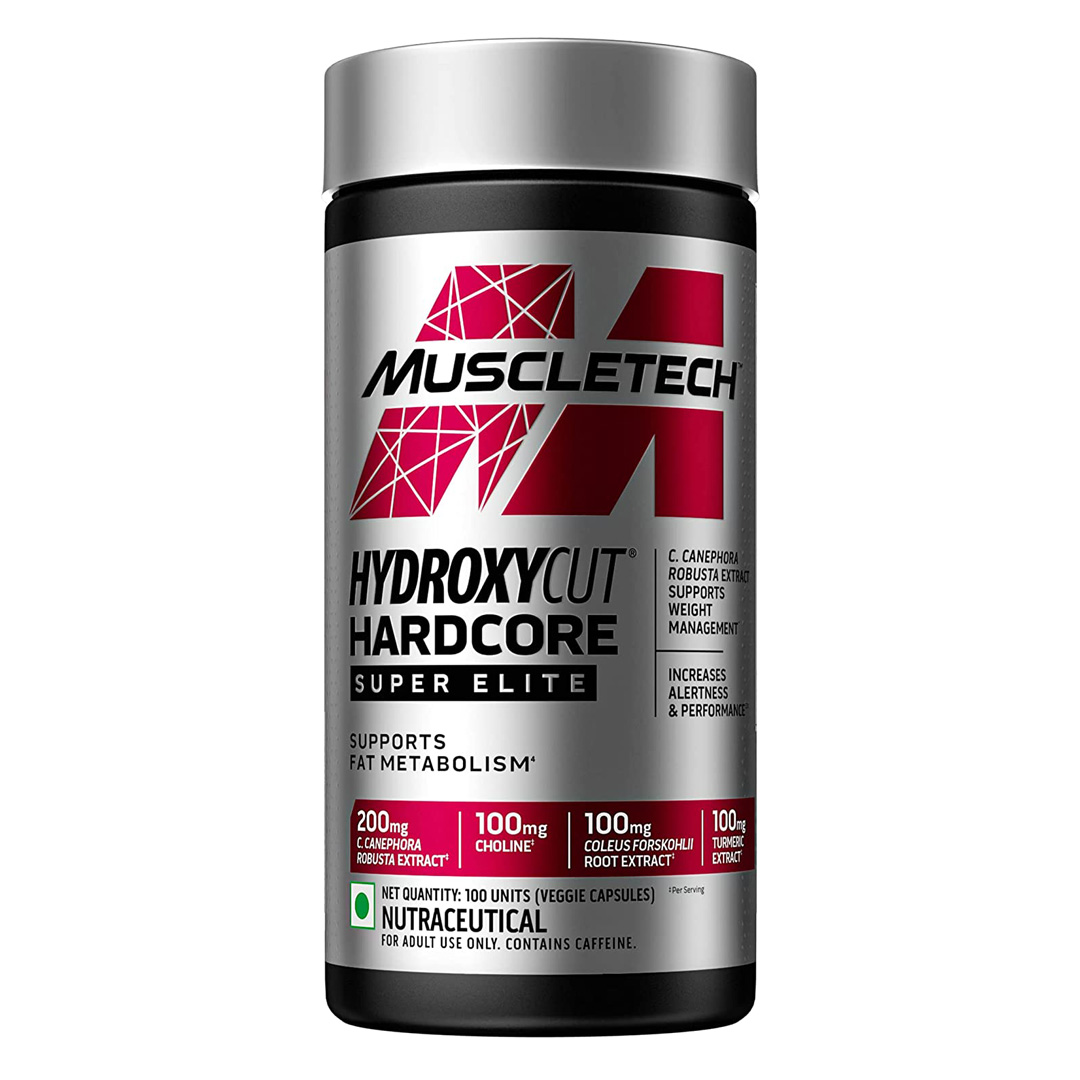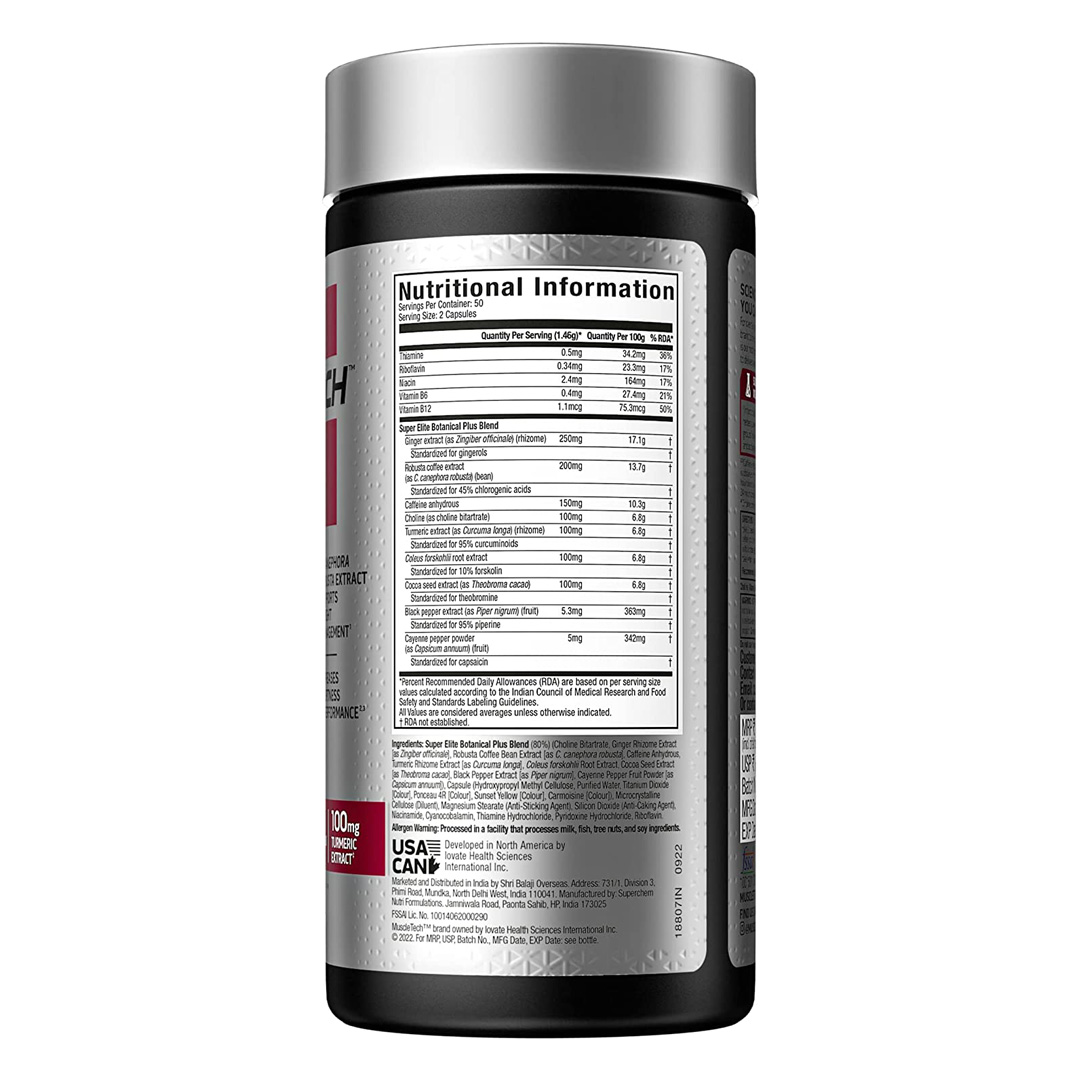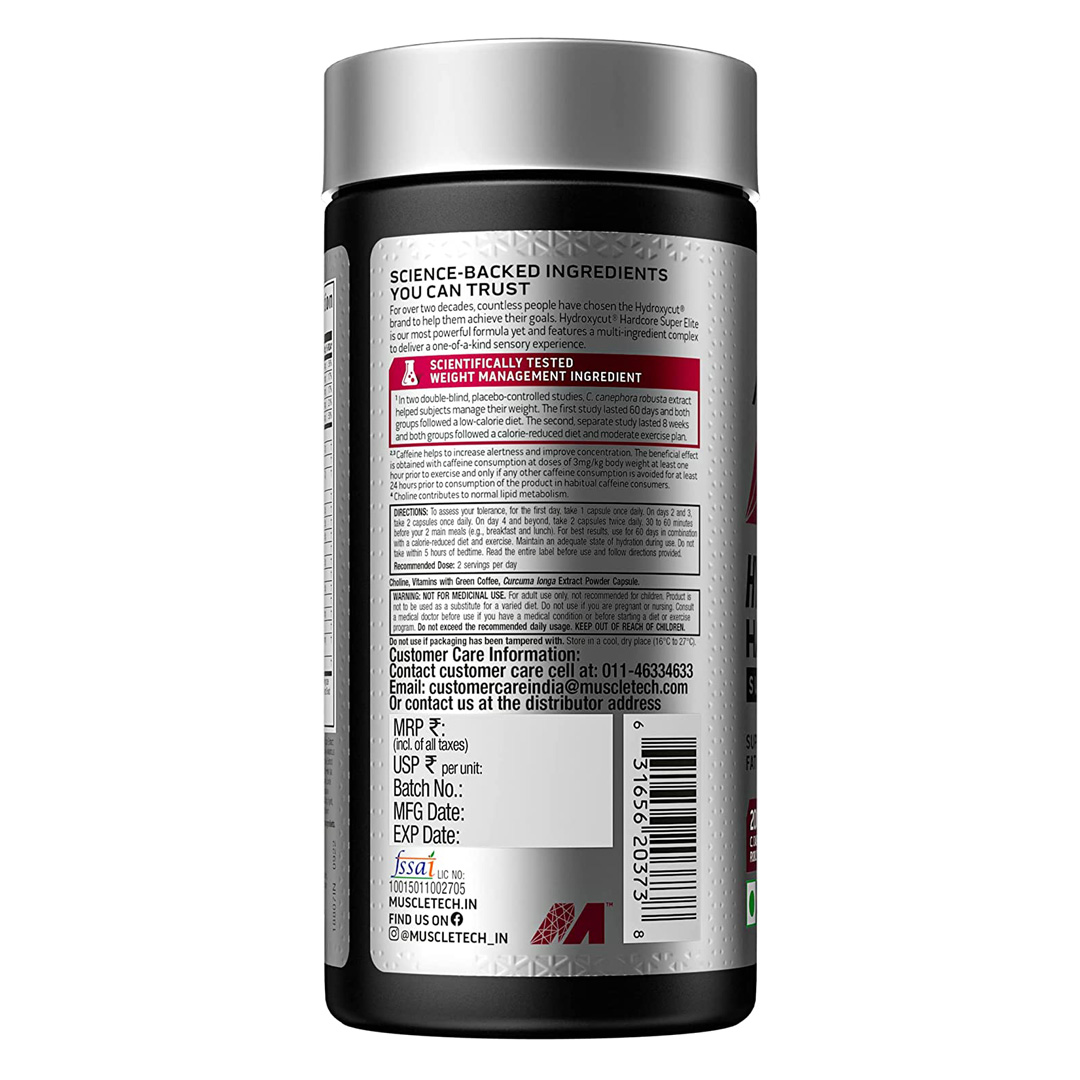 Muscletech Hydroxycut Hardcore Elite 100 Capsules
MuscleTech Hydroxycut Hardcore Elite contains green coffee extract, which helps in weight management and weight loss
MuscleTech Hydroxycut Hardcore Elite also increases the overall athletic performance and boosts energy levels in your body
It is composed of a powerful formula containing caffeine anhydrous, green coffee extract, coleus extract and L-theanine that are known as high metabolic stimulating agents
It helps to escalate your energy levels and recharge the body cells by infusing them with naturally obtained components
It helps in getting rid of unwanted excess weight and increasing your muscle flexibility to improve your athletic performance
Expiry-11/2025
Description
Reviews (0)
Importer & Manufacturer
Description
Aiming for a chiseled physique with the sharpest cuts? The only way you can achieve this is by ensuring that you have a diet that not only supports your training but also helps you keep and improve the volume of your muscles.
Sometimes, all you need is that additional push to get closer to the physique that you always dreamt of. When you are on the last leg of your training and feel like you are almost there, using high-quality thermogenic products can help you burn fat faster and reveal those cuts.
MuscleTech Hydroxycut Hardcore Elite is ideal for those who are looking for a quick weight and fat loss solution. When combined with a low-calorie diet, it can give you remarkable results in just weeks of using it.
Benefits
MuscleTech Hydroxycut Hardcore Elite contains the right blend of ingredients that trigger a thermogenic mechanism in your body, improving metabolism and thus helping you lose fats quite fast. Hydroxycut Elite has been trusted by professional bodybuilders and athletes for several reasons:
A great blend of some of the finest ingredients: Each serving of MuscleTech Hydroxycut Hardcore Elite gives you 100mg of coleus forskolin, green coffee extract, Yohimbe, and L-Theanine. Several clinical trials with these individual ingredients have revealed that they are key weight-loss ingredients that yield results within weeks of being used.
High Thermogenesis: Caffeine anhydrous which is a supercharged driver of thermogenesis is one of the main ingredients of this product. In addition to that, you have several other ingredients such as Coleus Forkskohli that are known to create a unique sensory experience. With improved metabolism, you will be able to burn several calories at once to keep your body going.
Better focus: Better metabolism means that your body is more efficient at producing energy from the stored fat deposits. This helps improve focus. In addition to that, the key ingredient which is caffeine anhydrous charges your mental focus and allows you to perform a lot better than you normally would.
High endurance: With more efficient production of energy within the body, your performance with each workout session also improves significantly. You will be able to notice a sizeable change in the way you perform and the intensity that you are able to endure with just the first dose of this supplement.
Ingredients
Veggie capsule (hypromellose, titanium dioxide), cellulose, silicon dioxide, magnesium stearate.
Usage
You must begin with one capsule each day and increase the dose based on your tolerance. For the first two days, take one capsule. You can increase to 2 capsules from days 3 and 4. You must not consume more than 4 capsules in a 24-hour period. It is best to take one capsule at least 60 minutes prior to two of your largest meals each day. This would normally include your breakfast and your lunch. This product should be used along with a low-carb diet for the best results. You must not use the product for more than 8 weeks at a stretch.
Marketed & Distributed In India:
Shri Balaji Overseas (Brand Authorized):
Delhi 110041
Country of Origin: India
FSSAI Lic. No. 10015011002705
Manufacturer:
Muscletech, Lovate Health Science, 3880 Jeffery Blvd. Blasdell NY 14219
Country of Origin: USA
BUY THESE ALONG, TO BOOST YOUR RESULTS!
Request a call back from our Sports Nutritionist to guide you!
ALL NEW FASHION BRANDS ITEMS UP TO 70% OFF