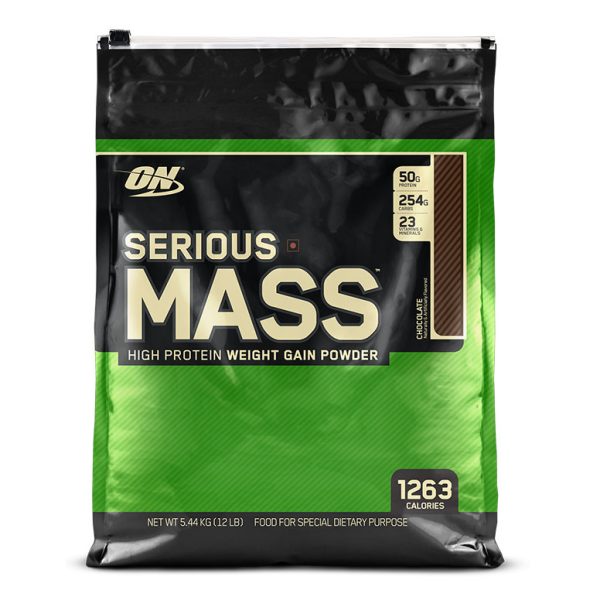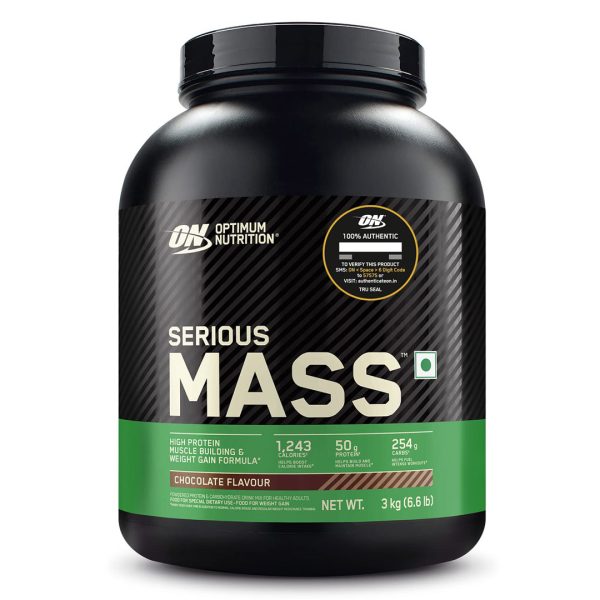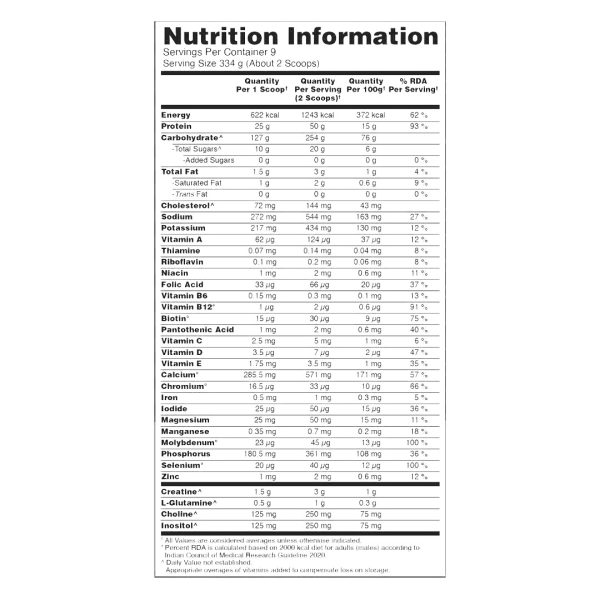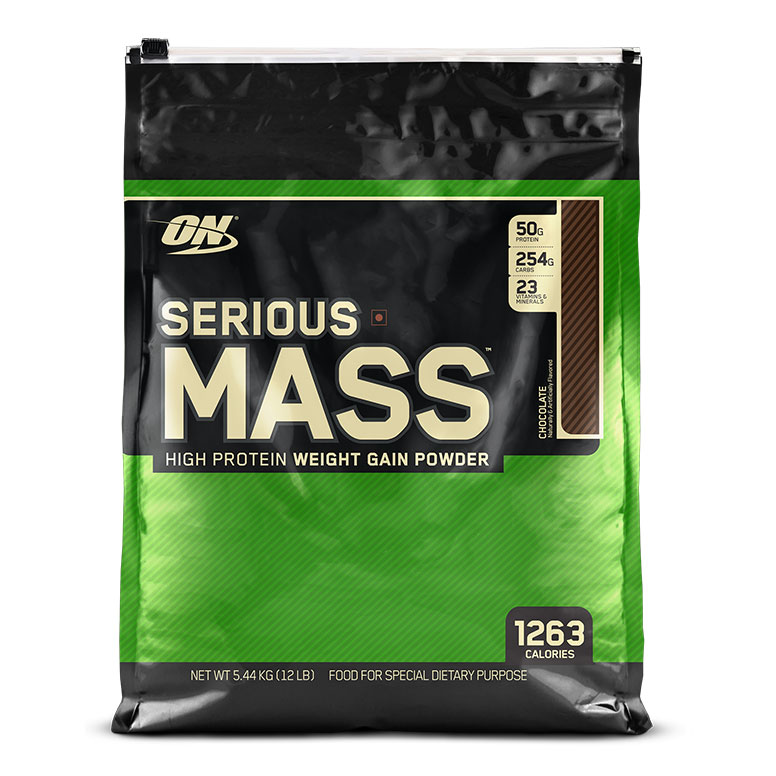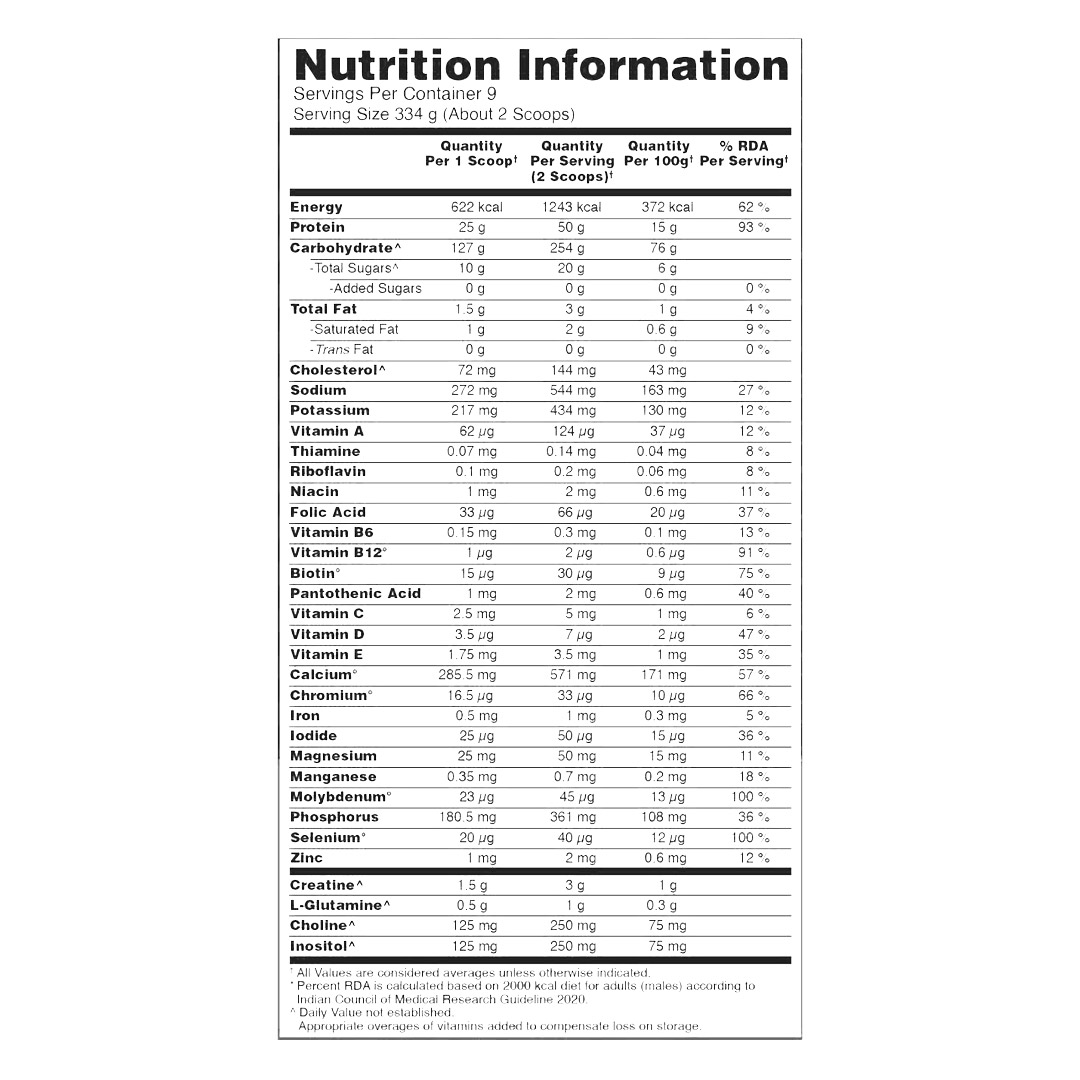 ON (Optimum Nutrition) Serious mass
ON SERIOUS MASS CHOCOLATE is an excellent weight gain formula with a carb-protein ratio of 5:1
It delivers an astonishing 50g of Blended Protein and over 250g of Carbohydrates with no added sugar per serving.
ON SERIOUS MASS CHOCOLATE consists of 25 Vitamins and essential minerals that make the health drink a completely nutritious and power pack formula.
ON SERIOUS MASS CHOCOLATE 12LB is enhanced with Creatine, Glutamine, and Glutamic Acid
Marketed & Manufacturer
Description
Reviews (0)
 Brand
Glanbia Performance Nutrition:
502 504 stat hub bldg no 2, Sahar road, Andheri East Mumbai 400059 India
FSSAI Lic. No. 10017011004358
indiacustomercare@glanbia.com, (11) 49594959
🏢 Manufacturer
Tirupati Wellness, SurajPur, Nahan Road, Paonta Sahib, Sirmaur HP – 173001
Country of Origin: India
Description
Serious weight gain goals require serious calories. Unfortunately, those who need the extra calories most often have a hard time consuming enough of them. For many aspiring to be bigger, a highly- active metabolism, weaker appetite, and on-the-run lifestyle can make it a real challenge to get enough calories from food. With 1,250 calories and 50 grams of protein per serving, you've got lots to gain from ON's Serious Mass. Get serious about your sizable ambitions with Serious Mass.
Benefits
Packing a very substantial 1260 calories* (varies from flavor to flavor) into every serving – even more when mixed with cold milk – Serious Mass is the ultimate weight gain formula. With 50 grams of muscle-building protein, when used in conjunction with a healthy, balanced diet and regular weight training, this powdered mix provides you with serious weight-gaining support for developing your physique to the fullest*
Ingredients
Optimum Nutrition takes quality very seriously. The supplement undergoes stringent quality checks to assure the ingredients and packaging as a whole.  ON SERIOUS MASS CHOCOLATE 12LB is power packed by the following ingredients:
B-Vitamins, Carbohydrates, Creatine, L-Glutamine & Glutamine Peptides, Choline, Inositol, PABA, and MCTs.Maltodextrin, Protein Blend (Whey Protein Concentrate, Calcium Caseinate, Egg Albumen, Sweet Dairy Whey), Cocoa (Processed with Alkali), Natural and Artificial Flavors, Vitamin and Mineral Blend (diPotassium Phosphate, Magnesium Aspartate, diCalcium Phosphate, Calcium Citrate, Ascorbic Acid, Niacinamide, Zinc Citrate, Beta Carotene, d-Calcium Pantothenate, d-alpha Tocopheryl Succinate, Selenomethionine, Copper Gluconate, Ferrous Fumarate, Manganese Amino Acid Chelate, Thiamin Mononitrate, Pyridoxine Hydrochloride, Riboflavin, Chromium Polynicotinate, Folic Acid, Biotin, Molybdenum Amino Acid Chelate, Cholecalciferol, Potassium Iodide, Cyanocobalamin), Acesulfame Potassium, Medium Chain Triglycerides.
Usage
Add two scoops of ON Serious Mass to 700 ml of water and blend it for 45-60 seconds. If you want to add extra goodness, blend the powder with the same amount of nonfat or low-fat milk for a creamier shake. Beginners may begin with 1/2 of a serving daily for the first week and then steadily increase to intake to 1 or more full servings several times a day.
Between Meal

Calorie Boost
BUY THESE ALONG, TO BOOST YOUR RESULTS!
Request a call back from our Sports Nutritionist to guide you!
ALL NEW FASHION BRANDS ITEMS UP TO 70% OFF