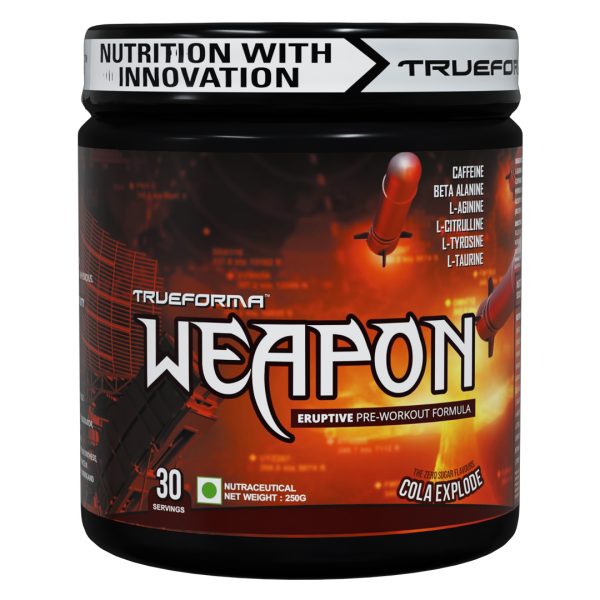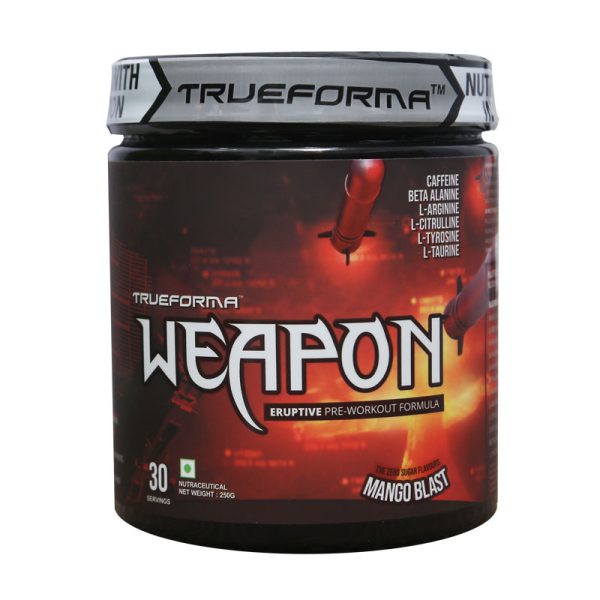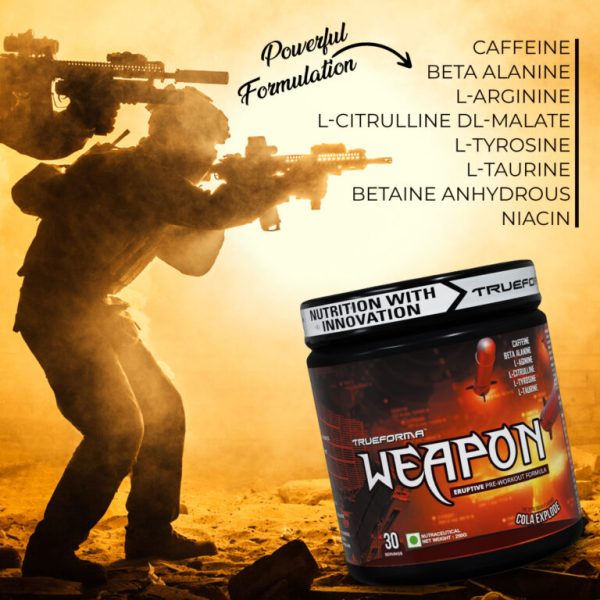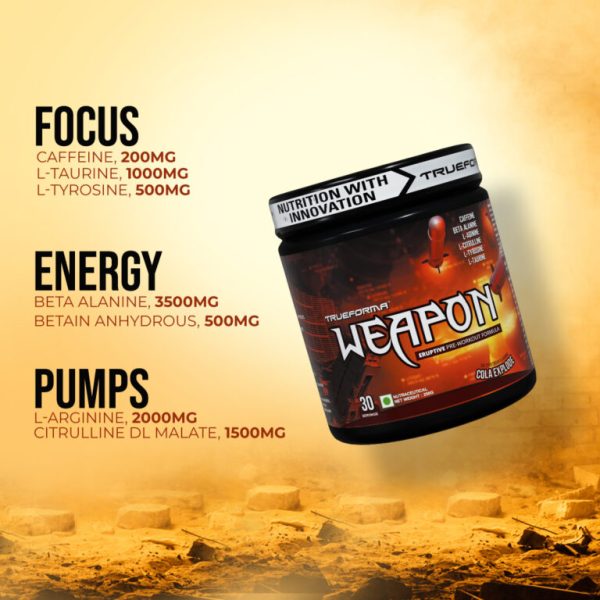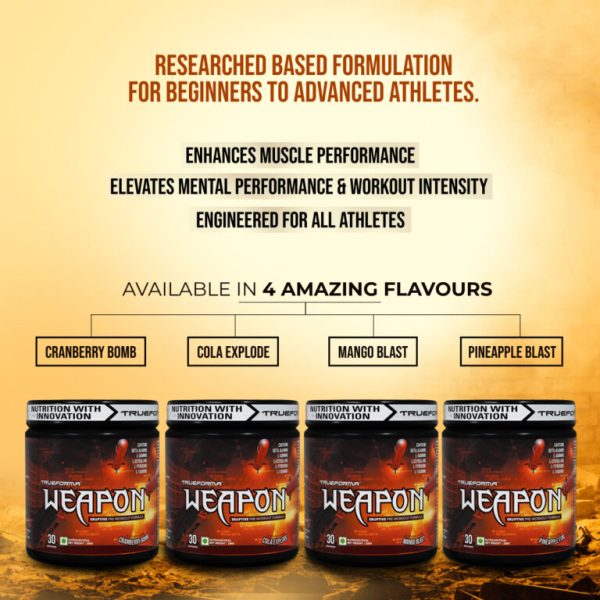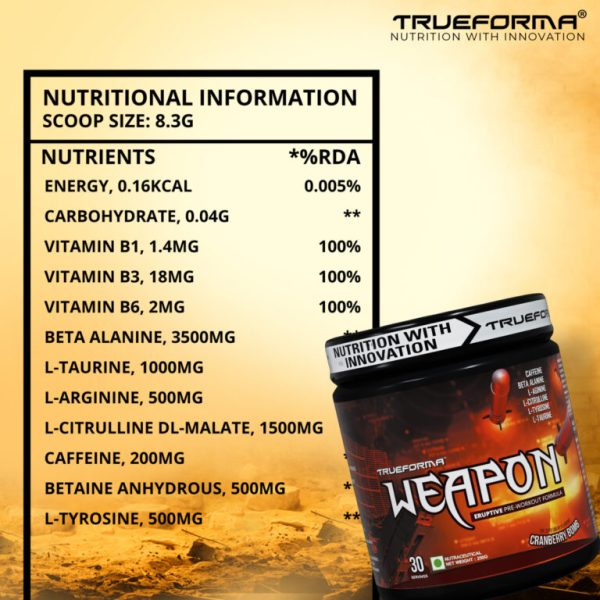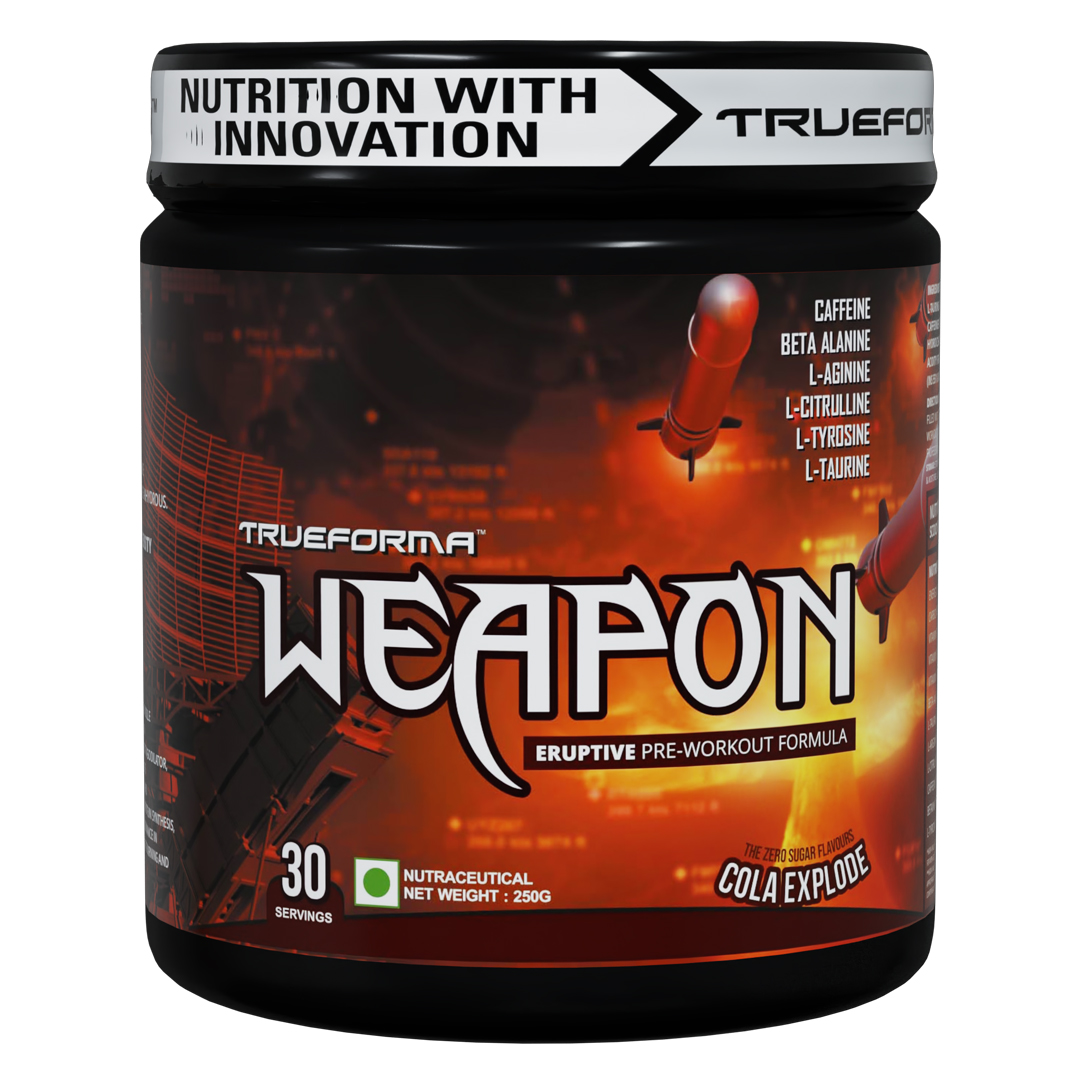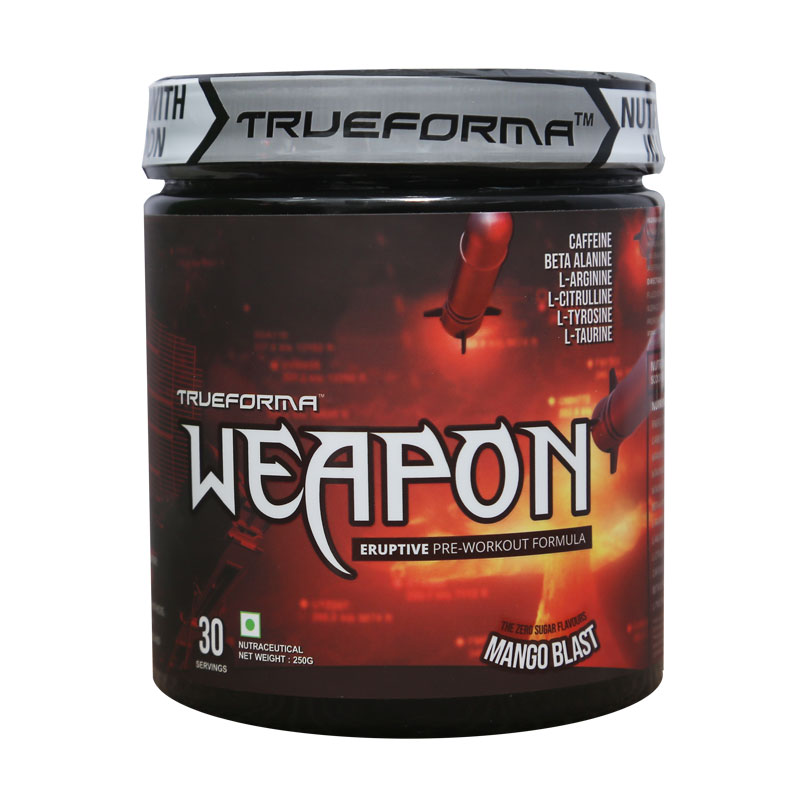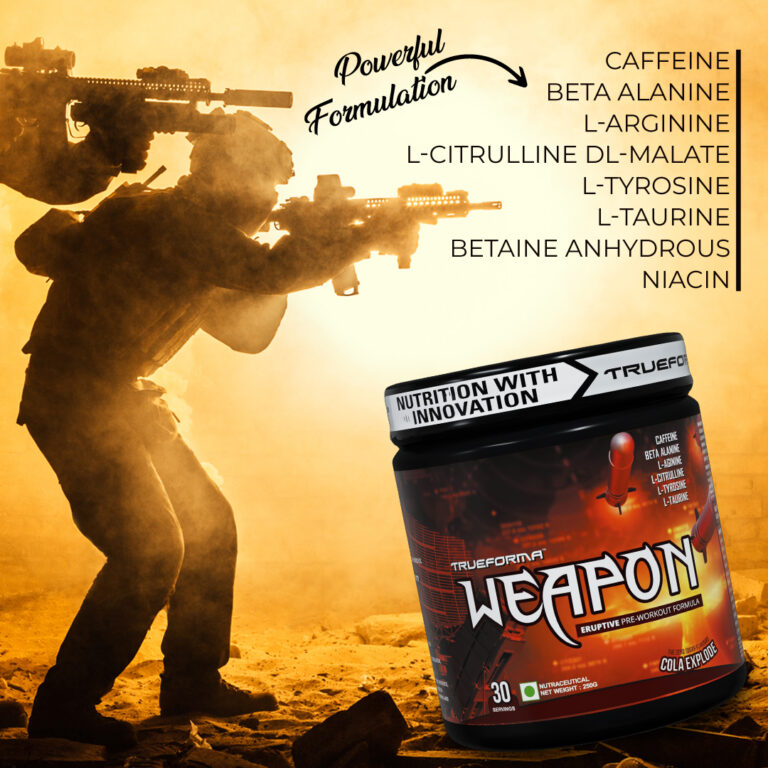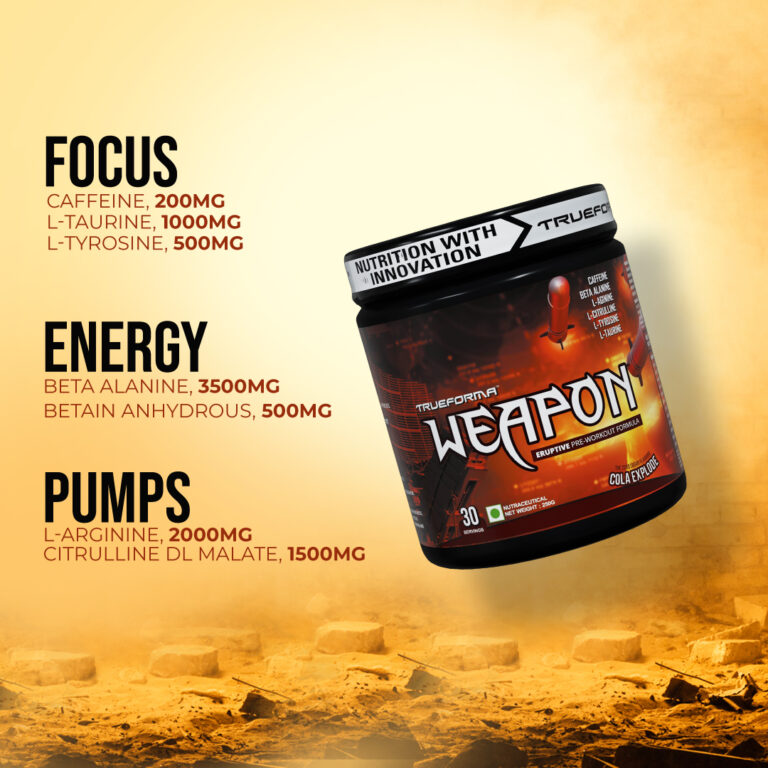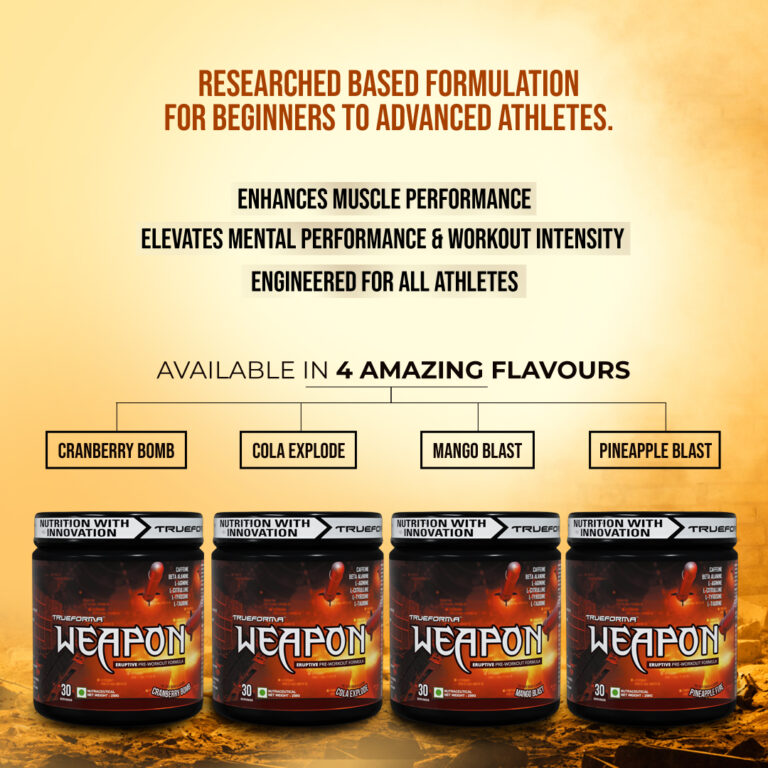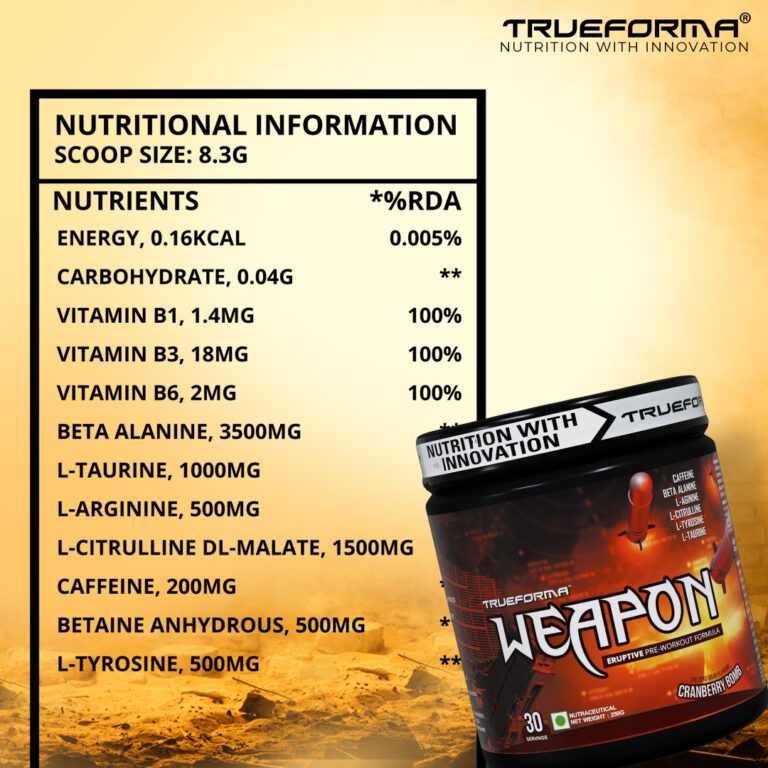 Trueforma® Weapon – Eruptive Pre-Workout Formula
For great FOCUS, ENERGY & PUMPS during your workout! Researched-based formulation designed for athletes. No Anxiety, No Crash!
Caffeine: 200MG
Beta-Alanine: 3500MG
L-Arginine: 500MG
L-Citrulline DL-Malate: 1500MG
L-Tyrosine: 500MG
L-Taurine: 1000MG
Betaine Anhydrous: 500MG
Added 100% RDA Value of Vitamin B1, B3 (Niacin) & B6.
30 Servings & 4 Amazing Flavors
Manufacturer
Description
Reviews (1)
Marketed & Distributed In India:
Forever Nutrition (Brand Authorized):
Punjab 141001
Country of Origin: India
FSSAI Lic. No. 12121441000475
Manufacturer:
Nutriwell Laboratories, #322, HSIIDC, Saha,
Distt. Ambala, Haryana-133104
Fssai Lic No. 10822999000315
Description
ERUPTIVE FOCUS, ENERGY & PUMPS
UNLEASH YOUR BEST WORKOUT
Powerful physiques are the result of intense, focused workouts, and to get there, you need a high energy level to set you up for an effective session.
ENHANCES MUSCLE PERFORMANCE
With powerful ingredients like ultra-premium beta-alanine, l-arginine, l-citrulline dl-malate, and ultra-clean caffeine anhydrous.
ELEVATES MENTAL PERFORMANCE & WORKOUT INTENSITY
With a scientifically researched dose of caffeine.
ENGINEERED FOR ALL ATHLETES
The fuel you want before your workout for extreme energy, focus, and intensity.
Beta-alanine is a well-known pre-workout ingredient that increases muscle carnosine levels and as a result, buffers lactic acid, so you can train longer. Arginine & l-citrulline dl-malate is an amino acid and great vasodilator, which means it improves your blood flow and makes your pumps more explosive. Caffeine stimulates your nervous system to boost energy and alertness, and betaine helps in improving insulin signaling and myofibril protein synthesis and ultimately enhances muscle and strength gains. tyrosine performance in stressful situations & taurine helps by reducing fatigue, increasing fat burning, and decreasing muscle damage.
INGREDIENTS
Beta-Alanine, L-Citrulline DL-Malate, L-Taurine, L-Arginine, Betaine Anhydrous, L-Tyrosine, Caffeine Powder, Niacinamide, Thiamine Hydrochloride, Pyridoxine Hydrochloride.
How to use Trueforma® Weapon – Pre-workout?
Add 1 Heaped Scoop of Trueforma® Weapon into a glass filled with 250-300ml of water and consume 30 minutes before the workout.
100% Authentic Products & Ingredients
No Banned Substance was Used.
Researched-based formulation for beginners to advanced athletes.
One of the best & complete pre-workout formulations available in the market today.
BUY THESE ALONG, TO BOOST YOUR RESULTS!
Request a call back from our Sports Nutritionist to guide you!
ALL NEW FASHION BRANDS ITEMS UP TO 70% OFF