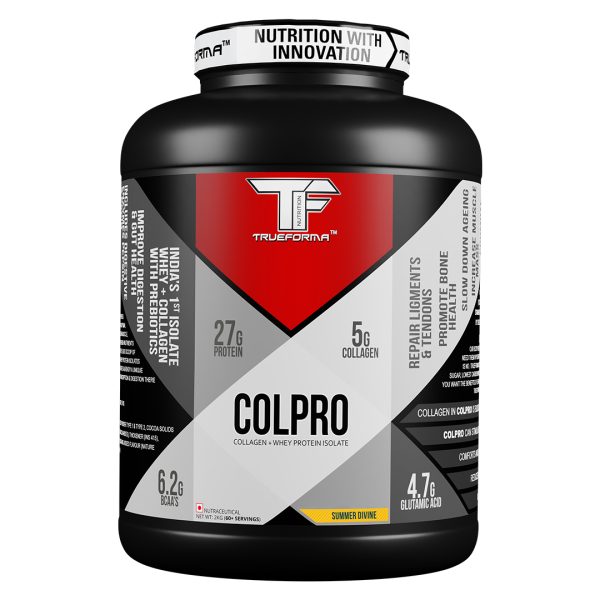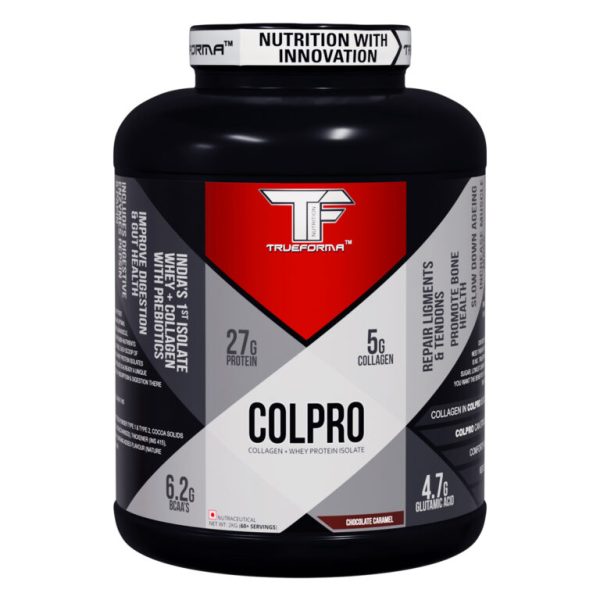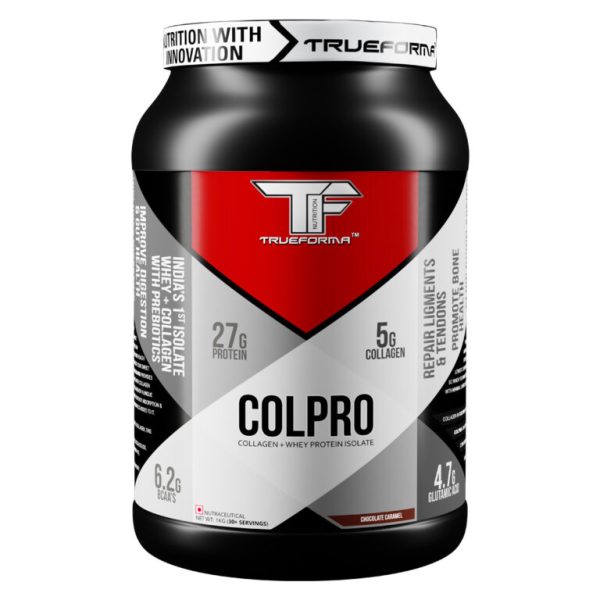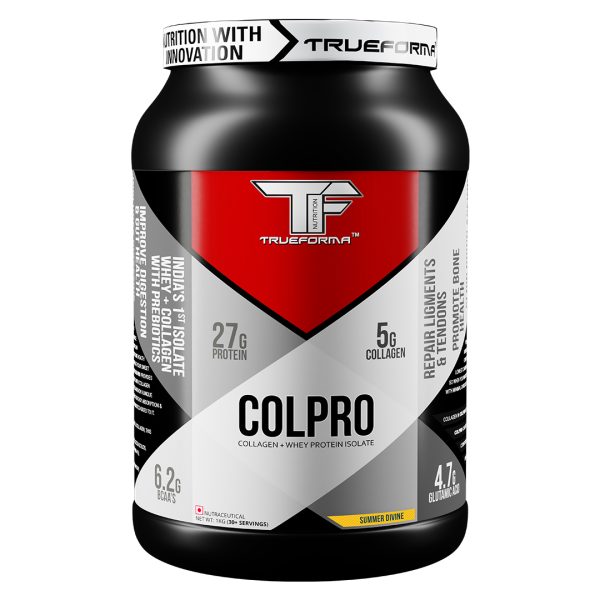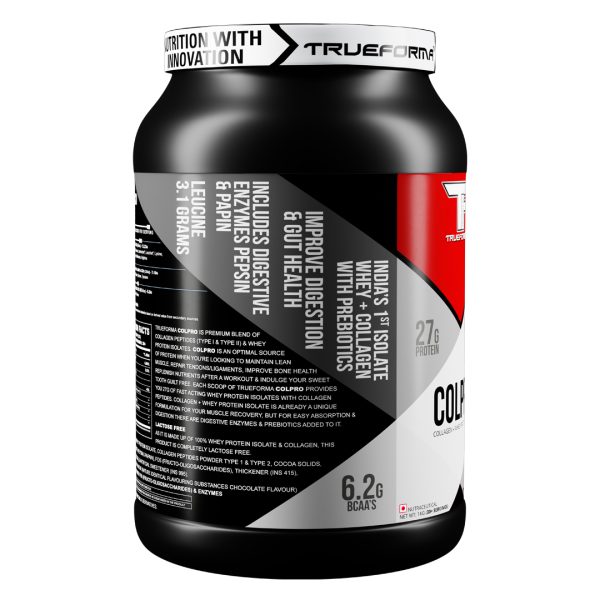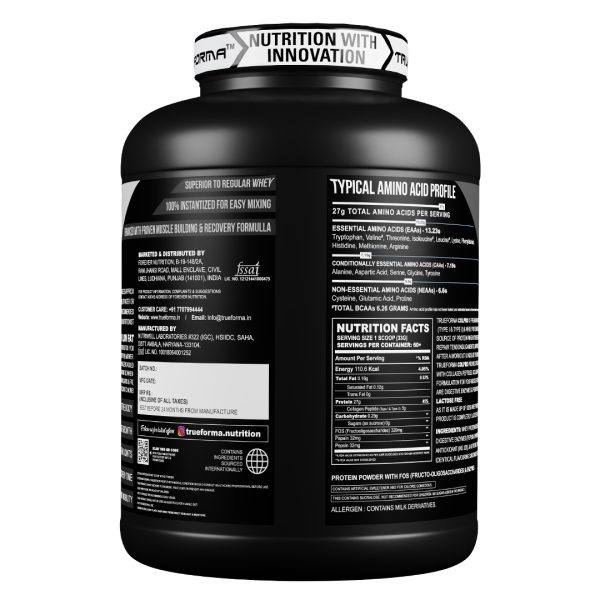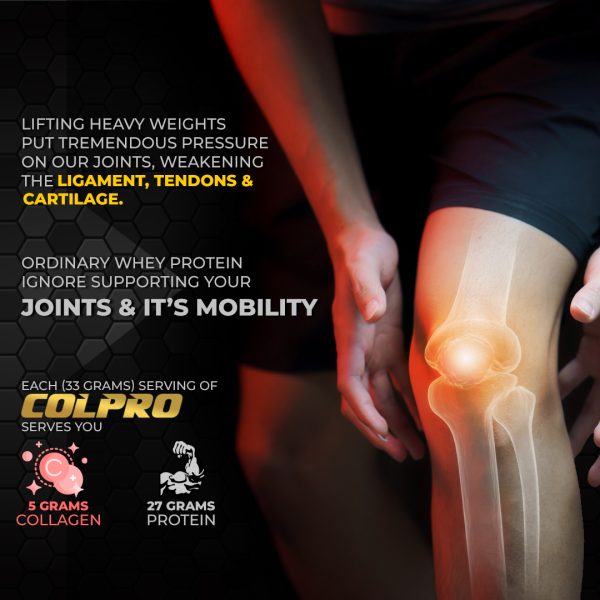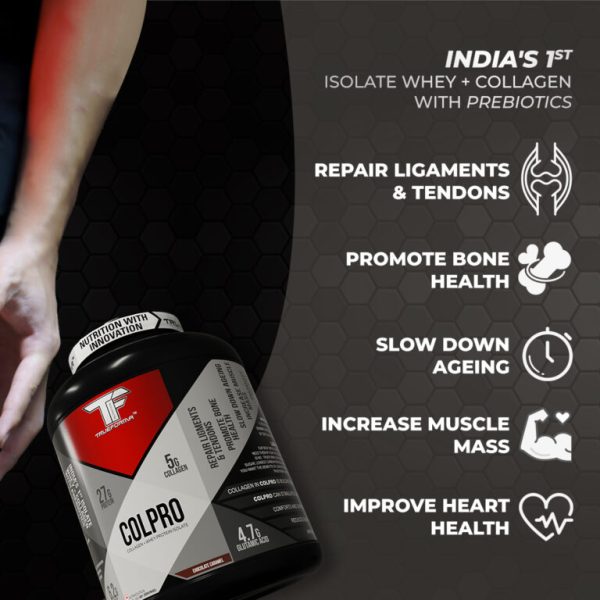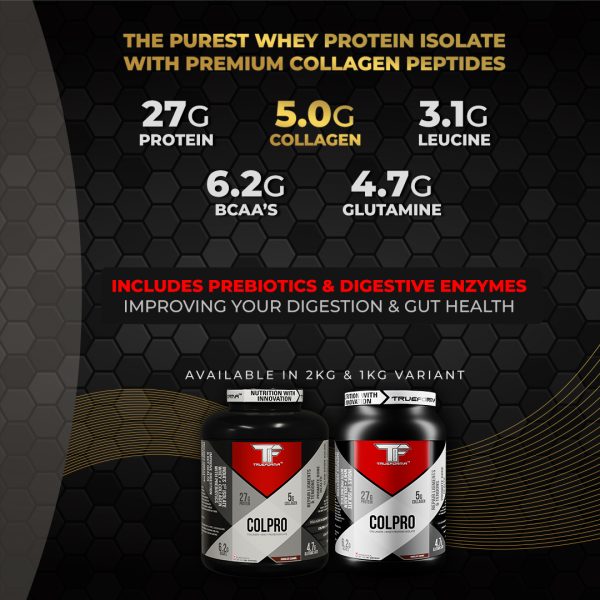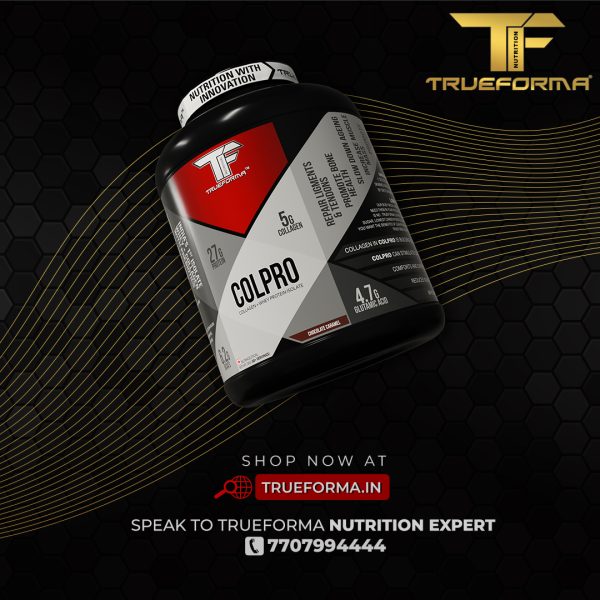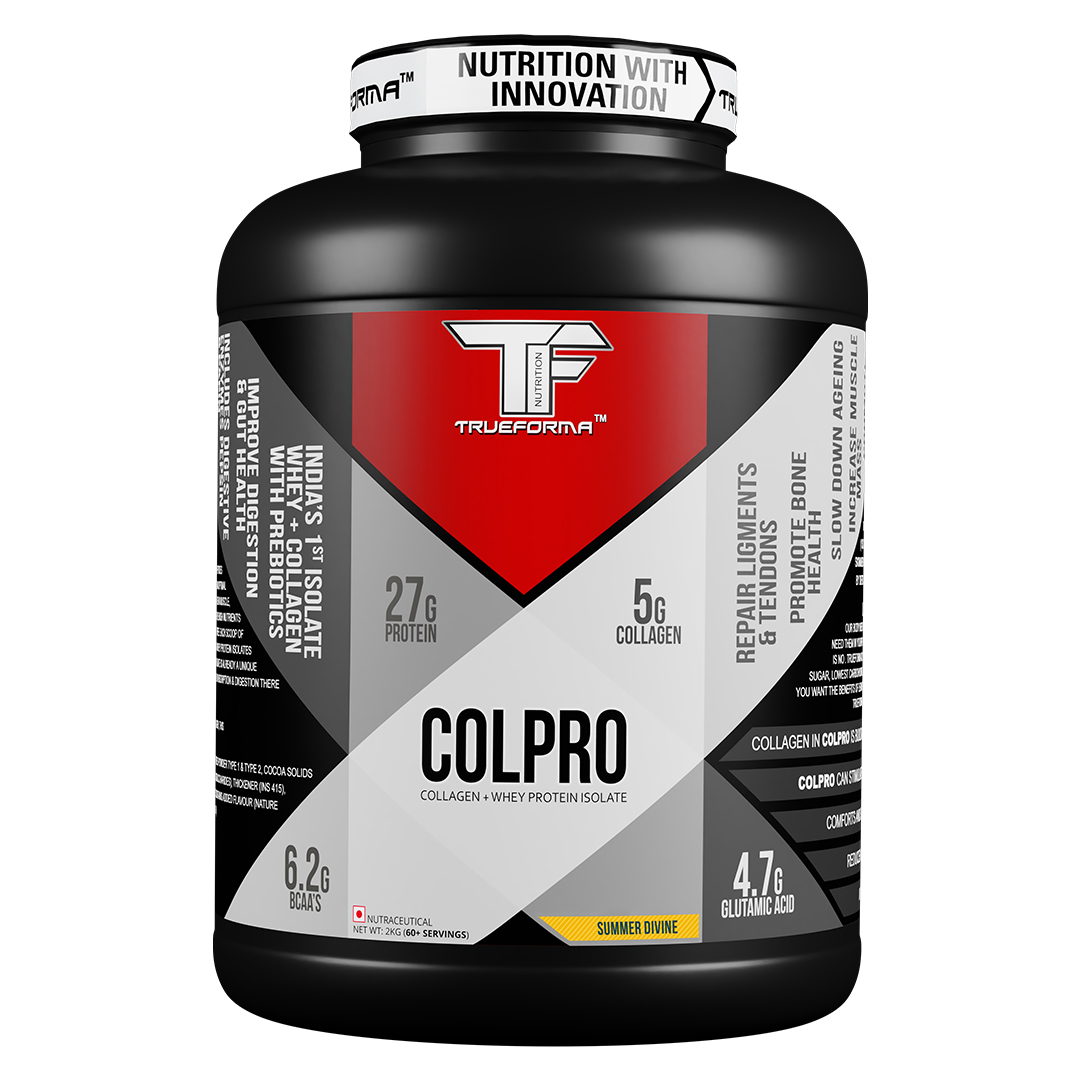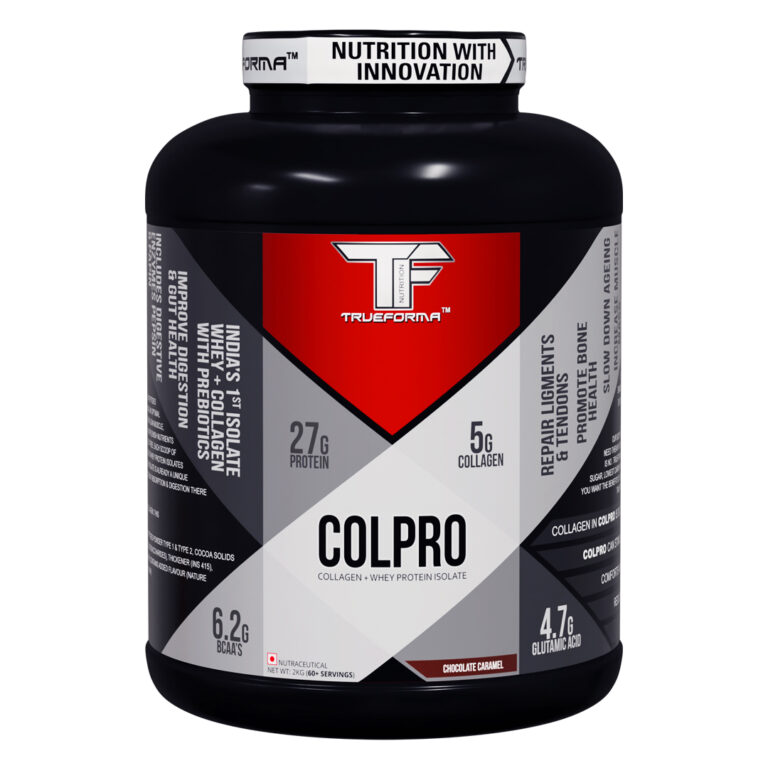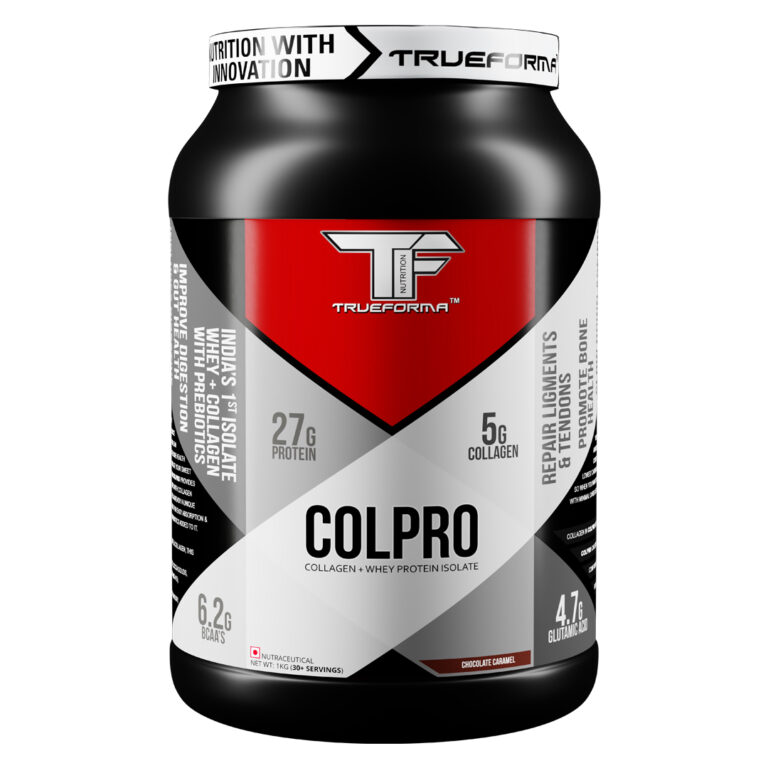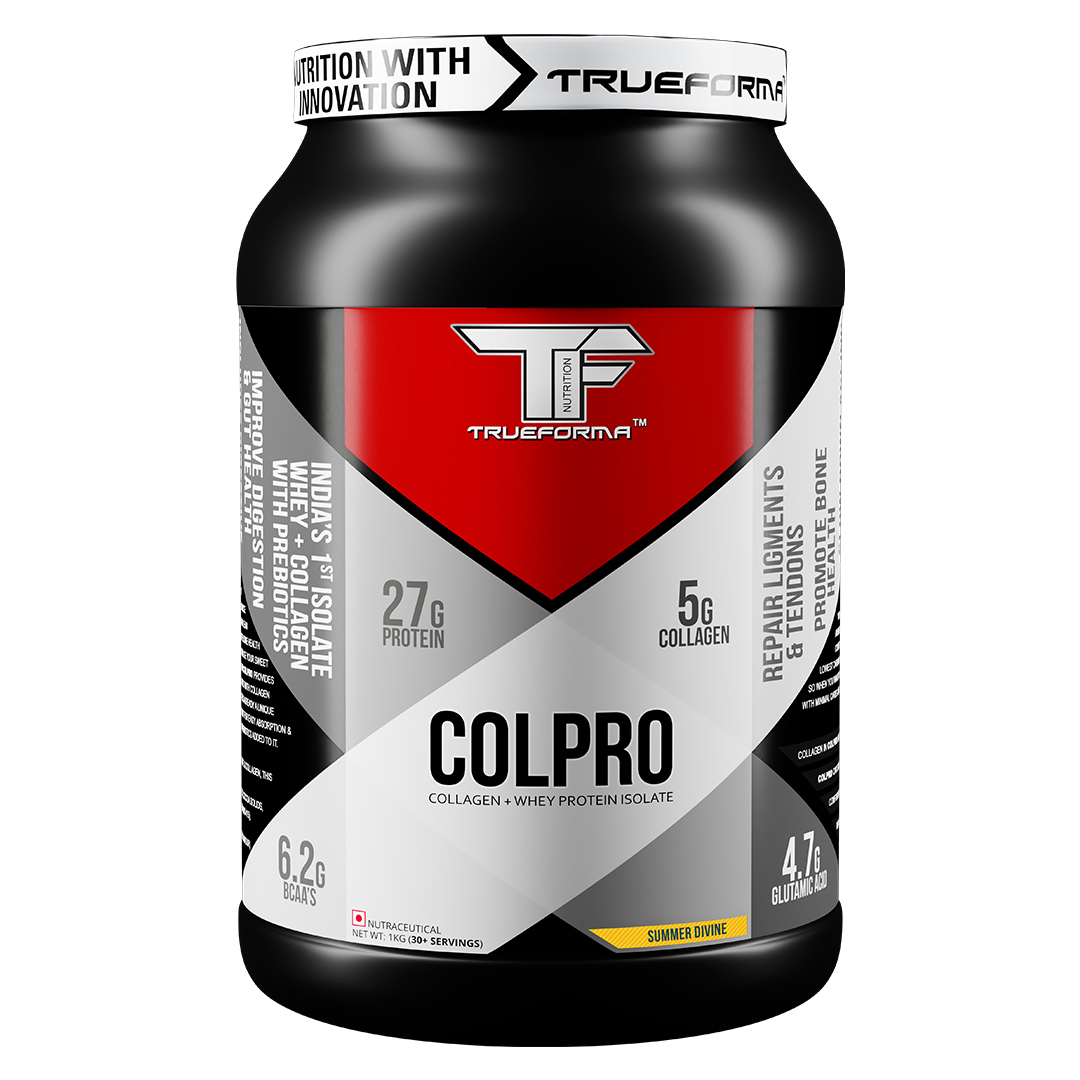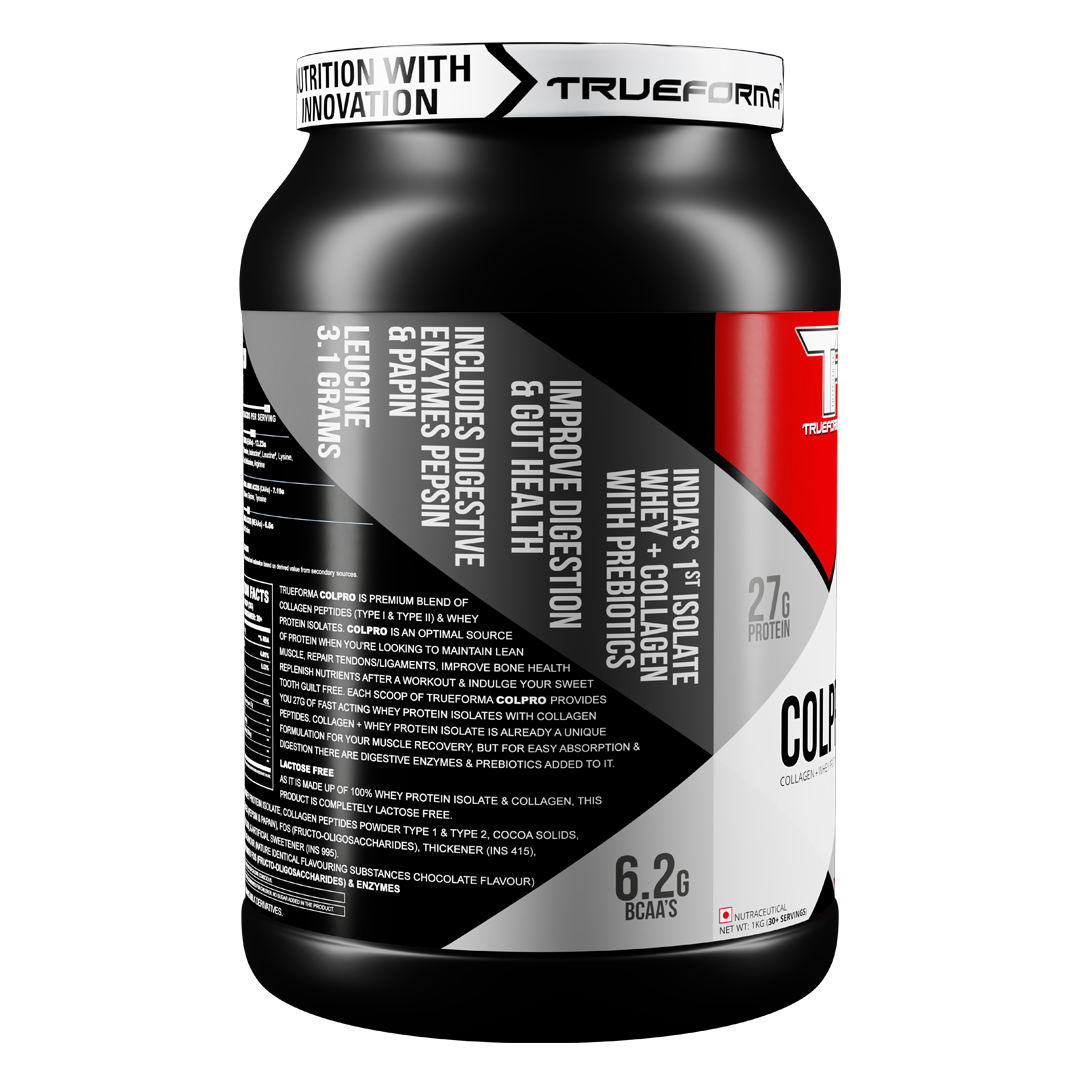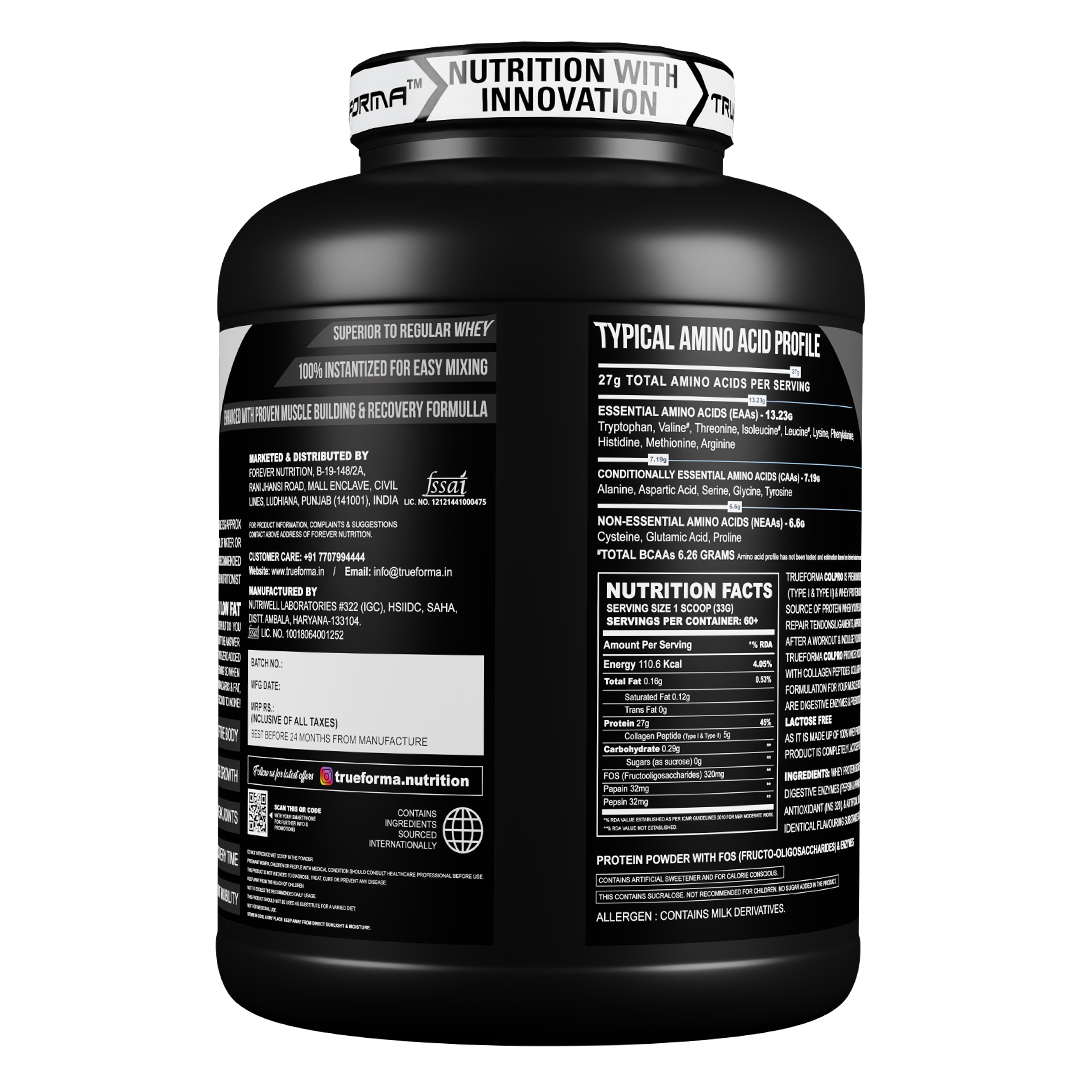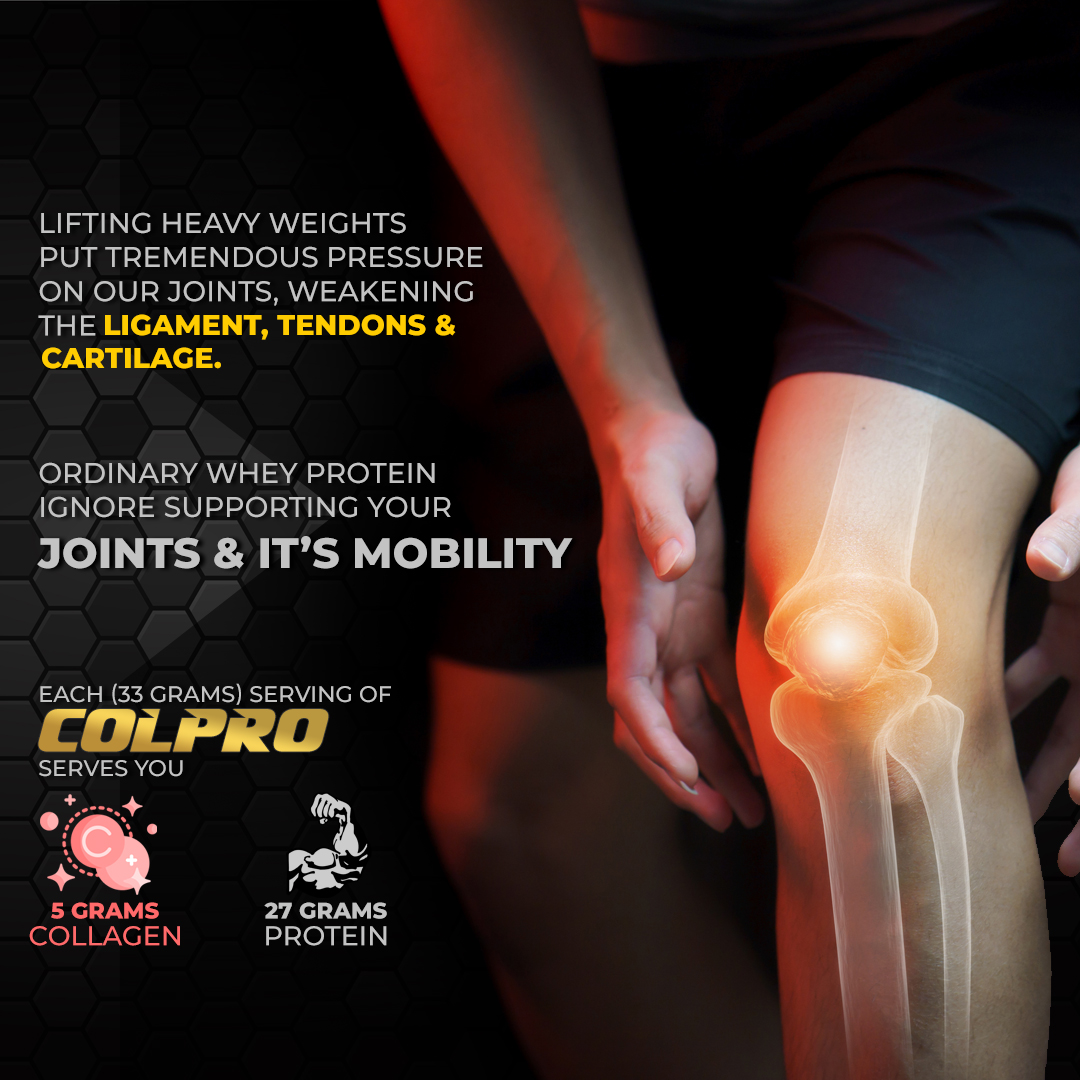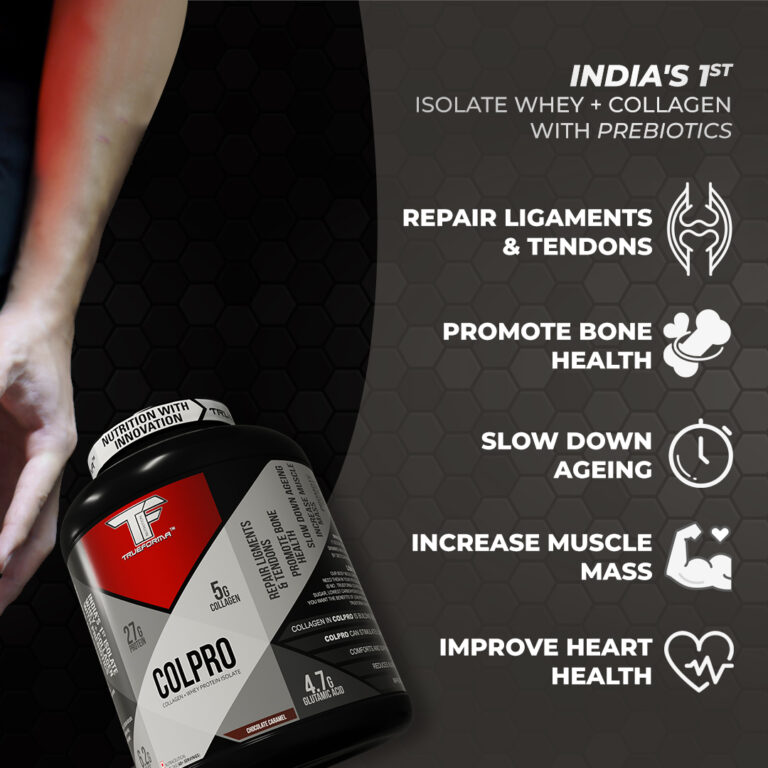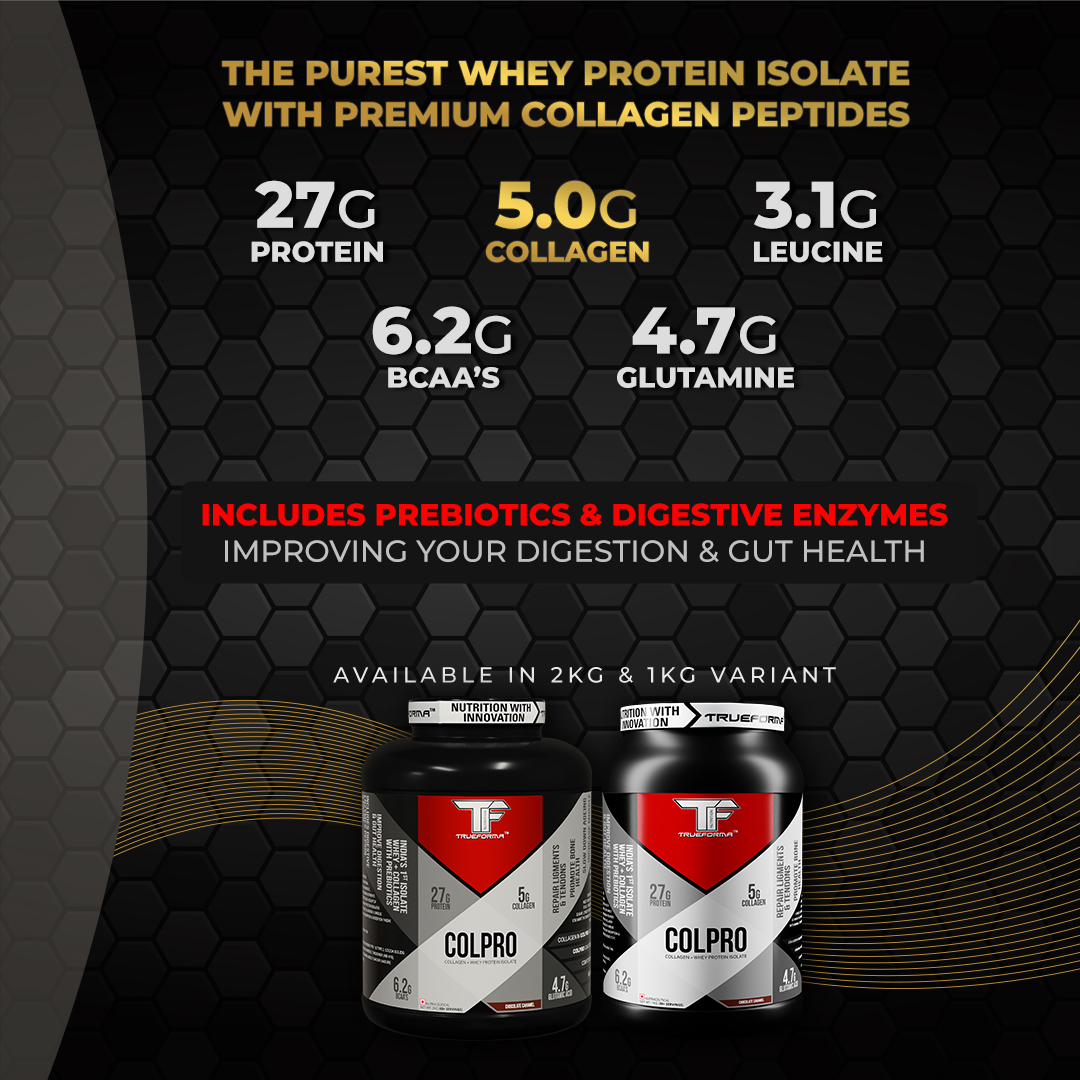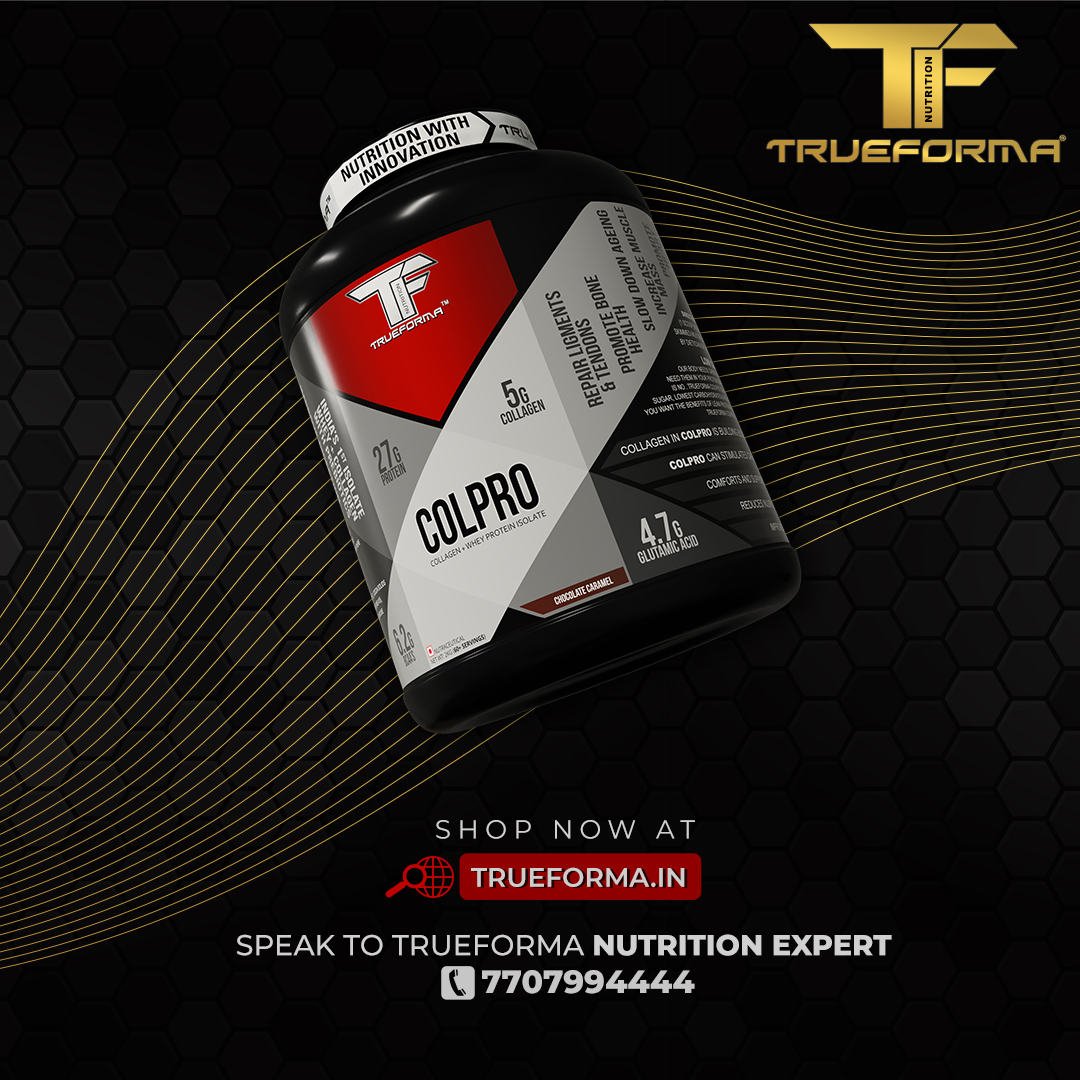 Trueforma® Colpro (Collagen + Whey Protein Isolate)
Trueforma® Colpro – Collagen + Whey Protein Isolates
India's 1st Unique Formulation with Collagen & Whey Protein Isolate
Includes digestive enzymes
27 Gram Protein (100% Protein from Whey Protein Isolates)
5 Grams Collagen, 6.2 Grams BCAA's, 4.7 Grams Glutamine
Expiry Jul/2025
Manufacturer
Description
Reviews (0)
Marketed & Distributed In India:
Forever Nutrition (Brand Authorized):
Punjab 141001
Country of Origin: India
FSSAI Lic. No. 12121441000475
Manufacturer:
Nutriwell Laboratories, #322, HSIIDC, Saha,
Distt. Ambala, Haryana-133104
Fssai Lic No. 10822999000315
Description
INDIA'S 1ST ISOLATE WHEY WITH COLLAGEN & PREBIOTICS
Trueforma® Colpro is a premium blend of Collagen Peptides (Type I & Type II) & Whey Protein Isolates. Colpro is an optimal source of protein when you're looking to build & maintain lean muscle.
Repair Tendons, Ligaments, Improve Bone Health & Replenish nutrients after a workout & indulge your sweet tooth guilt-free. Each scoop of Trueforma® Colpro provides you 27g of fast-acting Whey Protein Isolates with Collagen Peptides. Collagen + Whey Protein Isolate is already a unique formulation for your muscle recovery!
ADDED DIGESTIVE ENZYMES & PREBIOTICS!
For easy absorption & digestion, digestive enzymes & prebiotics are added to it.
LACTOSE-FREE!
LACTOSE-FREE As it is made up of 100% Whey Protein Isolate & Collagen, this product is completely lactose-free.
WHAT OTHER BENEFITS OF USING TRUEFORMA® COLPRO WHEY
Repair Ligaments & Tendons
Promote Bone Health
Slow Down Ageing
Increase Muscle Mass
Promote Heart Health
Improve Digestion & Gut Health
Include Digestive Enzymes (Pepsin & Papain) & Prebiotics.
Leucine 3.1 Grams (Kick start the Protein Synthesis in Muscles)
27 grams of Pure Protein with 5 grams of Collagen, 6.2 grams of BCAA's & 4.7 Grams of Glutamine.
WHAT TRUEFORMA® COLPRO CAN HELP YOU WITH!
Collagen in Colpro is the Building Block of the Body.
Colpro can stimulate Cartilage Growth.
Comforts & Support Weak Joints.
Reduces Injury Recovery Time.
Improves Joint Mobility.
LOW CARB & LOW FAT!
Our body needs carbs & fats! But do you need them in your protein supplement? The answer is NO. Trueforma® Colpro comes up with Zero added sugar and the lowest carbohydrates & fats per serving! So when you want the benefits of Lean Protein with minimal carbs & fat, Trueforma® Colpro is second to none!
Superior to regular whey.
100% Instantized for easy mixing.
Enhanced with proven muscle-building & recovery formula.
AMINO PROFILE FOR TRUEFORMA® COLPRO
INGREDIENTS
Whey Protein Isolate, Collagen Peptides Powder (Type 1 & Type 2), Cocoa Solids, Digestive Enzymes (Pepsin & Papain), and FOS (fructooligosaccharides) as Prebiotics.
HOW TO USE TRUEFORMA® COLPRO
Take 33g Approx (1 scoop) in 200-240ml of water or skimmed milk or use as recommended by a dietician or licensed nutritionist.
BUY THESE ALONG, TO BOOST YOUR RESULTS!
Request a call back from our Sports Nutritionist to guide you!
ALL NEW FASHION BRANDS ITEMS UP TO 70% OFF