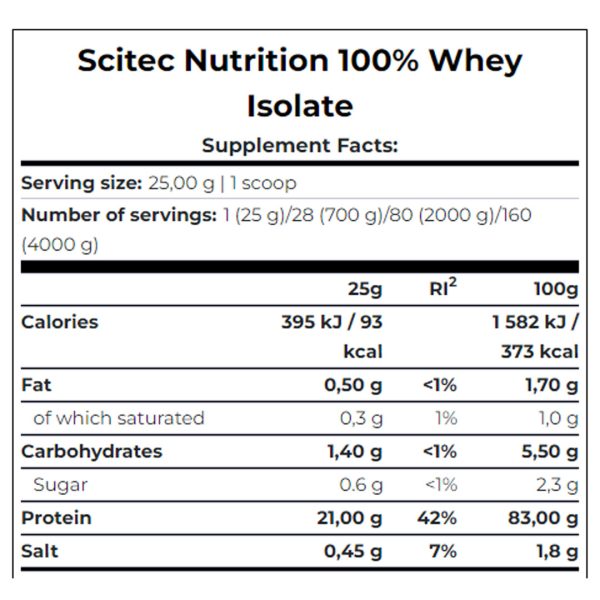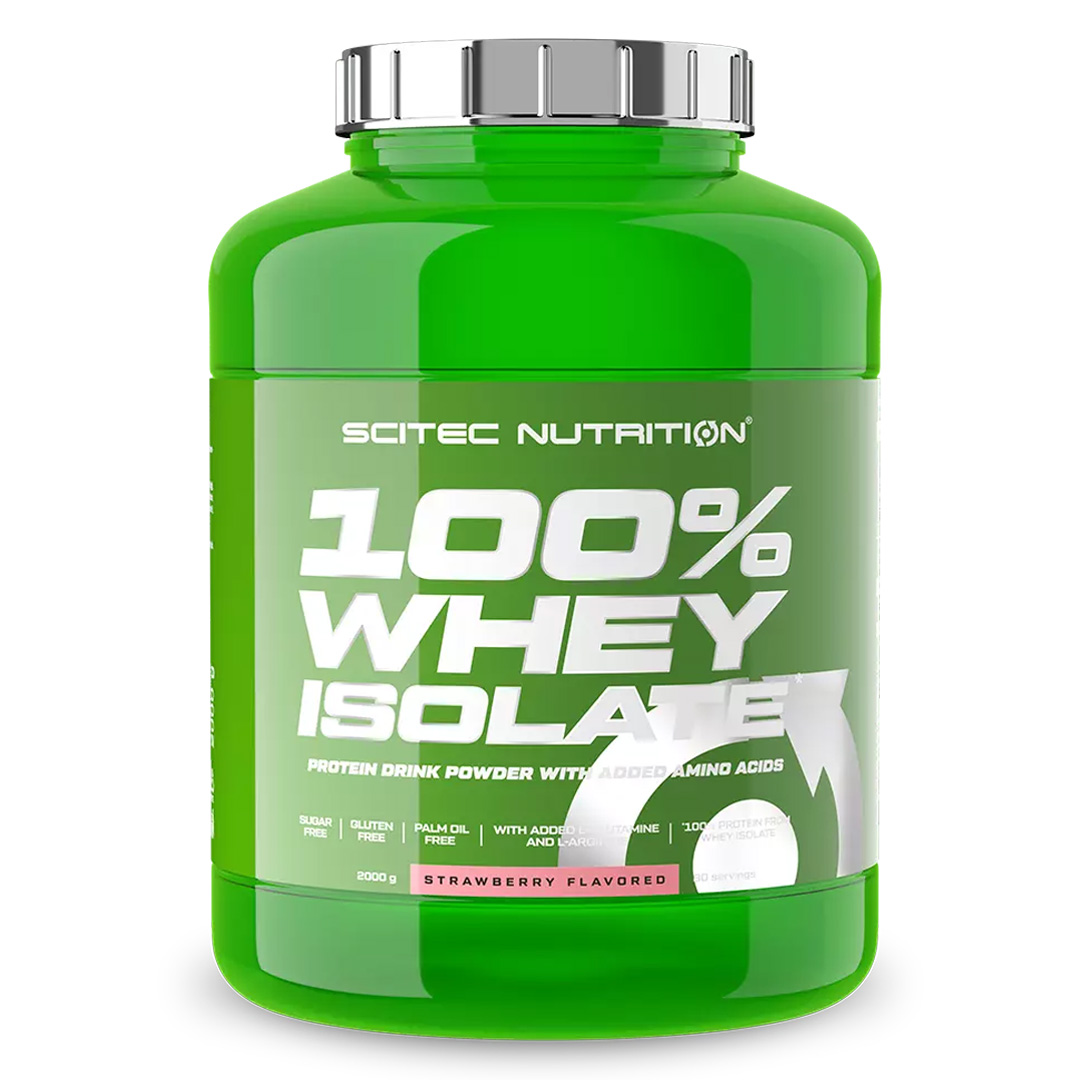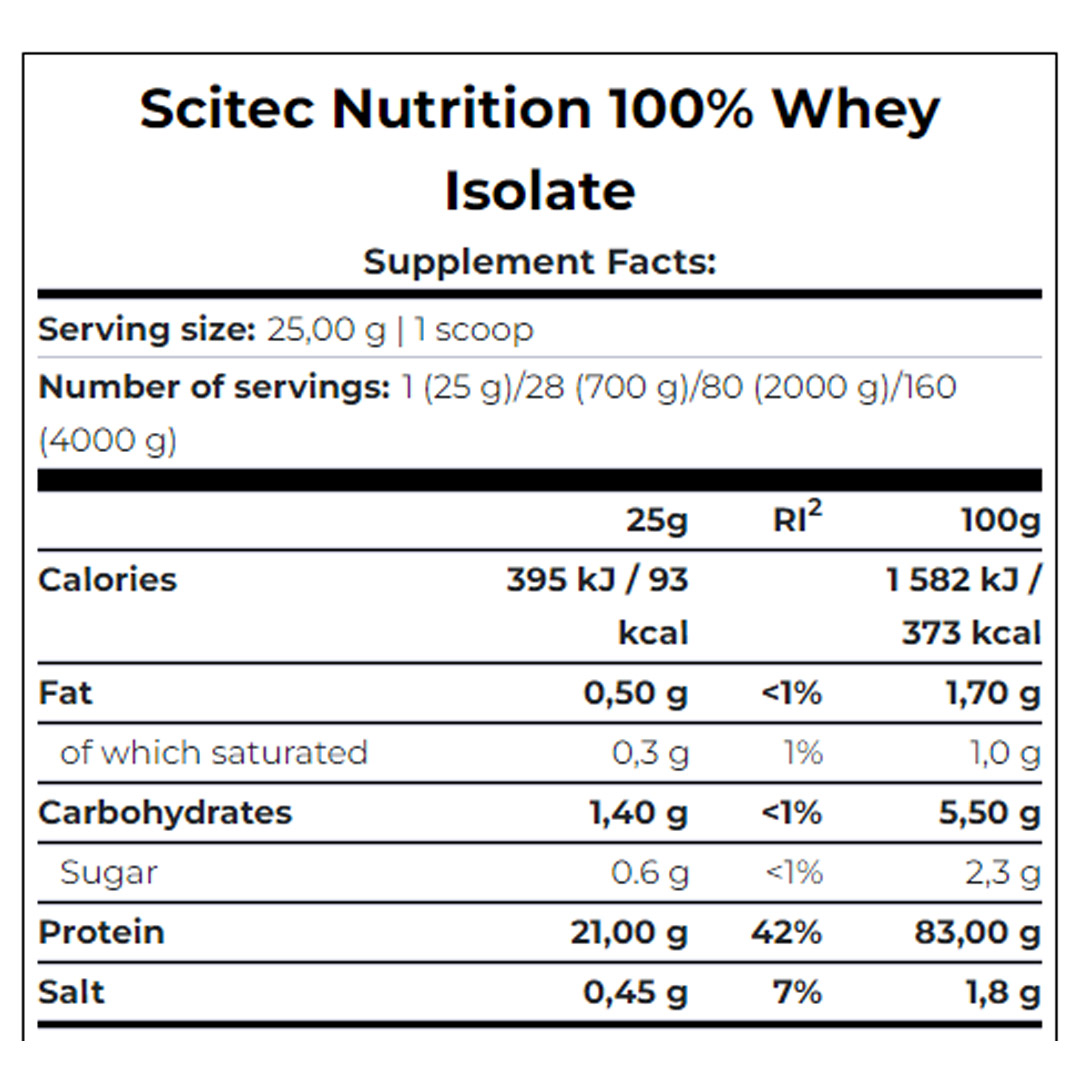 Scitec Nutrition 100% Whey Isolate Protein
Key Points:
100% PROTEIN FROM WHEY ISOLATE
WITH ADDED L-GLUTAMINE AND L-ARGININE
SUGAR FREE***
GLUTEN FREE****
PALM OIL FREE
Expiry 10/2025
Importer
Description
Reviews (0)
Importer
Muscle House India (Brand Authorized):
10168 first floor main gurudwara road karol bagh, Delhi 110005, India
FSSAI Lic. No. 10016011003643
info@musclehouseindia.com, (011) 45960935
Description
Whey Isolate with added amino acids
Whey protein is one of the most popular sources of protein among athletes. For us, whey protein is like a building block at a construction site. 100% Whey Isolate contains only whey isolate, no whey concentrate. Thanks to its favorable amino profile, it contains more than 4 grams of BCAA per serving, and with the added glutamine, the total glutamine content is more than 4.5 grams per serving!
The protein in 100% Whey Isolate contributes to the growth and maintenance of muscle mass and normal bone structure**
Depending on your goals, you can also consume it after your workout with fast or combined carbohydrates, such as VitarGO! or Supercarb Xpress!
** Scientifically substantiated claims approved by the European Food Safety Authority (EFSA).
*** <0.5 g sugar/100 ml ready-to-drink.
**** Gluten-free according to European Union regulations.
Recommended dosage
Mix 1 serving (25g, 3/4 scoop) of 100% Whey Isolate powder per day with 250 ml of cold water. Drink after training on training days and at any time on rest days. This product is not a substitute for a balanced, varied diet and a healthy lifestyle.
BUY THESE ALONG, TO BOOST YOUR RESULTS!
Request a call back from our Sports Nutritionist to guide you!
ALL NEW FASHION BRANDS ITEMS UP TO 70% OFF