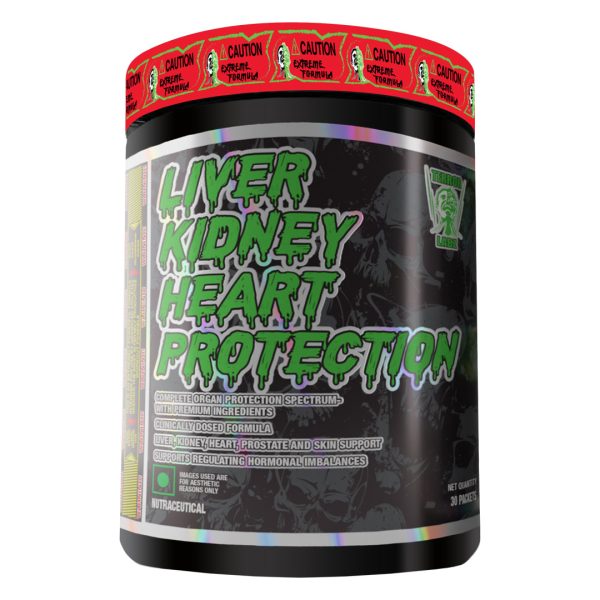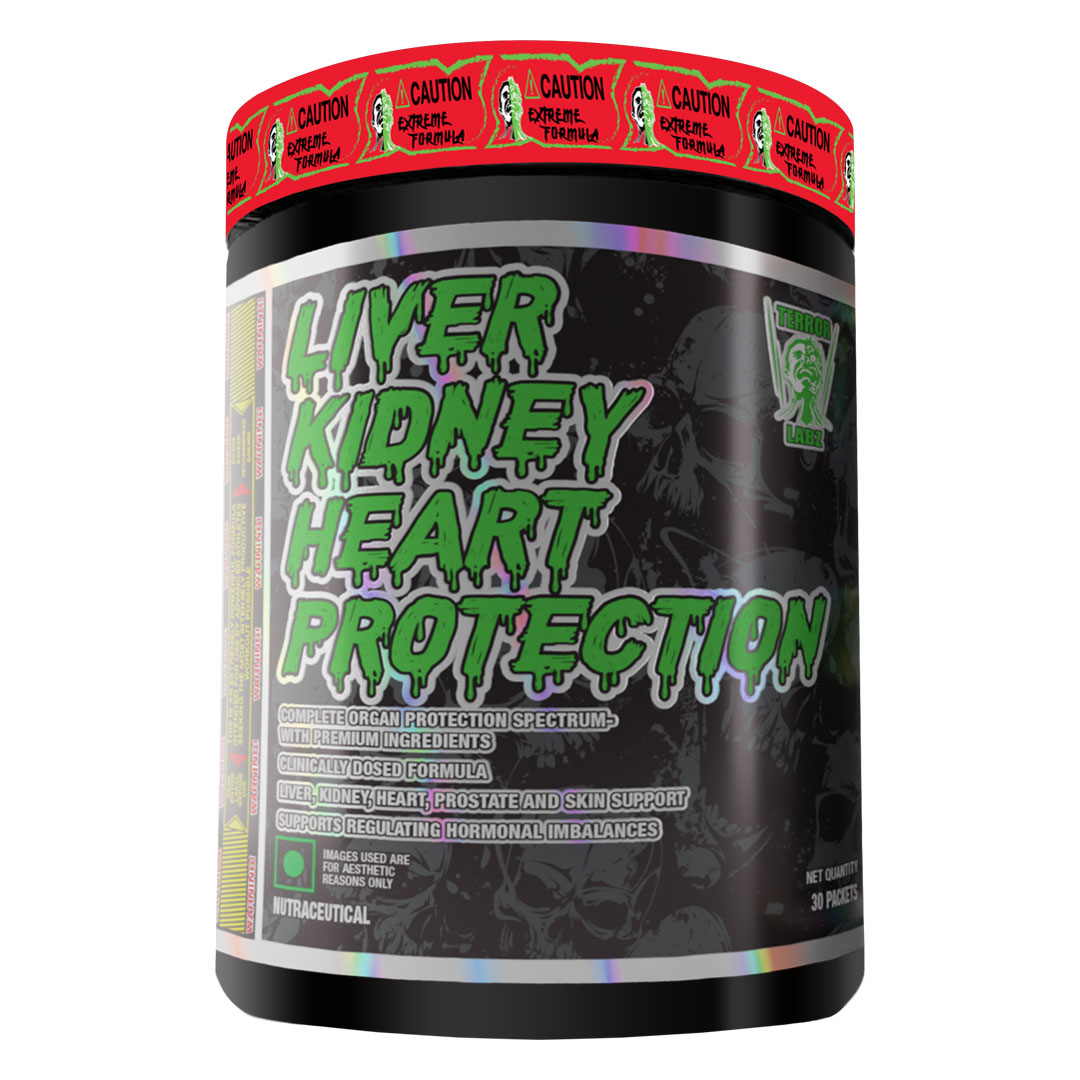 Terror Labz Organ Protection Kidney,Liver,Heart-30 Servings
Complete Organ Support
Premium Ingredients
Clinically Dosed Formula
Support Regulating Hormonal Imbalances
Marketed & Manufacturer
Description
Reviews (0)
Marketed & Importer
Iron Asylum (Brand Authorized)
Bangalore, Karnataka – 560068, India
FSSAI Lic. No: 11222999000706
customercare@ironasylum.co.in, +91 9606990550
Manufacturer: Nutricore Bio Science
Description
All in one Organ support formula. Liver, Kidney, Heart, Prostate, and Skin Protection served in a pack.
If you are a fitness athlete, or bodybuilder, or even if fitness is just a lifestyle for you, you must be consuming a lot of protein, performance enhancers, etc. on a daily basis. But do you also take care of your inner organs' health that? For most, the answers would be "No" or "sometimes." Well, the Terror Labz Liver-Kidney-Heart Protection Pack is exactly made as a solution for this.
It is very important to take care of the functions of the inner organs to avoid any kind of unfortunate event or permanent health issues. But it is also very difficult to consume different supplements to support different organs. Hence, we at Terror Labz created a very innovative, fast-absorbing, well-dosed, all-in-one formula to make it easier for you. Terror Labz Liver-Kidney-Heart Protection Pack also contains a prostate and skin protection matrix. We have made sure that this potent and all-in-one pack covers all the concerns of a bodybuilder regarding his fundamental health.
Each bottle of Terror Labz Liver-Kidney-Heart Protection Pack contains 30 servings and each serving comes in a packet that contains Liver Protection Complex (2 tabs), Kidney Protection Complex (2 tabs), Heart Protection Complex (2 capsules), Prostate Protection Complex (1 tablet) and Skin Protection Complex (1 tablet). 
Product Benefits
A) Liver Protection 
Ingredients
1000mg NAC – NAC (N-Acetyl Cysteine) is a legendary ingredient that has many health benefits but most importantly it is a very potent antioxidant. It is a stable form of the non-essential amino acid L-cysteine and is safe to consume.
600mg Milk Thistle seed extract – Milk thistle is a traditional herbal ingredient that is known for its multiple health benefits. It makes the liver function enhanced and supports its efficiency of the liver.
50mg Glutathione – Glutathione is acclaimed for being a potent antioxidant.  It promotes detoxification and liver health.
B) Kidney Protection Complex
Ingredients
1000mg Juniperus communis Extract – Juniperus communis is a traditional aromatic shrub with a lot of medicinal benefits. It is also a potent diuretic. It helps increase the flow of urine, cleanses the system of excess fluids, and enhances the function of the kidneys.
100 mg Green tea extract – Green tea is known as a potent cleansing agent along with its multiple health benefits. It also increases metabolism and prevents kidney damage.
100mg Grape Seed extract – Multiple clinical studies have proven that grape seed extract improves kidney function and prevents kidney damage.
C) Heart Protection Complex
Ingredients
600mg Alpha Lipoic Acid – Alpha Lipoic Acid helps reduce oxidative stress and promotes heart health. Many studies have been conducted on this fatty acid and suggest that ALA may reduce the risk of coronary heart disease.
100mg Juglans Regia extract – Juglans Regia extract, commonly known as walnut extract, is an excellent source of omega-3 fatty acids, which supports healthy heart function.
25mg Coq10 – CoEnzyme Q10 is a potent blood pressure regulator. This ingredient is widely used for heart-related diseases, and it is also a very potent antioxidant.
D) Prostate Protection Complex 
Ingredients
Pumpkin Seed Extract – Many clinical studies suggest that Phytosterol, which is contained in pumpkin seed extract, helps prevent an enlarged prostate. Pumpkin seeds are also a rich source of zinc, which is a mineral essential for a healthy prostate.
Beta-sitosterol – Studies show beta-sitosterol may help prevent cancer cell migration and invasion and support healthy prostate function. It may also prevent the enlargement of the prostate glands.
Curcuma Longa extract – Curcuma longa extract helps prevent or can treat prostate cancer. Many researchers suggest integrating Curcuma into daily supplementation for its multiple benefits, and a healthy prostate is one of them.
Pomegranate Extract – Pomegranate extract is a major ingredient widely used for multiple health issues, but mainly for prostate health. It helps prevent elevated PSA levels and supports healthy prostate function.
E) Skin Protection Complex
Ingredients –
Cranberry extract – Cranberry extract is a potent antioxidant agent. It also shows anti-aging properties. Cranberry extract is high in polyphenols and other vitamins that are essential for skin health, so it promotes skin health and the production of new skin cells.
Zinc- Zinc is a mineral that is an essential component for healthy skin. It prevents forming acne and helps maintain healthy skin.
Selenium – Selenium is a mineral that helps maintain the firmness of the skin. It also prevents premature wrinkles.
BUY THESE ALONG, TO BOOST YOUR RESULTS!
Request a call back from our Sports Nutritionist to guide you!
ALL NEW FASHION BRANDS ITEMS UP TO 70% OFF