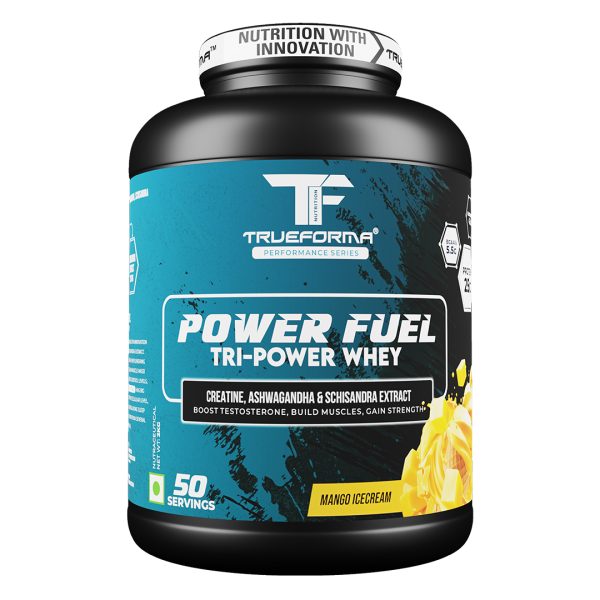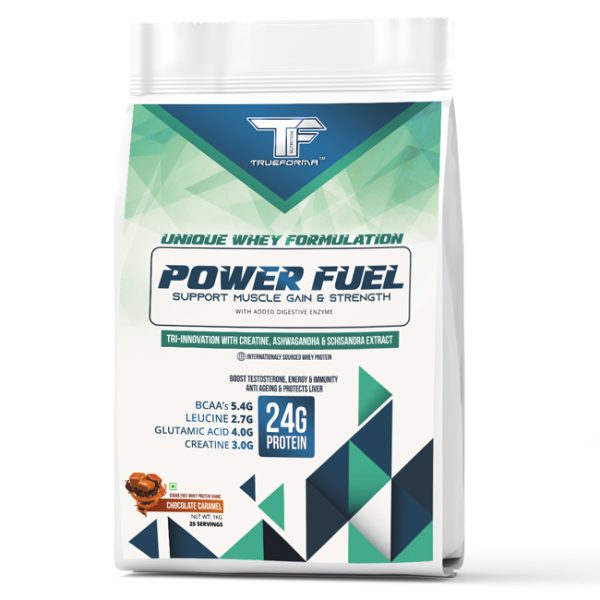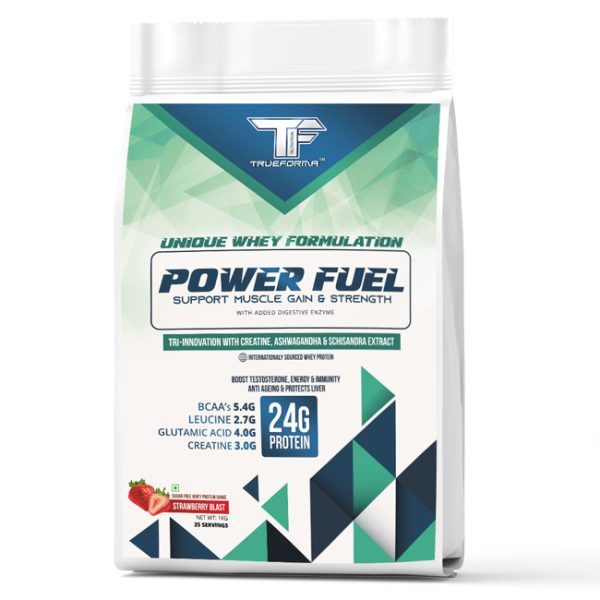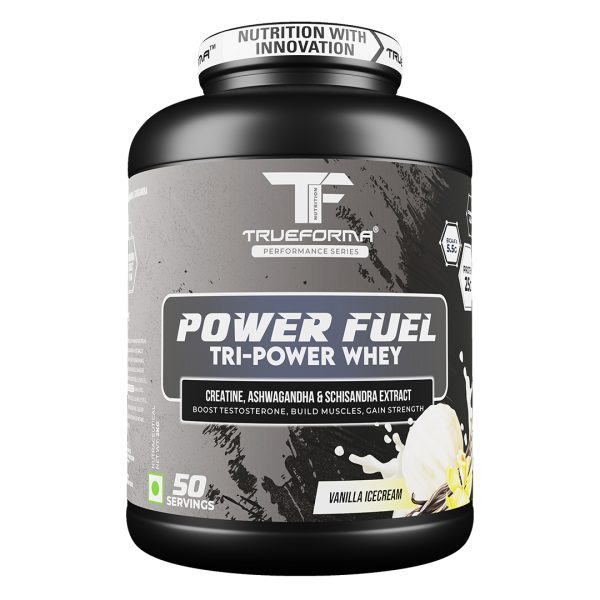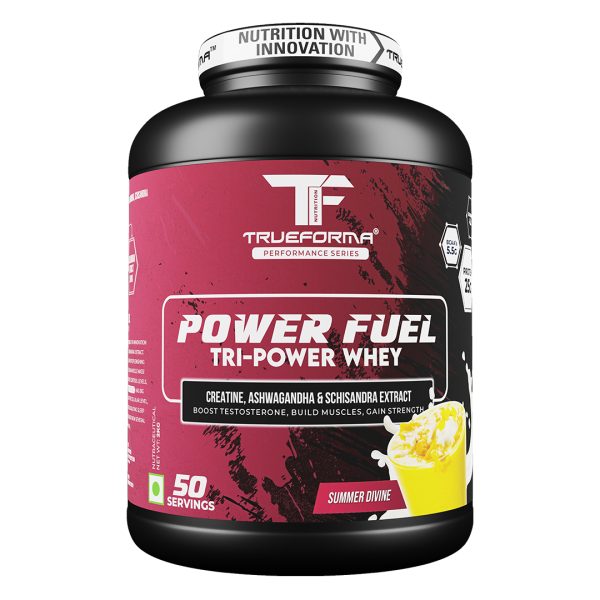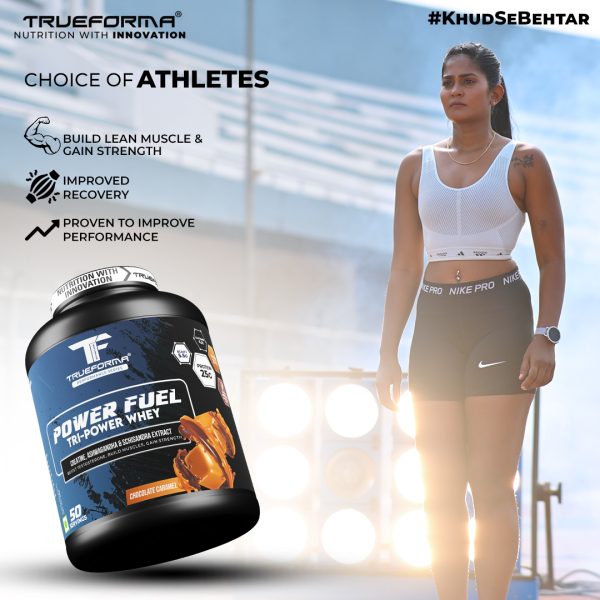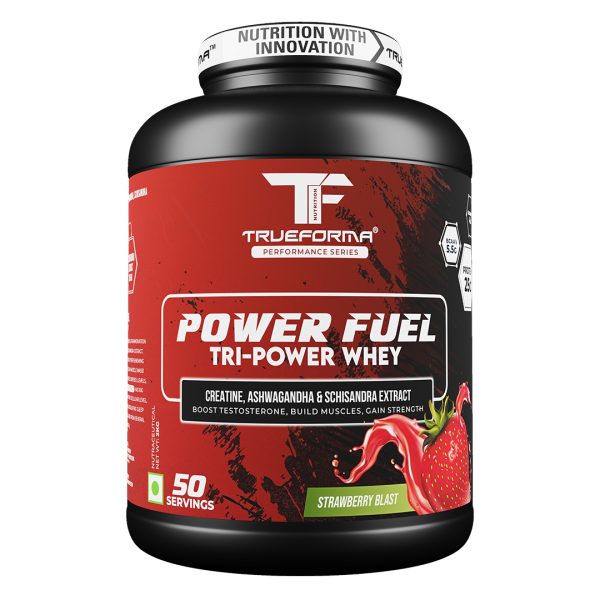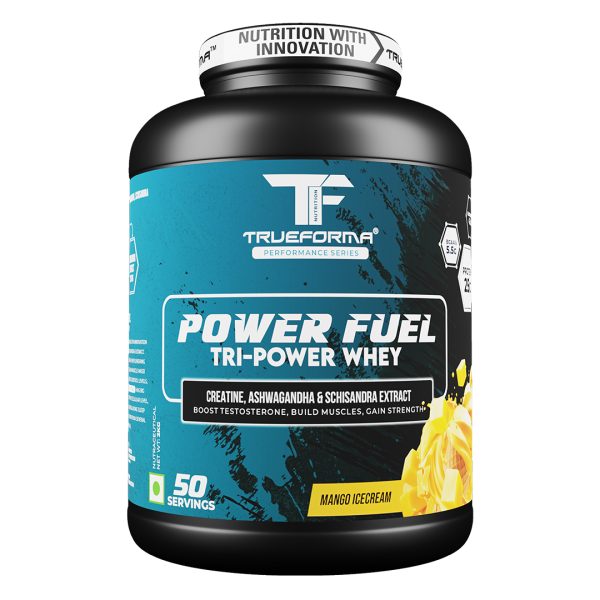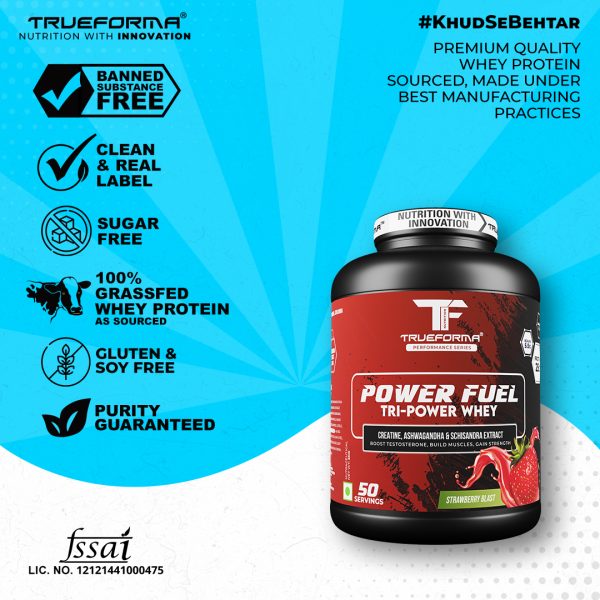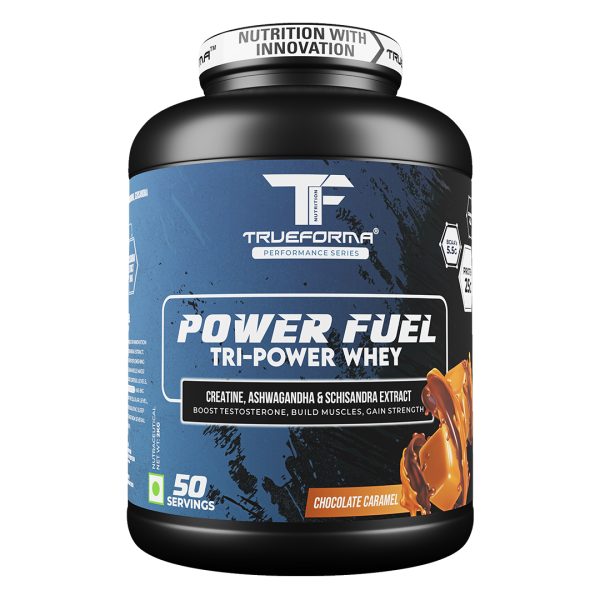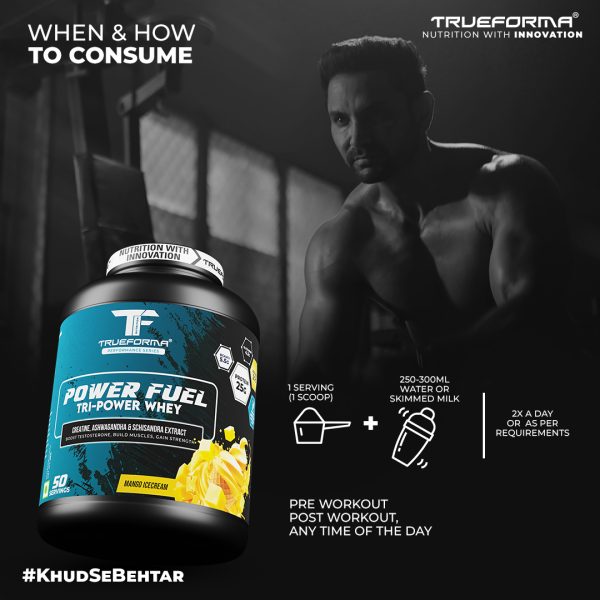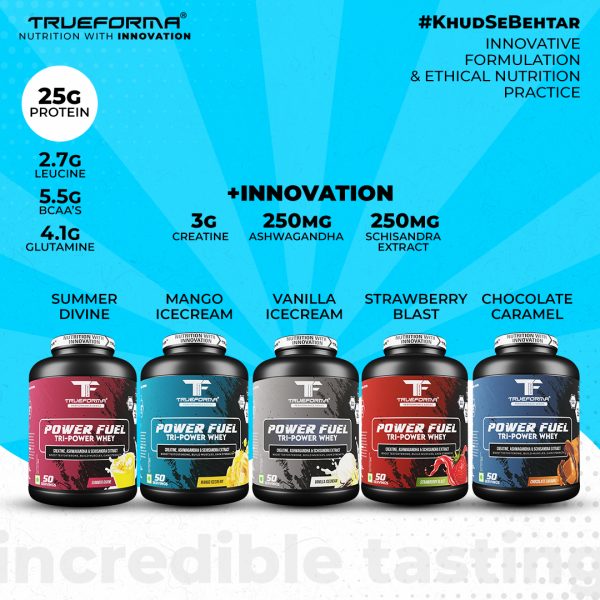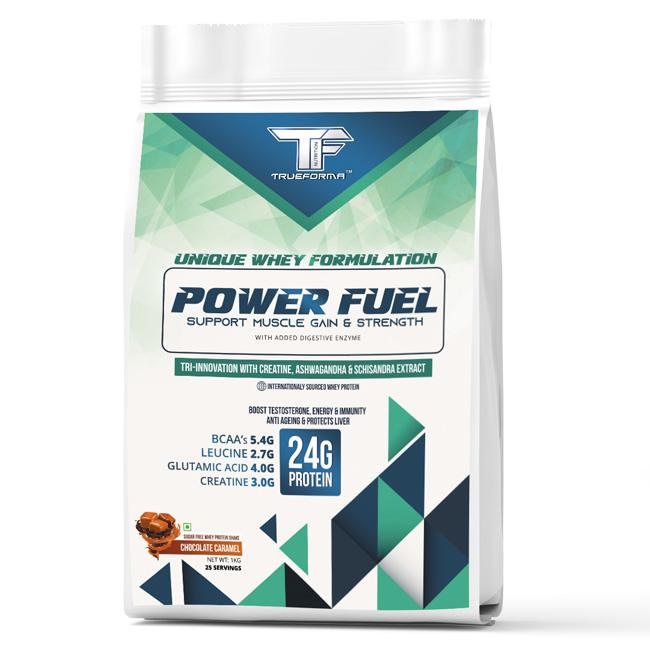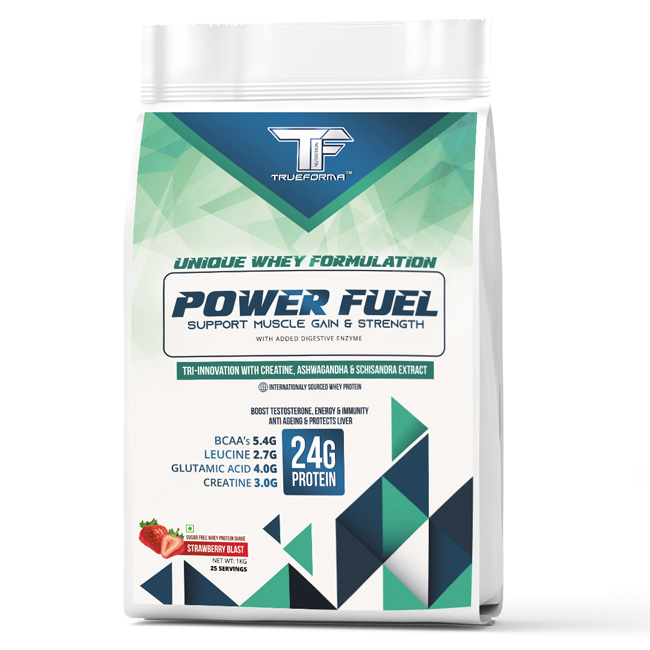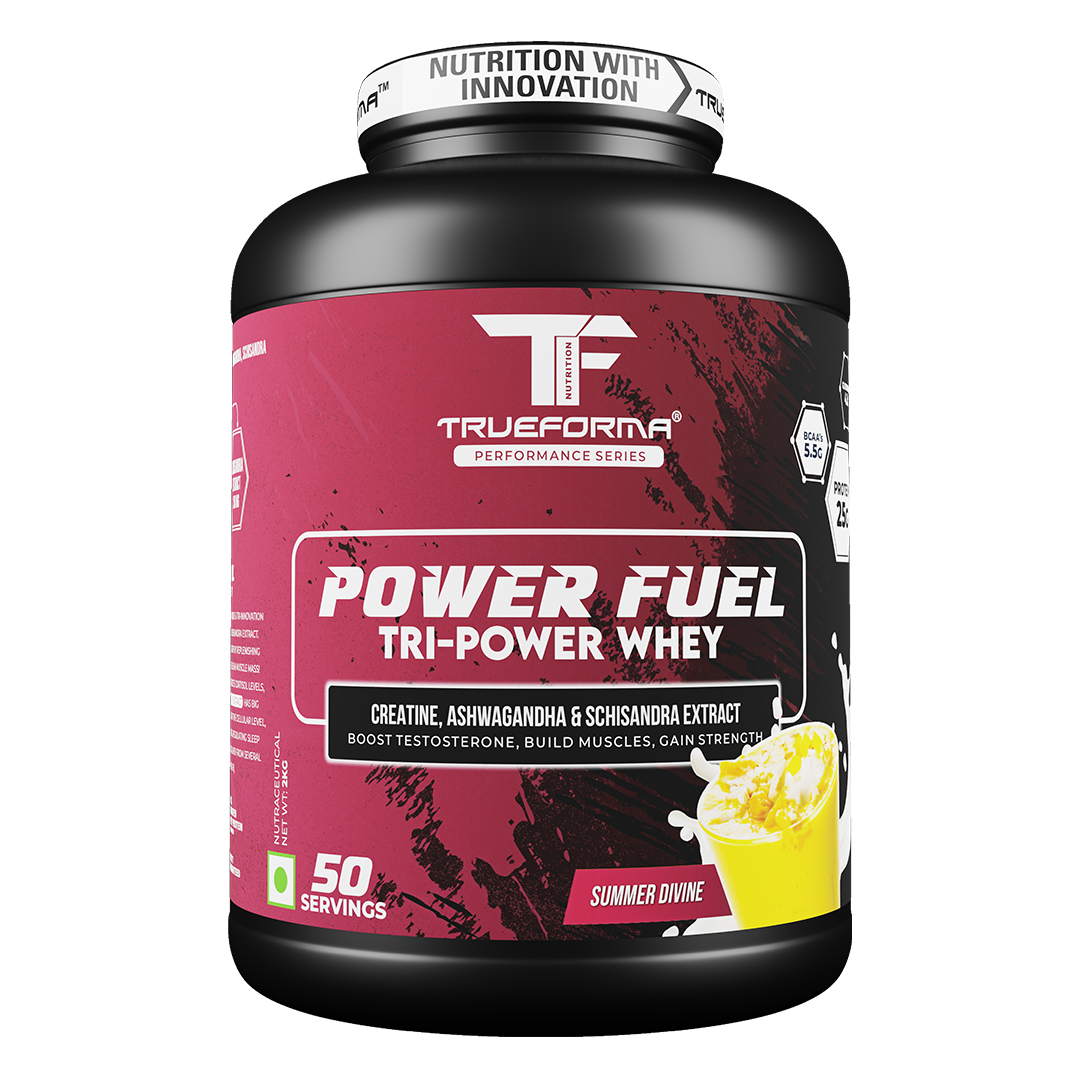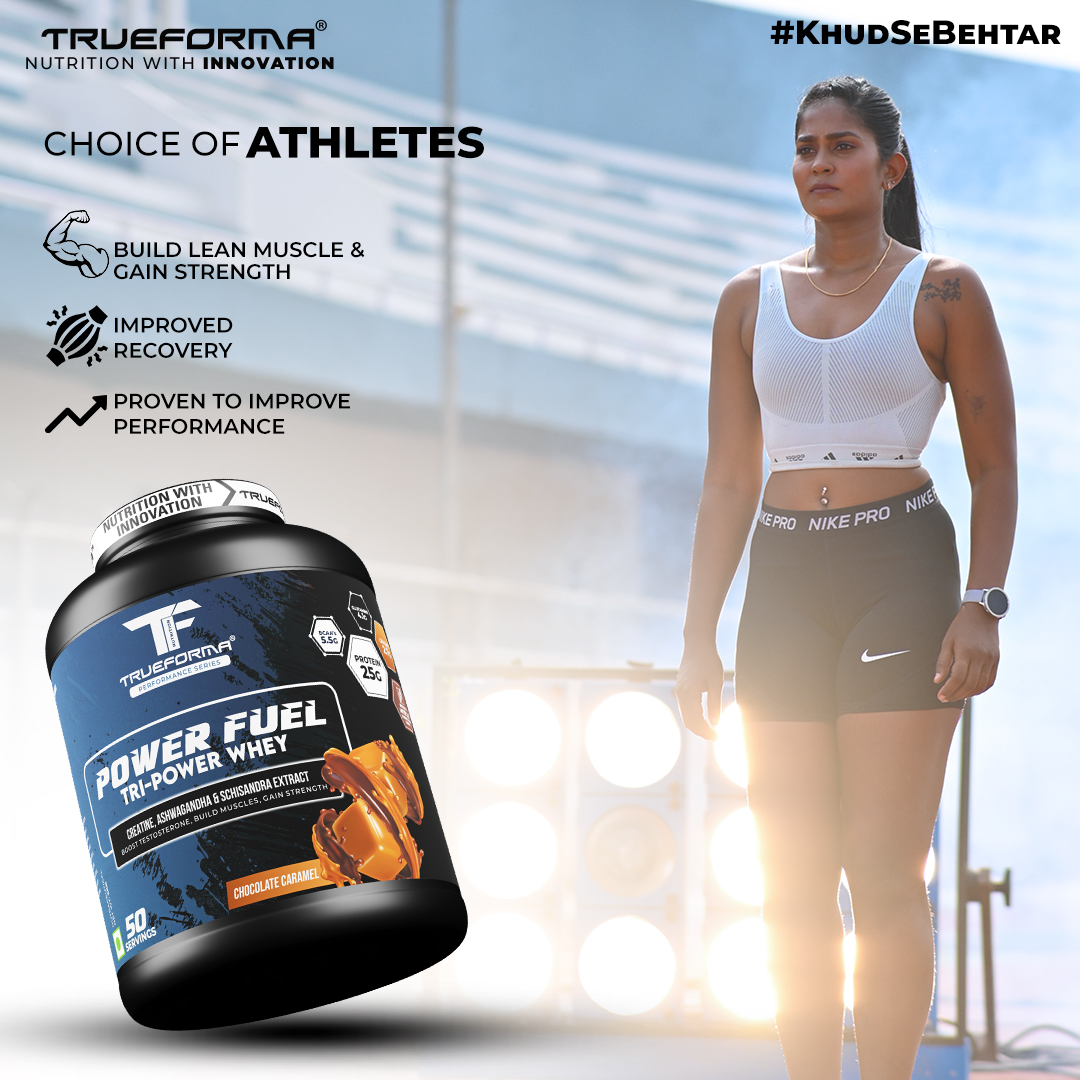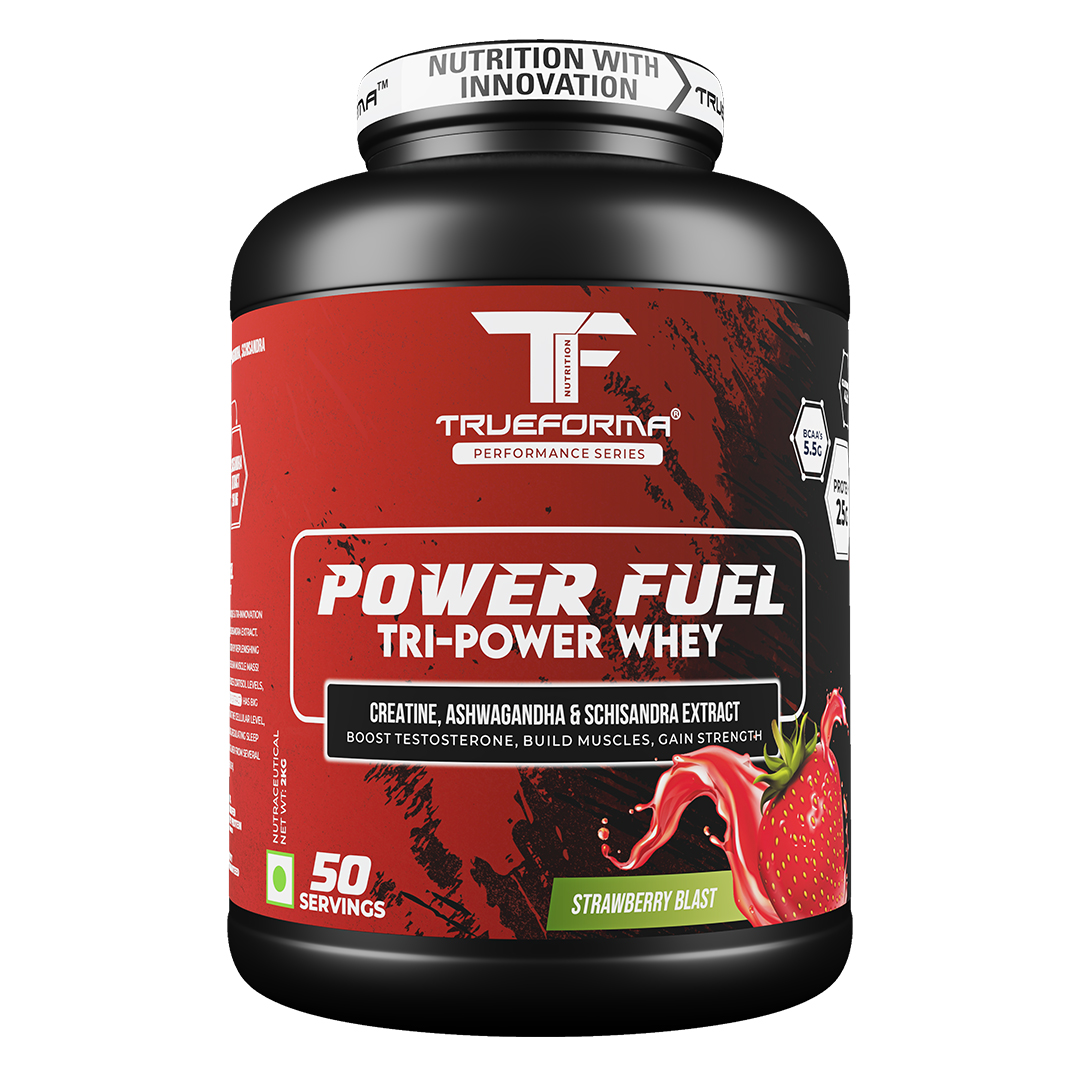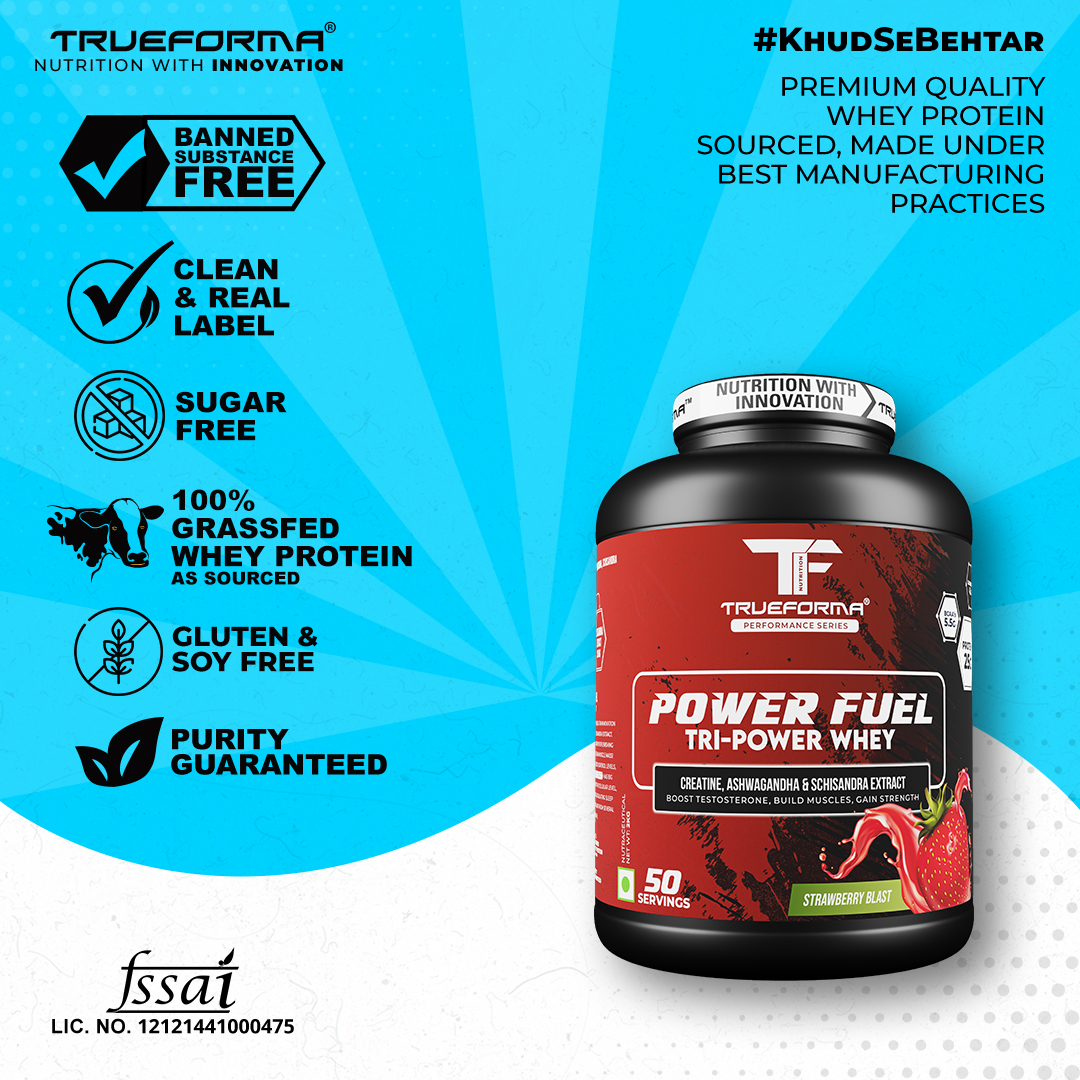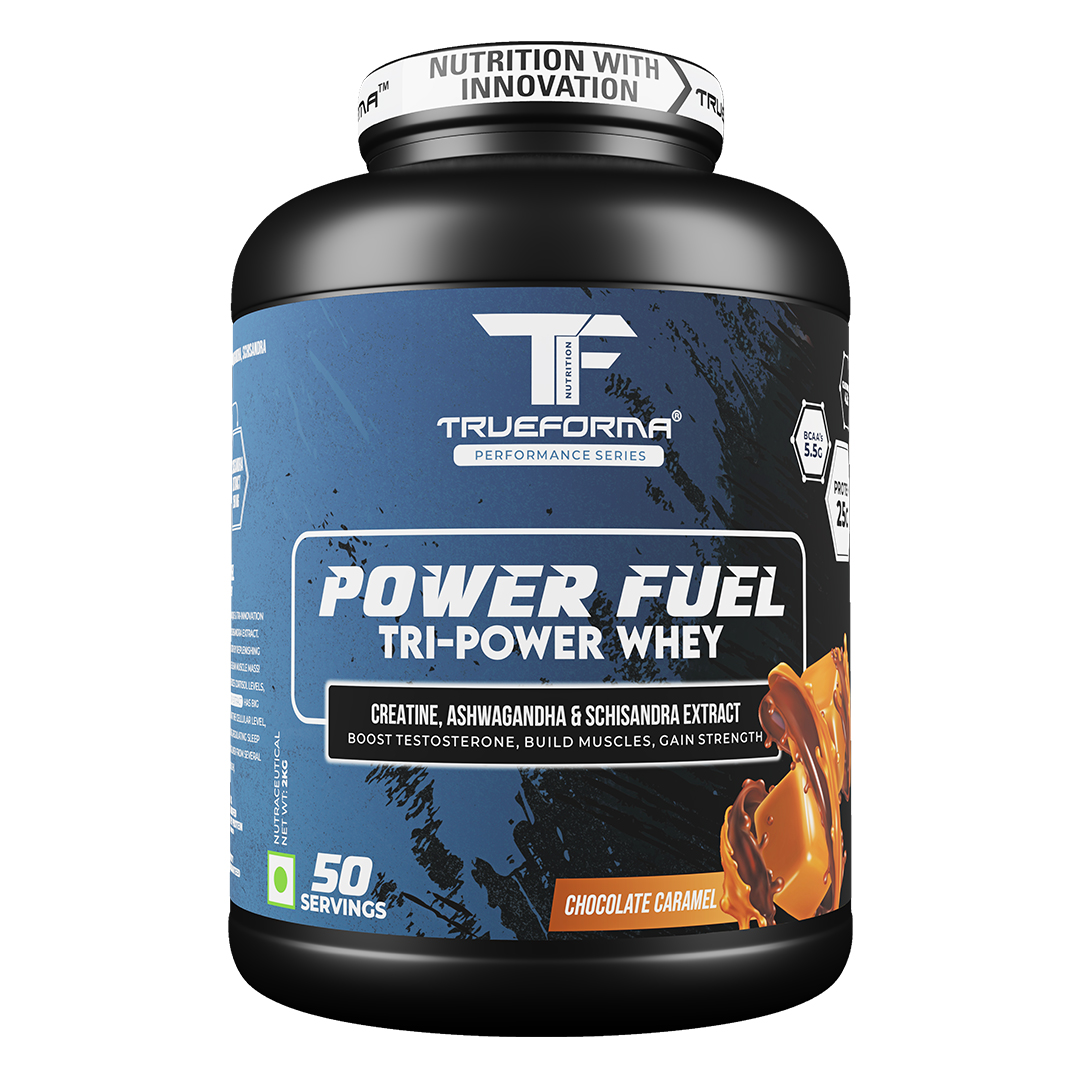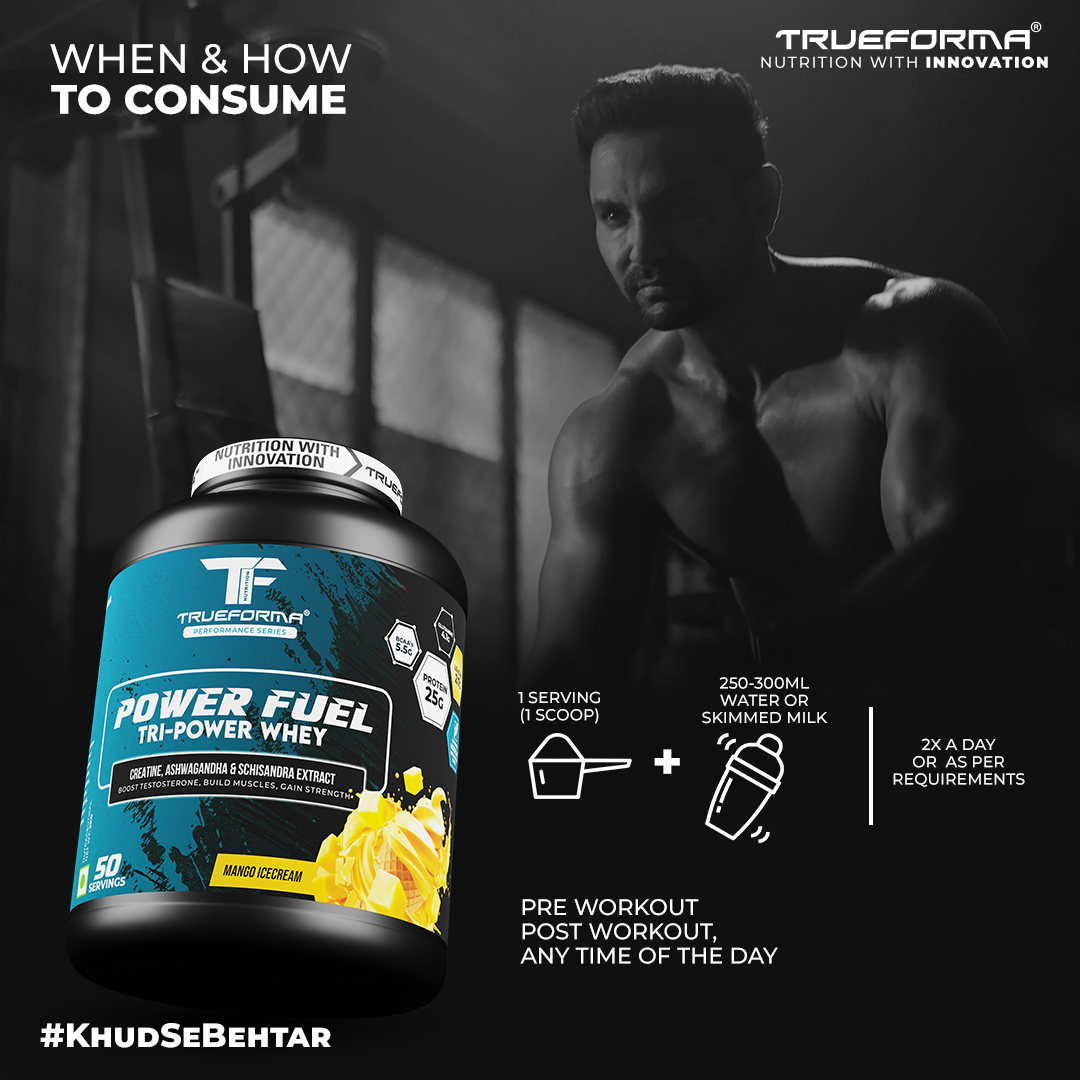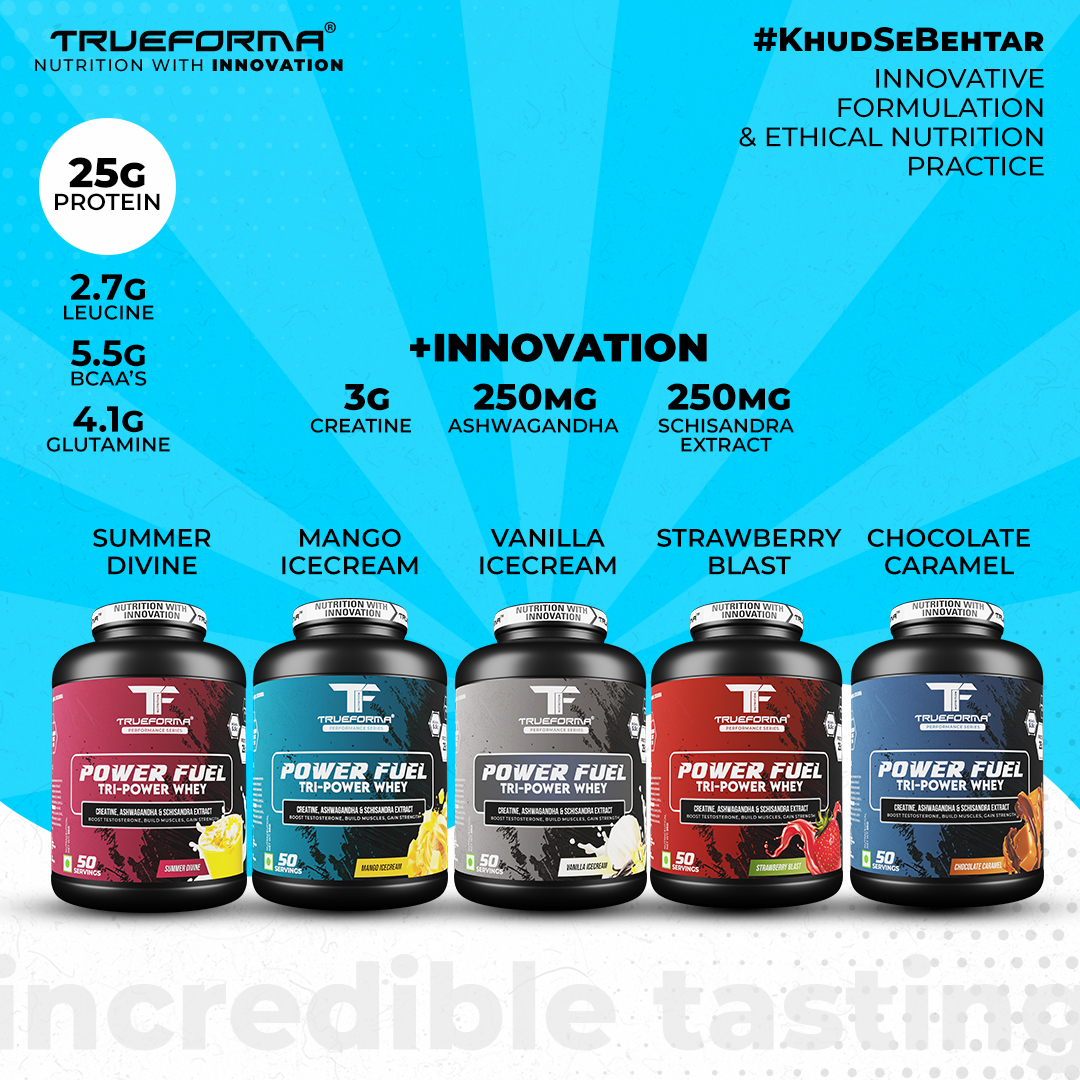 Trueforma® Power Fuel – Whey Protein With Creatine, Ashwagandha & Schisandra Extract
Trueforma® Power Fuel contains Premium Whey Protein with Creatine, Ashwagandha & Schisandra Extract
25 Grams Protein Per Serving
BCAA's 5.5 Grams, Leucine 2.7 Grams, Glutamine 4.1 Grams
Creatine 3 Grams, Ashwagandha 250 MG, Schisandra Extract 250 MG
Support Muscle Gain & Strength
Manufacturer
Description
Reviews (0)
Marketed & Distributed In India:
Forever Nutrition (Brand Authorized):
Punjab 141001
Country of Origin: India
FSSAI Lic. No. 12121441000475
Manufacturer:
Nutriwell Laboratories, #322, HSIIDC, Saha,
Distt. Ambala, Haryana-133104
Fssai Lic No. 10822999000315
Description
Power Fuel – Unique Whey Formulation (Tri Innovation with Creatine, Ashwagandha & Schisandra Extract)

DOES YOUR WHEY PROTEIN GIVE YOU THESE BENEFITS WHICH TRUEFORMA® POWER FUEL WHEY CAN OFFER?
Trueforma® Power Fuel Whey is the first unique & tri-innovation formula with Creatine, Ashwagandha & Schisandra Extracts. Creatine is well known to improve strength by replenishing ATP stores, recover quickly & increase lean muscle mass! Whereas Ashwagandha an adaptogen that reduces cortisol levels improves the natural tendency to increase Testosterone in the male body & improves brain function. Schisandra Berry Extracts has a big list of advantages from boosting energy at a cellular level, boosting body immunity to fight infections, regulating the sleep cycle & act as anti hepatotoxin (Protecting the liver from several toxins & improving liver health).
Ingredients
Whey Protein Concentrate, Skimmed Milk Powder, Creatine, Ashwagandha Extract, Schisandra Berry Extract, Cocoa Powder/Strawberry Flavour, Digestive Enzymes (Pepsin, Papain, lactase), Sodium Chloride.
How to use Trueforma® Power Fuel Whey Protein?
Take 40g approx. (1 scoop) in 250-300ml of water or Skimmed milk or use as recommended by a Dietician or Licensed Nutritionist.
BUY THESE ALONG, TO BOOST YOUR RESULTS!
Request a call back from our Sports Nutritionist to guide you!
ALL NEW FASHION BRANDS ITEMS UP TO 70% OFF